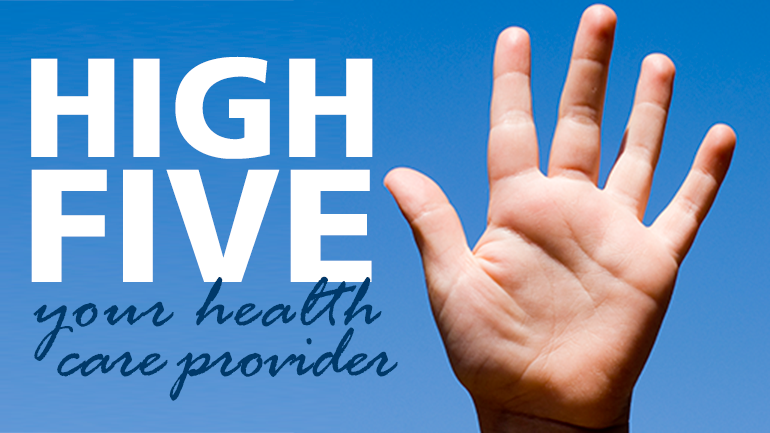 This week's high fives go to our amazing people at the Royal Columbian, Abbotsford Regional, Surrey Memorial and Langley Memorial Hospitals.
Want to send a high five to your health care provider or Fraser Health team member? Leave a comment below or email feedback@fraserhealth.ca.
For Royal Columbian Hospital
I recently had a baby [at Royal Columbian Hospital] on June 15. As a health care provider myself I recognize excellent patient care and was amazed with the care I received. My nurse Adisa went above and beyond. At any opportunity, she would offer comfort; my pillow was fluffed and warm blankets were offered many times throughout my stay.
I would like to thank Adisa and the staff in the Maternity Department for the excellent job they are doing.
---
A special thanks to the nurses that took great care of my baby and me during my stay. I met many nurses, doctors, social workers, lactation consultants and volunteers. Everyone was wonderful.
I want to give a special shout-out to those below:
Nurses: Shirley went above and beyond. Ally was attentive and transparent. Jenny was sincere and genuine. Jasleen [in pediatrics] was the best.
Social workers: Marti and Colleen came by often and made sure we had support. Even when we went to another department, they managed to find us.
Housekeeper: Aziza was also friendly.
I also want to thank the [fantastic] teams who prepared the meals and took care of the [meal] trays.
---
For Abbotsford Regional Hospital
I recently had a test at the Abbotsford Regional Hospital.
I was met by James, a respiratory therapist who guided me to the testing lab and explained the safety measures in place to protect me against COVID-19, and [he] detailed the procedures to be conducted. Throughout the multiple tests, he guided me through the procedures and patiently allowed me space to feel comfortable during these tests.
James's professionalism, friendliness and general attitude made for a very positive experience.
---
For Surrey Memorial Hospital
I delivered my baby in the Mata Tripta Family Birthing Unit. The staff were very supportive, nice, helpful and beyond. My labour and delivery nurse was Sukhi. We thank you so much for all the work you and your team do. We appreciate it!
---
For Langley Memorial Hospital
To the 9-1-1 dispatcher, paramedics, Dr. Gu and the staff in the Emergency Department and in Medical Imaging at Langley Memorial Hospital. Thank you so very much for your amazing care today. You were so professional, kind and attentive to my well-being. I felt very safe in your care.