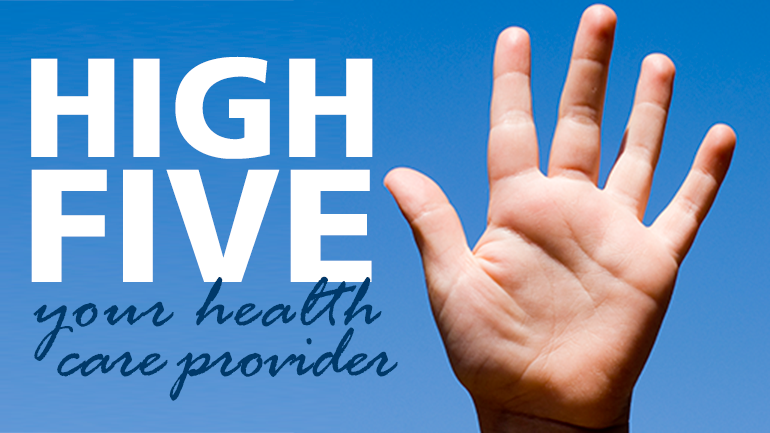 This week's high fives go to our amazing people at Abbotsford Regional Hospital and Cancer Centre, Surrey Memorial Hospital, Delta Hospital and Royal Columbian Hospital.
Want to send a high five to your health care provider or Fraser Health team member? Leave a comment below or send your high five using our new online submission form.
For Abbotsford Regional Hospital and Cancer Centre
I visited your emergency department at Abbotsford Regional Hospital.
The admitting and triage staff were excellent to deal with and got me through very quickly. In addition, the nursing team and emergency doctor were great and calmed me down. The treatment they provided helped a lot.
My sincere thanks to your staff. I just want them to know I really appreciated their care.
---
I would like to send a kudos for my experience at the Abbotsford Hospital Cast Clinic. The cast technician was excellent and talented in her technique and patient care. Dr. Lee was also helpful in addressing my concerns.

Thank you.
---
For Surrey Memorial Hospital
I would like to make you aware of the exceptional care provided to my husband by Dr. Shikha Minhas at Surrey Memorial Hospital.
The compassionate attention provided by Dr. Minhas and her team made us feel listened to as all our questions were answered promptly and all tests were completed swiftly. It was very apparent that Dr. Minhas is passionate about her work and we feel blessed to have her in charge of my husband's care. He feels she saved his life. We would like to see her recognized as an outstanding member of Surrey Memorial Hospital.
---
For Delta Hospital
I would like to shout out Dave the ultrasound technician at Delta Hospital.
I came in for an ultrasound and he was so professional, kind and explained everything to me prior to my ultrasound. From how to position myself, to what I could expect from him. He made me feel comfortable and respected. I appreciate the way Dave carries out the job. Friendly, kind, and professional.
Thank you Dave. By far the best staff member, I have encountered throughout Delta Hospital.
---
For Royal Columbian Hospital
On both visit to the Royal Columbian Hospital Cardiac Health Care at 2 North, I experienced complete care and satisfaction from the health care staff at this ward.
I wish to compliment the staff for their dedication towards patient care and professionalism. I also witnessed good cooperation between staff members.
This caring atmosphere did create an uplifting environment with patients in the ward. I wish the staff well and to keep up with their good work.
Thanks to all.