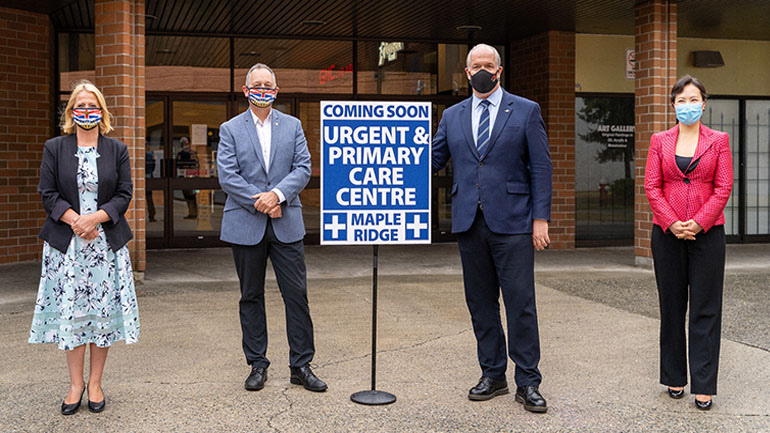 Credit: Government of British Columbia
More people in Maple Ridge, Pitt Meadows and surrounding communities will have increased access to better, improved health care with the opening of the Ridge Meadows Urgent and Primary Care Centre (UPCC) in its permanent location at Haney Place Mall in September.
"Today we're announcing a permanent location for the Ridge Meadows Urgent and Primary Care Centre. We're working hard to keep people safe during the pandemic, while also meeting the day-to-day health care needs of growing communities, like Maple Ridge and Pitt Meadows," said Premier John Horgan. "It's all part of how we're making progress on better, faster health care for people."
The opening of this new and expanded Ridge Meadows UPCC at Haney Place Mall will provide care for approximately 25,000 patients each year who will be seen by a team of health-care providers including general practitioners, nurse practitioners, registered nurses, social workers, clinical counsellors and office staff.
The UPCC is operated by Fraser Health, with the support of the Ridge Meadows Division of Family Practice and the Katzie First Nation.
"The Ridge Meadows UPCC reflects how our government's primary care strategy is leveraging community collaboration to strengthen and expand primary care services across our province," said Adrian Dix, Minister of Health. "The centre is a permanent fixture in this community and will help address gaps in everyday health care and support a long-term relationship between patients and their health-care provider — bringing health care in this region closer to home."
The Ridge Meadows UPCC will serve two purposes. The first purpose will be to provide more care for people with non-life-threatening conditions who need to see a health-care provider within 12 to 24 hours, but do not require an emergency department.
The second purpose will be to help attach patients to a regular primary care provider. The Ridge Meadows UPCC is part of the Maple Ridge and Pitt Meadows primary care networks (PCN) and is working with the Ridge Meadows Division of Family Practice to connect patients in Maple Ridge and Pitt Meadows to physicians and nurse practitioners in their community.
Once the new location opens, patients will be able to see a primary care provider from 9 a.m. to 8 p.m. on weekdays and weekends.
There are 17 urgent and primary care centres that have been announced under the government's primary care strategy. Of those, five centres are in the Fraser Health region, including North Surrey, Surrey Newton, Burnaby Edmonds, Abbotsford and at the new permanent location in Maple Ridge.
Quotes:
Bob D'Eith, MLA for Maple Ridge-Mission
"We are working hard to restart the economy with the Province, and this new UPCC will make a big difference in the lives of people in Maple Ridge and Pitt Meadows by adding not only convenient health care services, but also health care and construction jobs. We anticipate local stores, coffee shops, restaurants and other businesses in the Haney Place Mall will see an increase in sales as more people visit the UPCC."

Lisa Beare, MLA for Maple Ridge-Pitt Meadows
"I know how hard it can be for many people in Maple Ridge and Pitt Meadows to find a family doctor and I am proud that our government is working to bring meaningful change in the lives of people in Maple Ridge and the surrounding communities."

Chief Grace George, Katzie First Nation
"The Katzie First Nation primary care health program is excited to continue working with community partners to offer a holistic approach that incorporates physical, mental, emotional and spiritual elements of healing and growth for people supported at the new urgent and primary care centre. We look forward to supporting even more people as the UPCC and the PCNs continue to grow."

Dr. Victoria Lee, president and CEO, Fraser Health
"By working with our partners, we are able to co-ordinate health services to support patients and their families to manage existing health conditions, avoid unnecessary hospital visits and remain healthy and independent as long as possible. Community services like the Ridge Meadows Urgent and Primary Care Centre and PCN have been integral to our COVID-19 response in ensuring ongoing primary care, assessment and testing is available to all those who need it."

Dr. Kathleen Ross, president, Doctors of BC
"We look forward to the integration of the Ridge Meadows UPCC in hopes it will strengthen primary care in the community and ensure people there have access to the health-care services they need while also supporting long-term relationships between patients and their family doctor."

Jacqollyne Keath, board chair, Nurses and Nurse Practitioners of BC
Nurses and Nurse Practitioners of B.C. are pleased to see that the knowledge, skills and expertise of the entire health-care team will be utilized to improve access to health care for all British Columbians through urgent and primary care clinics. We believe that this approach will be pivotal in ensuring B.C. families can access health-care services, and we are excited to see the opening of another urgent and primary care clinic in B.C."

Dr. Melodie Prem-Smith, primary care network physician lead, board chair, Ridge Meadows Division of Family Practice
"We are motivated in this new partnership with Fraser Health, Katzie First Nation and division members to work in an innovative way together by bringing new allied health-care providers, such as social workers, counsellors, cultural advisors and dieticians, into our family practice to work, and have easy access for our patients — working as an integrated team together. We are working together to find creative ways to bring more family doctors to our community, that we are in great need of. With more doctors, our new nurse practitioners and primary care network service team members, we are hopeful to work toward giving our community the health-care system it deserves."
For media inquiries, please contact:
media@fraserhealth.ca