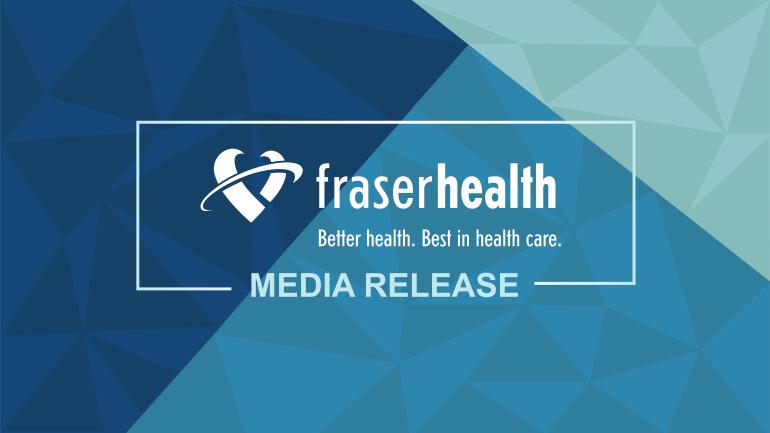 Traverse will open soon to provide specialized support for youth in the Fraser Health region who are living with substance-use challenges.
Traverse, a new treatment centre in Chilliwack, will open soon to provide specialized support for youth in the Fraser Health region who are living with substance-use challenges.
The 20-bed centre is the first of its kind in the region that exclusively supports young people ages 13 to 18 years old who require an extended stay in a treatment facility to address their substance-use challenges.
"This new facility is going to change the lives of youth who are struggling with substance use challenges," said Judy Darcy, Minister of Mental Health and Addictions. For many years, young people have struggled to access treatment and the supports they need to start their recovery journey. Our government has been working to turn that around and these new treatment beds at Traverse are an excellent addition to our growing continuum of vital culturally-safe services to help young people become healthy again.
Traverse provides team-based residential care tailored to each youth, including comprehensive assessment, treatment and rehabilitation for up to six months. Individualized growth plans for each patient will help them address their addiction, while supporting them to develop skills to maintain wellness.
Patients are supported by a team made up of clinical counsellors, addiction workers, nurses, a recreation lead and others. Using a team-based treatment approach to care, the centre focuses on four areas:
counselling and network-building to work through relationship concerns and help youth establish a support network among their peers, and to reinforce that they are not alone in their recovery from substance use;
indoor and outdoor recreational activities to connect patients to nature, promote physical activity and build confidence mastering a new skill;
a safe space to explore cultural and spiritual beliefs that may support youth in recovery, and
skills training, such as continuing education courses and cooking and volunteer programs to support young people in preparing for the future when they are on the road to recovery.
Located at 45456 Yale Rd., Chilliwack, the site was designed with feedback from youth who have struggled with substance use and their parents. Culturally safe programming for Traverse was developed through consultation with local Indigenous leaders, youth and communities in order to best incorporate cultural experiences and learnings. Traverse's Elder and Indigenous Ministry of Mental Health and Addictions Fraser Health Authority partners are involved in day-to-day programming through group and one-on-one meetings, weekly cultural groups and arranging for other Indigenous Elders to visit.
Pacific Community Resources Society (PCRS), an organization with 35 years of experience providing quality, accredited social services in B.C., has been contracted by the Fraser Health Authority to operate Traverse. PCRS will work closely with the health authority͛'s mental health and substance-use team to support the unique needs of each patient.
The government has provided $3.7 million to Fraser Health to support a combination of youth treatment beds and outpatient treatment services which will be used to support this new specialized treatment centre. BC Housing has invested $5 million to buy the property and build the site. Fraser Health Authority will provide ongoing operational funding for the site.
The youth treatment facility is part of Fraser Health͛'s multi-faceted strategy to address the overdose emergency in the region, which also includes prevention, early intervention, harm reduction and treatment. Improved wellness for youth is an integral part of A Pathway to Hope B.C.͛s roadmap for making mental health and addictions care better for people in British Columbia. Implementing A Pathway to Hope is a shared priority with the BC Green Party caucus and is part of the Confidence and Supply Agreement.
Quotes:
Dr. Victoria Lee, president and CEO, Fraser Health
"The majority of youth in B.C. live in the Fraser Health region, which is why the opening of Traverse is an important addition to the continuum of services we can provide youth who are struggling with substance use. Traverse is the first treatment facility of its kind in Fraser Health to allow youth with substance-use challenges to fully immerse themselves in an environment that helps them address why they consume substances, and enables them to build a community of support while learning practical skills to aid them in their recovery. Thank you to the B.C. government, BC Housing, Pacific Community Resources Society and Fraser Health staff and medical staff who have worked hard to bring this much-needed service to youth and their families in our region."
Brody Van Velze, 21, who has lived experience with substance use since age 14 and has been sober for over four years
"Traverse is the exact type of place that youth struggling with substance abuse need to support their recovery. When the team was building Traverse, I was able to talk to them about what was important to me in my recovery and how I think these factors could help others. Daily meetings and getting outside for activities and building a sense of unity and connection with others helps make recovery more fun. If you are able to have fun doing something, I think you are more likely to stick with it."
Dr. Steven Esau, director of operations, PCRS, Fraser East
"Pacific Community Resources Society is extremely excited to be opening the new Traverse program to serve youth and families across the Fraser Health region to facilitate holistic recovery from substance misuse. With the input of youth, families and our Indigenous neighbours, we are proud to provide our nature-based program that aims to restore health in relationships while showing youth the beautiful strengths and skills within them."
For media inquiries, please contact:
media@fraserhealth.ca