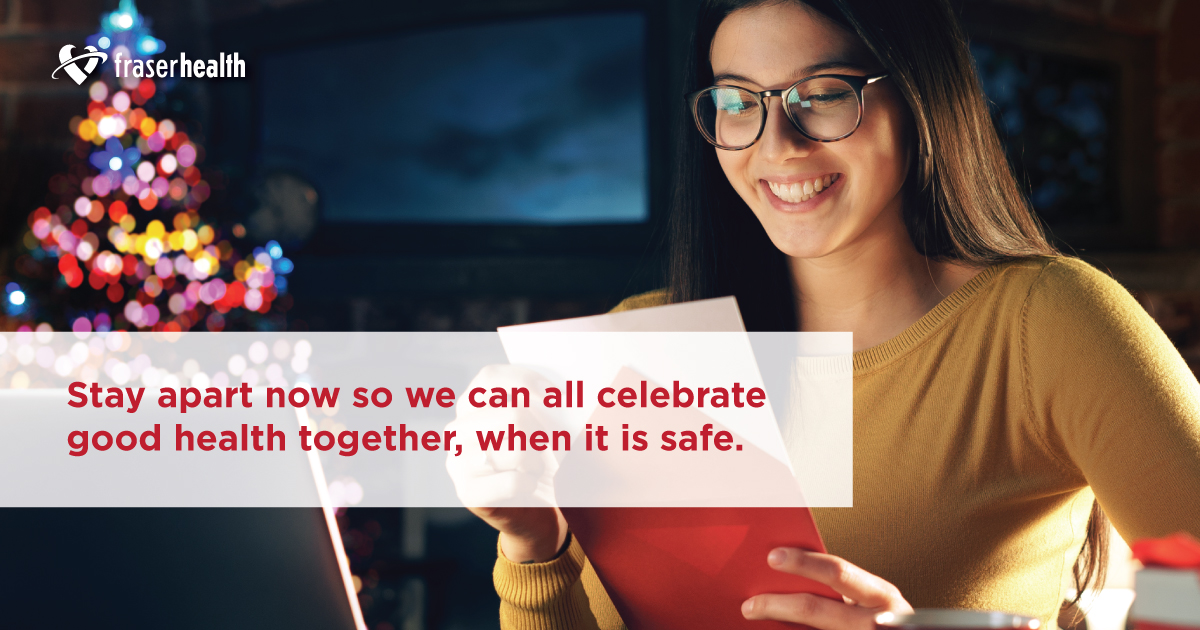 Find tips for celebrating the winter holiday season in a COVID-19-safe way
There is no doubt this holiday season will be different for many of us, but you can still celebrate and make special memories with the people you live with. Follow our tips below and try to enjoy the slower pace of the holidays this year.
Give the gift of safety and good health
Minimize the risk of contracting COVID-19 for yourself and those you care for, when it comes to in-person holiday parties – don't go, don't throw and say no. Instead, connect over video chat or by phone. Stay apart now so we can all celebrate good health together, when it is safe.
Spread good cheer from a distance
Stay connected with friends and family you do not live with by organizing a festive video chat event or by catching up over the phone. Send holiday greeting cards by mail to let people know you are thinking of them and that you look forward to being together again, when it is safe.
This year, home for the holidays means staying home for the holidays
Travel increases the chance for transmission of COVID-19 into other people's homes and communities. Save your travel plans for when it is safe and instead connect by video chat or over the phone with people outside of your household this year.
Shop locally, and online, for holiday gifts this year
Get your holiday shopping done early this year to avoid crowds or do your shopping online. If you are shopping in person, shop close to home to support local business and reduce the risk of COVID-19 transmission. Go during times you know will be less busy. Wear a mask, wash your hands often and maintain physical distance. If you are feeling unwell, please stay home.
Get outside.
Bundle up, grab a mask and take a walk.
You can go for a walk, bike ride or snow shoe outdoors with a friend or family member you don't live with if you can maintain a safe physical distance.
Make sure these activities do not turn into social gatherings with a group meeting outside.
Eat and be merry, and be safe.
Holiday meals may look a lot smaller this year, but they can still be enjoyed.
A traditional Christmas dinner with turkey and all of the fixings can still be prepared and enjoyed for just a few. If you celebrate Hanukah, you can still enjoy the same delicious treats from latkes to sufganiyot and other Hanukkah recipes. Likewise, for Kwanzaa during the karamu, you can still prepare delicious stews, braises or curries. No matter the occasion or holiday, if you decide to cook, just make sure to make separate servings for each person in your household and avoid shared dishes.
Another option is to take a break from cooking this year by ordering in or, for households of six or fewer, you can consider going to a restaurant that has a COVID-19 safety plan in place.
Take your traditions online
Look for safe ways to honour important traditions and rituals. Some ideas include:
Hanukkah:
Join a virtual community hanukkiah lighting. In many communities this time-honoured tradition is moving online so that all may still participate. Check online for different events.
Connect with loved ones over a long distance game of virtual dreidel.
Christmas:
Honour religious Christmas ceremonies by joining live stream church services and prayers from home. Many places of worship are organizing live stream services, events and/or prayers. Check online or call your place of worship to learn about different events.
Kwanzaa:
Light the kinara with your household each day and consider virtual ways to connect with community for the songs, drumming, dancing, storytelling and discussion of the Nguzo Saba.
On the last day of Kwanzaa, stay home and open zawadi with your household.
Simple New Year's celebrations can still be special
It will be a countdown to remember as we bid farewell to the year 2020. Plan creative and safe ways to mark the occasion. Watch your favourite movie, bang pots and pans or light sparklers at midnight with your household outside in the backyard or on your balcony.
Celebrate responsibly this year and ring in the New Year knowing that by staying with your household you're protecting yourself, your loved ones and your community.
Post and share our images below: