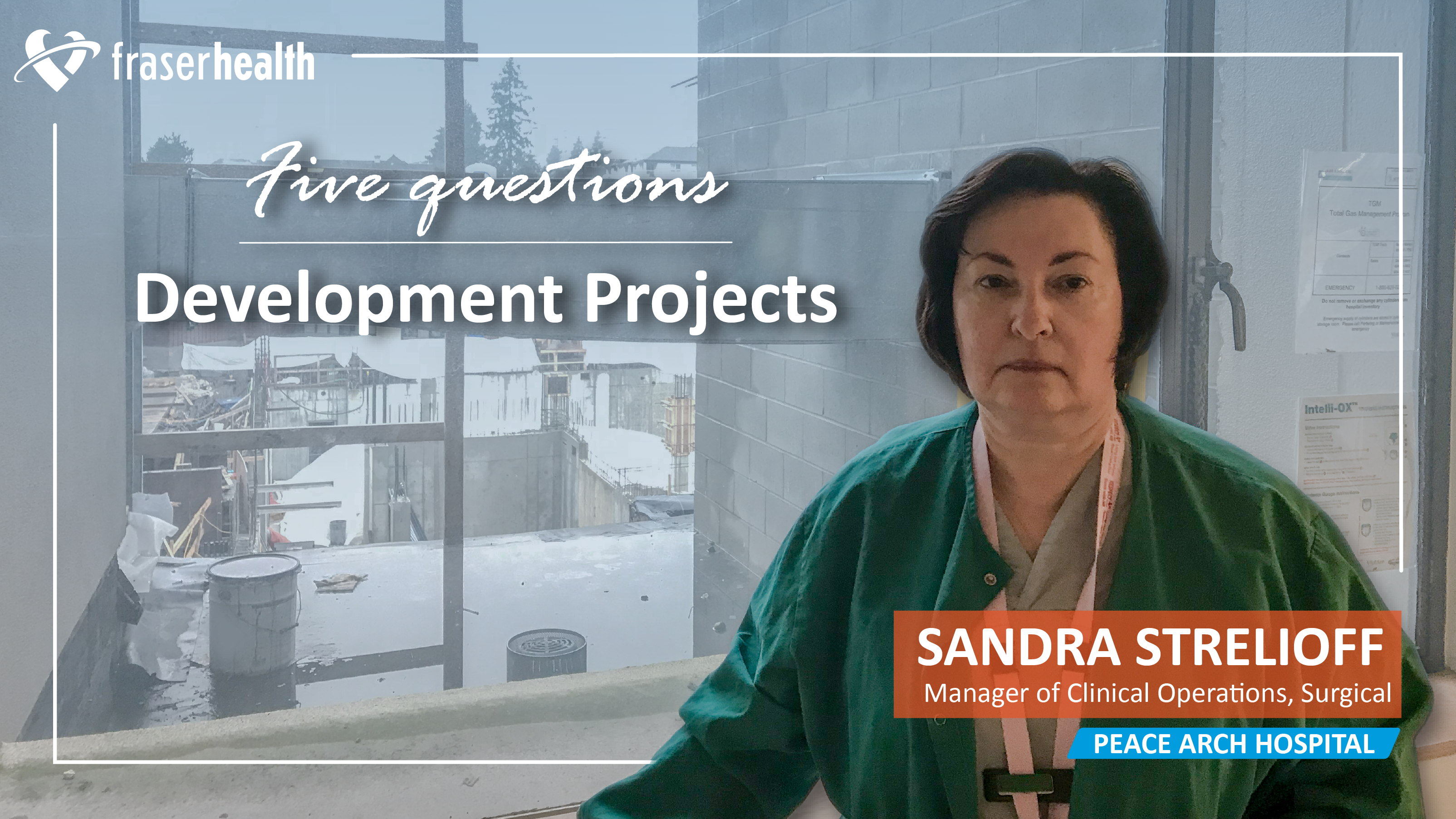 Peace Arch Hospital is expanding. To learn more about the new operating suites, we spoke with Sandra Strelioff, manager of Clinical Operations at Peace Arch Hospital.
Q1: Tell us a little bit about your role.
I manage the operational portion of our operating suites, which means I oversee the day-to-day procedures of the department. Some aspects of my job include making sure that staffing is sufficient, overseeing patient scheduling, and participating in our ongoing planning to help coordinate our transition into the new space. I help to create a better experience for patients and employees.
I started nursing in the late 70s and I've always worked in perioperative care. I've also worked in facilities planning as a senior clinical planner.
Q2: What is happening to the operating suites and the expansion?
We are expanding our operating suites from three to five and we're adding one procedure room, giving us more capacity and flexibility when coordinating surgeries. Along with that comes a new and expanded post anesthesia care unit and surgical day care space, where patients recover after surgery.
We're working on improving the physical layout so patients and employees have more room to move around. Right now, our operating rooms can be a bit tight, once you get the care team, all the equipment and technology, along with the patient in there, there isn't too much room left. The larger layout will make the space more comfortable for our patients and our teams.
Q3: How will the new operating suites help to improve the patient experience and care?
With the improved layout, it will be easier for patients to find their way around the department because our unit will be on one floor, whereas right now, we're divided between two floors. In the new space, patients will come straight to the operating suites for their surgery or appointment right after they are admitted, instead of having to travel through various sections of the hospital.
The new area will also support improved privacy as patients will be in separate spaces and there won't be any major walkthrough areas. Additionally, the post anesthesia care unit will be bigger and spread out, providing more privacy and comfort to patients during recovery.
Q4: What other changes will patients and employees see?
Along with the operating suites will come an expanded medical device reprocessing department, which is where we clean, sterilize and store medical equipment. The operating suites and medical device reprocessing will be closer and more connected by a dedicated elevator in the new layout. This allows us to bring sterile equipment straight to the operating room and reduces time spent transporting materials. This also helps with infection control as equipment spends less time in between departments.
Q5: What about this project makes you the most excited?
For me, it's the fact that we will have new technology that allows us to work more effectively and safely. For example, we are adding an integration system in the operating suites, which will allow us to take equipment off the floor and attach them to a dedicated equipment boom that is installed from the ceiling. By having our monitors and equipment descend from the ceiling, we reduce possible trip hazards and create a more efficient space in each room for our teams to work safely.
I live about five blocks from the hospital and I walk to work. As a resident, it will be gratifying to see how the finished result affects our community after we put in lots of hard work. This project will definitely have a positive impact on our hospital, our patients and for our care teams.
____________________________________________________________________________
The expansion and upgrades at Peace Arch Hospital are part of Fraser Health's commitment across the region to modernize our health care network, build capacity and improve timely access to quality, patient-centred care closer to home. Learn more about the Peace Arch Hospital expansion and upgrades project.
Come Work with Us
Check out current career opportunities at Peace Arch Hospital and join this exceptional team.
Follow our progress
Stay up to date on all our expansion and renovation projects through the Fraser Health Facebook, Twitter and Instagram channels.