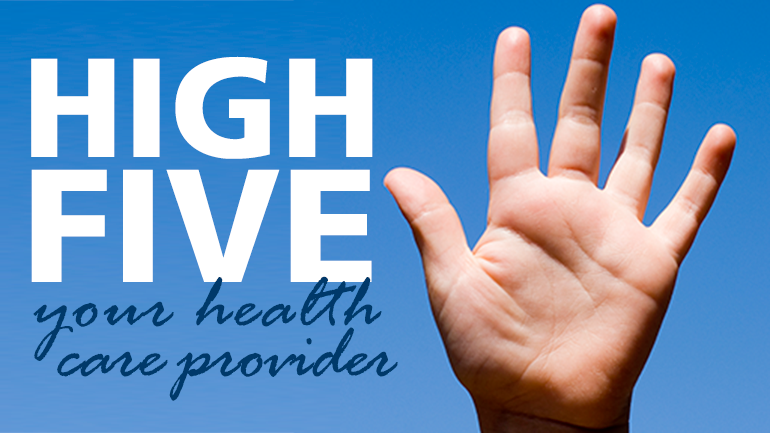 This week's high fives go to our amazing people at Abbotsford, Burnaby, Ridge Meadows, Peace Arch and Surrey Memorial Hospitals, and Langley Mental Health and Substance Use Centre.
Want to send a high five to your health care provider or Fraser Health team member? Leave a comment below or email feedback@fraserhealth.ca.
For Abbotsford Regional Hospital
The care from the pre-operations to recovery was fabulous the whole way through. Special thanks to nurses Joy, Kelly, Suzanne, Karen, David and Pita. Also, thanks to Dr. Patel, Dr. Smith and the rest of the Operation Room team.
I have never been to Abbotsford Hospital before and I was very grateful for the care, kindness, and professionalism that I received from the whole team.
---

---
For Burnaby Hospital
Please pass on my appreciation to all the staff who made my overnight stay at Burnaby Hospital a positive experience. Their efforts did not go unnoticed.
Pre-admission: the clerk was pleasant and helpful.

Pre-surgery: Amy was a delightful nurse with a relaxed attitude was helpful.

[Thank you:] Dr. Lau, David, Dr. Piceard, Dr. Belle and the OR nurses.

Post surgery: Ann, what more can I say, she needs to be cloned!

On the ward: [Nurses] Tami and Laaurin, thank you for your help.

Ward clerk: Heather tracked me down to say that I forgot my cellphone.

Pamela and Jasveen watched over the bleeding I experienced, changed my dressings and called me at home to check on my progress.

Wound Clinic: [thank you] to the nurse.
I could not have asked for better care – hats off to all the staff!
---
For Ridge Meadows Hospital
Just wanted to forward huge thanks from my mother-in-law, who checked into the Emergency Department at Ridge Meadows Hospital a week ago. Margaret, the registration clerk, did a fantastic job making my mother-in-law feel calm and cared-for. She cannot stop talking about how grateful she was for amazing care.
Thank you [also] to the nurses!
---
For Peace Arch Hospital
My heart is filled with gratitude for all the amazing and wonderful people at Peace Arch Hospital.
Each one of them from every aspect of my care to my eventual stay in the Intensive Care Unit were incredible. Every health care professional was warm and caring, which allowed me to relax during a stressful time. I loved how levity was encouraged and all my interactions were met with a cheerful reply and good humour.
The staff, nurses and doctors were attentive, making sure I was comfortable and able to focus on healing. [They] were passionate about their job, always greeted me with a warm smile and good cheer … Peace Arch Hospital is to be commended for the incredible job they do in caring for those of us who are going through a rough patch. They make us all feel safe and well cared for. During my entire stay, I was aware that I was safe and that everyone was doing their best to ensure a healthy recovery.
I am truly grateful for all the care I received and for all the extra time Peace Arch Hospital has given again.
So, on behalf of myself, my family and friends, I'd like to convey our sincere heartfelt thanks to: Erminda, Amar, Laura, Anna, Kirsten, Kelsey, Lavender, Julie, Nancy, Gail, Aaron, Amad, Dr. S. Field, Dr. Rudnick, and to everyone else involved in my care.
All my very best to everyone at Peace Arch Hospital and Fraser Health, you are truly an incredible team!
---
For Langley Mental Health and Substance Use Centre
I am writing this review about the Langley Mental Health and Substance Use team and in particular, Dr Olajitan and staff [as] my condition [has] improved dramatically. I am feeling better.
I cannot say enough about how well I was treated by Dr. Olajitan, the acute team and the staff. My wife and I are delighted with their care and concern. Now that I am so much better, I have volunteered to be part of their Peer Support team.
---
A client and her daughter want to express how grateful they are for a TriCities Home Support Worker named Vera. They stated how friendly, responsible and hard working she always is showing great enthusiasm every time she cares for her mom.
---
For Surrey Memorial Hospital