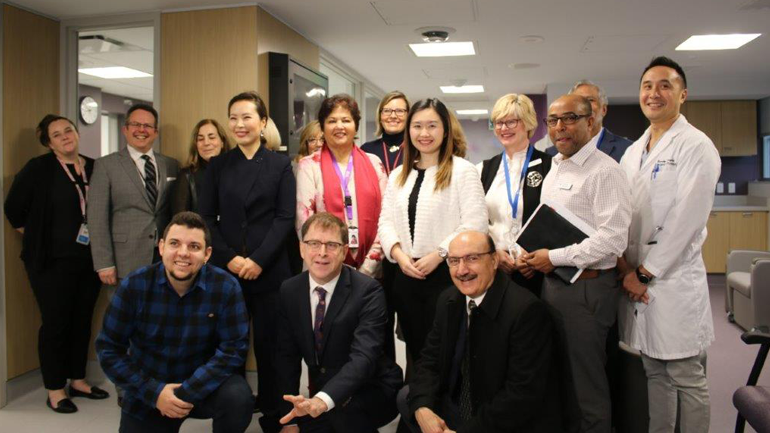 Staff at Burnaby Hospital will now provide specialized care in a calm, therapeutic space, separate from the fast-paced emergency department.
One of the busiest emergency departments in the province has a new zone designed to better support people who come to the hospital with a mental health or substance use concern. Staff at Burnaby Hospital will now provide specialized care in a calm, therapeutic space, separate from the fast-paced emergency department. This is the fourth zone of its kind in Fraser Health. Burnaby Hospital joins Abbotsford Regional Hospital, Royal Columbian Hospital and Surrey Memorial Hospital in delivering this specialized care.
"The new zone and addition of 12 staff to the team of specialized health-care professionals will help over 4,300 patients each year," says Adrian Dix, Minister of Health. "The improvements today will provide better, more thoughtful care for patients. For people in Burnaby, this means more specialized services now as we proceed on our path forward to redevelop Burnaby Hospital into a state-of-the-art facility with our government's $1.3 billion investment."
The new mental health and substance use zone is designed with patient privacy and comfort top of mind. It features a separate entrance from the main emergency department, a seclusion room, confidential assessment rooms, a nourishment centre with food and a shower room to support patient comfort.
"Our government is committed to supporting people with mental health and substance use challenges," said Judy Darcy, Minister of Mental Health and Addictions. "The new space at Burnaby Hospital will help thousands of people every year and is another step in making it easier for people seeking a path to healing and hope."
"I would like to thank everyone who helped make this new mental health and substance use zone a reality for our community," said Anne Kang, Burnaby-Deer Lake MLA and Parliamentary Secretary for Seniors and Multiculturalism. "The Burnaby Hospital Foundation and Burnaby Firefighters Charitable Society are always generous with their support. Their efforts and success will make a real difference to people seeking care at Burnaby Hospital."
"Developing this new zone is a way for us to ensure that patients in Burnaby receive specialized care in an environment that best supports them while we work on redeveloping the hospital", said Dr. Victoria Lee, Fraser Health President and Chief Executive Officer.
The reconstruction of the space cost $3.731 million with $1.5 provided by the Burnaby Hospital Foundation, of which the Burnaby Firefighters Charitable Society donated $250,000.
"With our hospital's emergency department on the front line of this community's mental health challenges, Burnaby Hospital Foundation has been very proud to do our part in helping to make the mental health and substance use zone a reality," said Kristy James, Chief Executive Officer, Burnaby Hospital Foundation. "With the incredible support of our donors – especially the Burnaby Firefighters Charitable Society – we now have a dedicated space which will provide a safer, patient-centered setting for those with complex needs."
The new zone builds on other investments at Burnaby Hospital and in the community, including:
A nearly $10 million reconstruction of the new entrance and admitting area, health management department (records) and community outpatient services (wound care, IV antibiotics etc.) which will all be completed this year (2020)
Increased access to team-based health care with the launch of three primary-care networks and the opening of the new Burnaby Urgent and Primary Care Centre
Creation of a Central Intake and Optimization Clinic for Arthroplasty at Burnaby Hospital
Increased staffing in a number of Burnaby long-term facilities to 3.36 direct care hours per day
Investment of $800,000 in infrastructure improvements at Fellburn Care Centre.