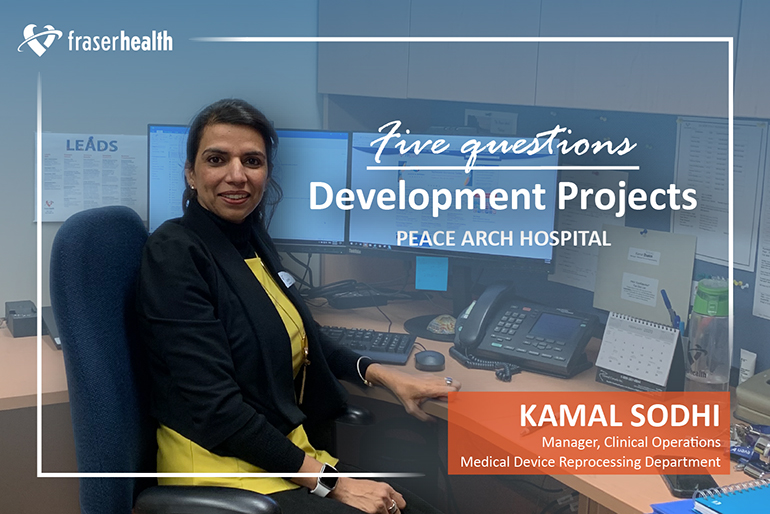 Peace Arch Hospital is renovating its Medical Device Reprocessing Department. We spoke with Kamal Sodhi, manager of Clinical Operations, Medical Device Reprocessing to learn more about what this means for patients and our teams.
Q1: Tell us a little bit about your role.
I manage the Medical Device Reprocessing Department at Peace Arch Hospital. I oversee the unit to make sure that operations are running smoothly and are in compliance with regulations. For the project, I am helping with operational planning to prepare us for when we officially open the new department. I am also involved in choosing the equipment that we will be using, ensuring that we will have sufficient staffing, and other operational aspects of this transition.
Prior to this role, I worked as an Emergency Department nurse at Surrey Memorial Hospital and before that, I was a medical unit nurse at Peace Arch Hospital, so I know the hospital well.
Q2: What is the Medical Device Reprocessing Department and how is it important to the function of the hospital?
The Medical Device Reprocessing Department is the heart of the hospital and touches almost every patient that visits. The department's key role is to decontaminate, inspect, maintain, sterilize or disinfect medical devices that are used in nearly every medical procedure in the hospital. These include surgical tools for procedures from dental surgeries to endoscopies. Once medical devices are used, they are brought down to our department where we reprocess and sterilize them to make them safe for use again. Every year we reprocess about 70,000 pieces of equipment at Peace Arch Hospital.
Q3: What excites you about this project?
I am excited about the modern equipment in the new space, including the most current version of disinfectors, low temperature sterilizers, height adjustable sinks and improved lighting, which will allow employees to be more effective in their work. I think it's going to be great to see how the new system and equipment will make the environment safer for patients and more comfortable for our employees. We're all looking forward to the completed project.
The department is also being designed to accommodate a new computerized system to track equipment which will help us to save time and allow us to better manage the flow of items that come in and out for patient use.
Q4: What can you tell us about the design of the new department?
The new design will create a one-way workflow, which is the best practice design for Medical Device Reprocessing Departments and eliminates cross contamination. What that means is that instruments and devices will travel in a single direction from the time they enter our department, to when they are sent out for use again. This type of workflow reduces the likelihood of cross contamination and is more efficient for our team.
Our new department will be closer to our operating suites and there will be a new dedicated elevator for transporting soiled and clean items that are separate from the public ones. This allows us to transport equipment in a sterile environment directly to the operating rooms and reduce the overall time equipment spends in transportation between departments.
Q5: How will patient care and experience be improved because of this project?
The new department will be larger, have an improved layout, and is located closer to our operating rooms and Emergency Department. This will improve infection control through a more streamlined process for handling our medical devices, and provide a better connected workflow for our teams.
Patients may even experience reduced wait times for surgical care with the addition of equipment such as the steam sterilizer, low temperature sterilizer and disinfectors to process equipment for priority procedures, and two new dedicated elevators to transport instruments directly to and from the operating room. The increased space and capacity of our department, along with the one-way work flow, will also contribute to providing efficient and timely care to patients.
____________________________________________________________________________
The expansion and upgrades at Peace Arch Hospital are part of Fraser Health's commitment across the region to modernize our health care network, build capacity and improve timely access to quality, patient-centred care closer to home. Learn more about the Peace Arch Hospital expansion and upgrades project.
Come work with us
Interested in joining one of our exceptional teams? Check out current job opportunities at Peace Arch Hospital.
Follow our progress
Stay up to date on all our expansion and renovation projects through the Fraser Health Facebook, Twitter and Instagram channels.