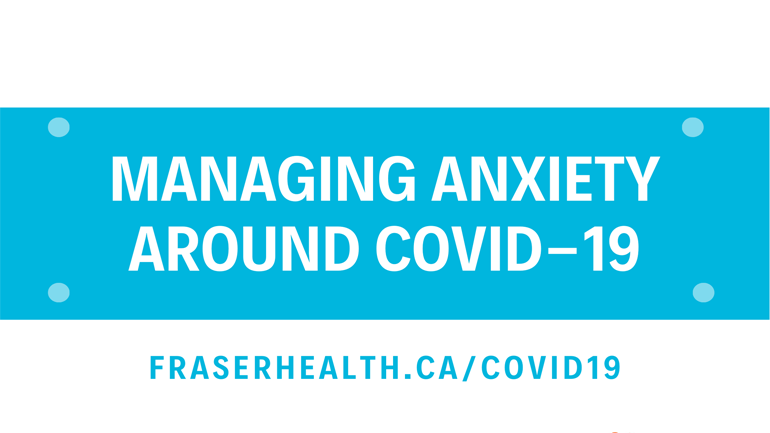 Tips for managing fear and anxiety.
With the spread of COVID-19 and the accompanying heightened focus in the media and in day-to-day conversations, it is completely understandable to feel increased anxiety and stress. Often, anxiety arises in the face of the unknown or feeling a loss of control. To help manage this, focus on what's in your control to stay healthy and help keep those around you healthy.
Maintain routine: Try to stick to your normal activities as much as you can. For example, waking and sleeping at the same time you normally do, maintaining regular meal schedules, and adapting your other daily activities where needed (e.g. if your normal exercise routine at a gym or studio have been interrupted by closures, try working out to YouTube fitness videos at home, instead).
Limit your media and social media intake: Restrict the amount of time you spend reading/watching things that make you feel anxious. Schedule your information exposure instead of having a constant stream of news coming at you all day. Get your facts from the right sources: BC Centre for Disease Control, Fraser Health, Public Health Agency of Canada and World Health Organization. Don't believe everything you read online, especially if they haven't been verified by official health and government sources.
Keep connected: We can still socialize while social distancing. Phone calls, FaceTime, and Skype are all still great ways to connect. Find other things to talk about other than COVID-19 to give yourself a mental break. Reach out to neighbours to see if there's anything you can get for them if you're doing an essential-needs run to the grocery store or pharmacy. Let's look after one another.
Get some fresh air: It does the heart and mind good to get some fresh air. If you are well and you are able to avoid crowds and maintain social distance while you are out, go for a walk, hike or a bike ride.
Take advantage of some downtime: Now is the time to clean out that closet, junk drawer, corner of the garage and tackle other to-do list items around your home/yard. Also, enjoy some quiet time, read a book and catch-up on movies.
Keep perspective: Managing respiratory illnesses is not new to the medical community. Public health agencies and experts in all countries are working together and employing lessons learned from past outbreaks. Guidelines and plans are in place and are being updated as new information arises. Focus on your part of fighting the spread of illness (e.g. proper handwashing, coughing and sneezing into your elbow sleeve, staying at home when you're not well and practicing social distancing) and trust that the public health and government officials are working hard on their parts.
If you are feeling anxious and need to talk, call the Fraser Health Crisis Line, available 24 hours a day, seven days a week at 604-951-8855 or toll-free at 1-877-820-7444
If you are looking for COVID-19 related information, go to: