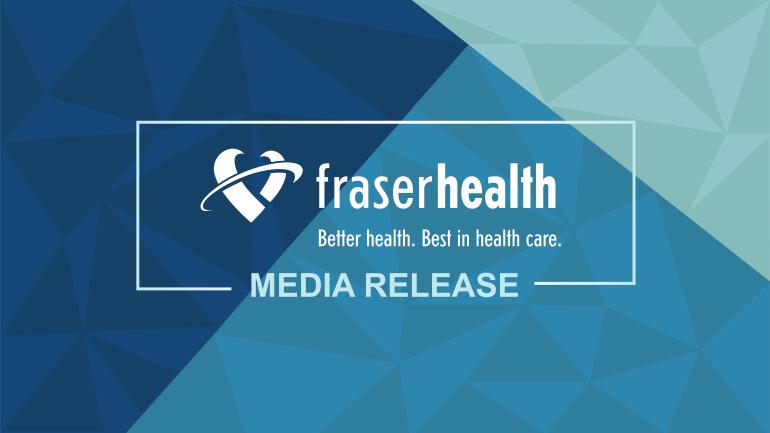 People living in the Tri-Cities will soon have better access to same-day health-care services when and where they need it with a new urgent and primary care centre (UPCC).
The temporary location will open February 2021. A request for proposals for a permanent location is underway.
"The new UPCC will allow people in the Tri-Cities, including Coquitlam, Port Coquitlam and Port Moody, to access the everyday health-care services they need closer to home, while also taking the demand off the emergency department," said Adrian Dix, Minister of Health. "We are working in partnership with local communities and health-care providers to deliver on our primary care strategy throughout the province."
The UPCC will be operated by Fraser Health, with the support of the Fraser Northwest Division of Family Practice, Indigenous Partners and the Tri-Cities on the ancestral, traditional and unceded territories of the Kʷikʷəƛ̓əm (Kwikwetlem), Qiqéyt (Key-Kayt) and Coast Salish Nations.
A team of health-care workers will join the centre, including family physicians, nurse practitioners and registered nurses, as well as allied health providers (pharmacist, social worker and clinical counsellor) and support staff.
"I am very happy for the communities in the Tri-Cities that will benefit from this new urgent and primary care centre to help meet their daily health-care needs closer to home," said Rick Glumac, MLA for Port Moody-Coquitlam. "Urgent and primary care centres are an excellent solution for people who may not have a regular family doctor, and they can also help patients secure a primary care provider."
The centre will focus on providing ongoing, long-term primary care, as well as urgent care to people with non-life-threatening conditions.
This is the 21st urgent and primary care centre announced under the government's primary care strategy. The UPCC in the Tri-Cities will be the sixth centre in the Fraser Health region, including two in Surrey, and one each in Burnaby, Maple Ridge and Abbotsford.
---
Quick Facts:
Primary care is the day-to-day health care given by a health-care provider.
Urgent primary care is the care that people need within 12 to 24 hours for conditions such as sprains, urinary problems, ear infections, minor cuts or burns, headaches, sprains, and experiencing mental health and substance-use challenges.
Urgent and primary care centres are part of a comprehensive strategy to transform B.C.'s health system by bringing together and co-ordinating with health-care providers, services and programs to make it easier for people to access care, receive followup and connect to other services they may need.
Learn More:
To learn more about the Province's primary health-care strategy, visit: https://news.gov.bc.ca/releases/2018PREM0034-001010
To learn more about the Province's strategy to increase the number of nurse practitioners, visit: https://news.gov.bc.ca/releases/2018HLTH0034-000995
What people are saying about an urgent and primary care centre (UPCC) coming to the Tri-Cities:
Mike Farnworth, MLA for Port Coquitlam –
"This announcement demonstrates how the government is committed to providing easier access to health-care services for people in every community of this province. As a resident of Port Coquitlam for more than 40 years, I've seen the Tri-Cities grow rapidly, and I am confident this new Tri-Cities urgent and primary care centre will ensure residents can get their daily health-care needs met more conveniently after work and on weekends."
Selina Robinson, MLA for Coquitlam-Maillardville –
"As a long-time resident of Coquitlam and a former city councillor, I often heard from people having difficulty getting a regular family doctor. This new urgent and primary care centre will ensure people can get consistent health care from a team of professionals, resulting in a better overall daily quality of life."
Dr. Victoria Lee, president and CEO, Fraser Health –
"We are proud to work closely with our partners to bring co-ordinated, patient-centred health services closer to home for people living in the Tri-Cities. By attaching them to consistent care providers, we can help them remain healthy, manage chronic health concerns, avoid unnecessary visits to the hospital and remain independent in their community."
Dr. Stephanie Aung, board chair, Fraser Northwest Division of Family Practice –
"We are motivated in this new partnership with Fraser Health, Indigenous partners and division members to work in collaborative and innovative ways together by creating a space for new family doctors to work together in a team-based care model with new allied health-care providers, such as social workers, counsellors, cultural advisors and dietitians. The division representing the family physicians in the community is committed to improving access to a primary care provider who knows your health best for all living in the Tri-Cities. We are working together to find creative ways to bring more family doctors to our community, who we need greatly. With more doctors, new nurse practitioners and primary care network service team members, we are hopeful to work toward giving our community the health-care system it deserves."
Dr. Kathleen Ross, president, Doctors of BC –
"We look forward to the integration of a UPCC in the Tri-Cities in hopes it will strengthen primary care in the community and ensure people there have access to the health-care services they need, while also supporting long-term relationships between patients and their family doctor."
Michael Sandler, executive director, Nurses and Nurse Practitioners of BC –
"Nurses and nurse practitioners of B.C. are pleased to see that the knowledge, skills and expertise of the entire health-care team will be utilized to improve access to health care for all British Columbians through urgent and primary care clinics. We believe that this approach will be pivotal in ensuring B.C. families can access health-care services, and we are excited to see the opening of another urgent and primary care clinic in B.C."
For media inquiries, please contact:
media@fraserhealth.ca