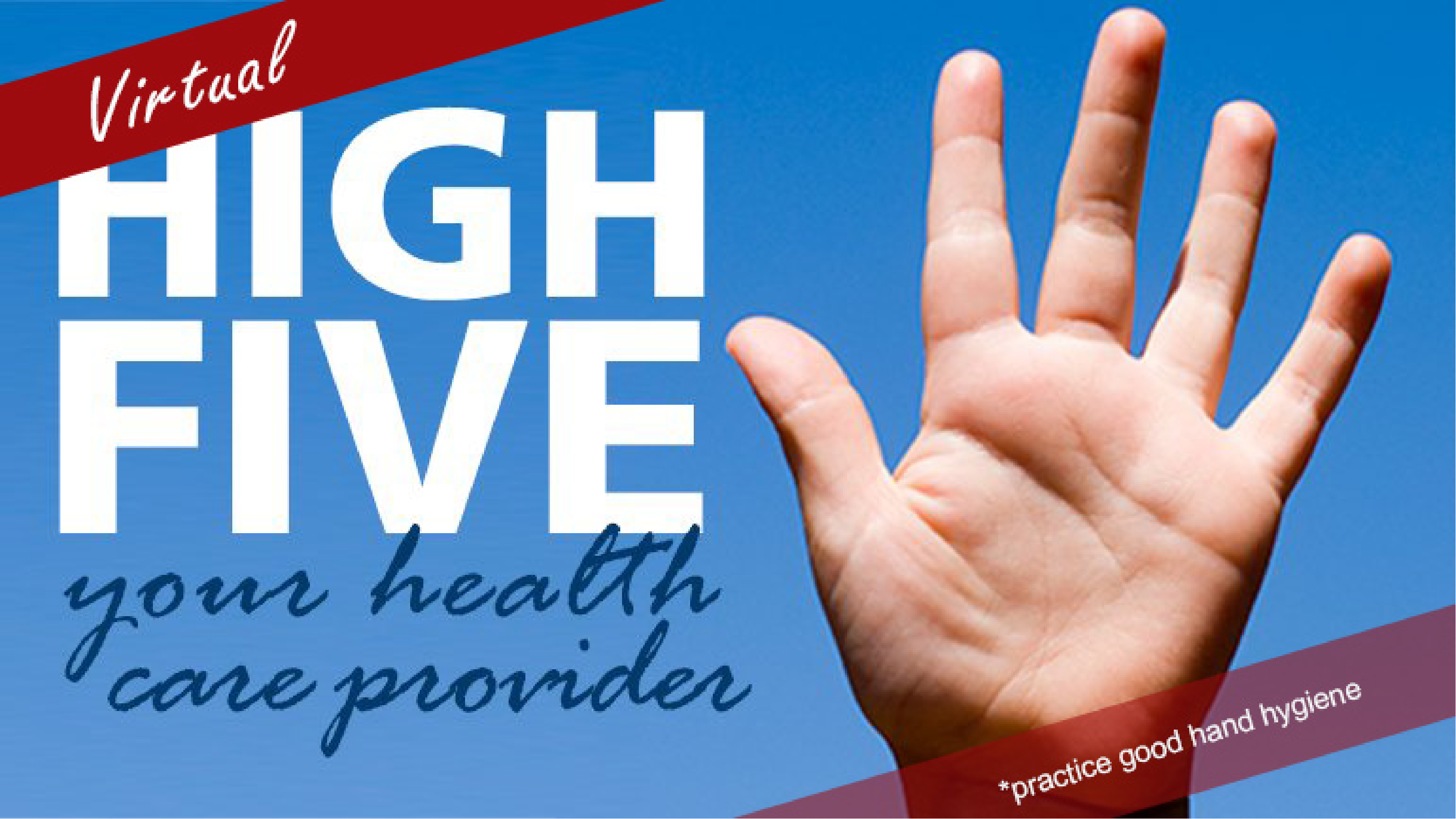 This week's high fives go to our amazing people in our Burnaby, Coquitlam, Delta and Surrey North Testing and Immunization Centres and Maple Ridge COVID-19 Testing Centre. High fives also go to our people in Fraser Canyon, Langley Memorial and Peace Arch Hospitals.
Want to send a high five to your health care provider or Fraser Health team member? Leave a comment below or send your thanks using our online submission form. Read more kudos at fraserhealth.ca/highfive.
---
For Burnaby COVID-19 Testing and Immunization Centre
Thanks to Dr. Arora for making my wife laugh during her immunization. We drove in super nervous and left protected and healthy. Thanks Dr. Arora!
---
For Coquitlam COVID-19 Testing and Immunization Centre
My 80 [year old] parents attended the drive thru clinic in Coquitlam last week. They told me they were a little hesitant before arrival because they did not know what to expect, but they simply sang their praises about the set up and the people.
Frankly, I was nearly in tears as I heard about their experience, especially about how comfortable they were made to feel throughout it. Thank you so much!
---
For Delta COVID-19 Testing and Immunization Centre
My husband and I received our COVID-19 vaccine today.
The immunization clinic was set up really well. The signage was clear and there were plenty of staff to greet and direct every person who walked toward the doors. Once inside, the instructions were clear, and again, staff giving direction of where to go next. The clinic was well laid-out and calm.
We are so grateful to all of you. Thank you.
---
For Fraser Canyon Hospital
My husband and I both had to go to the lab for routine tests.
We wanted to say a huge thank you to the wonderful lab team who are utterly fantastic at their jobs. I am nervous with needles and injections but the technician put me completely at ease. The work area was also well organized with good COVID-19 protocols and very welcoming. Thank you!
---
For Langley Memorial Hospital
Everyone at the emergency, from reception to X-ray technician, nurses and the doctor were super caring, knowledgeable and friendly. I have yet to find a more caring crew at a hospital. I love Langley Memorial Hospital!
---
For Maple Ridge COVID-19 Testing Centre
I went for my COVID-19 test today. I just wanted to say thank you to everyone that was working there. That makes me feel so proud to be in the British Columbia health system.
Everyone there was so thoughtful and so gracious. They made you feel real special. Thank you again for the good job.
---
For Peace Arch Hospital
I make frequent visits to the lab and just wanted to compliment the staff for their genuine care. They often go over and beyond any expectations.
---
For Surrey North COVID-19 Testing and Immunization Centre
Thank you for being so organized and well prepared for immunizations. I regret not asking the lady that jabbed me her name. She was a breath of fresh air and so positive.