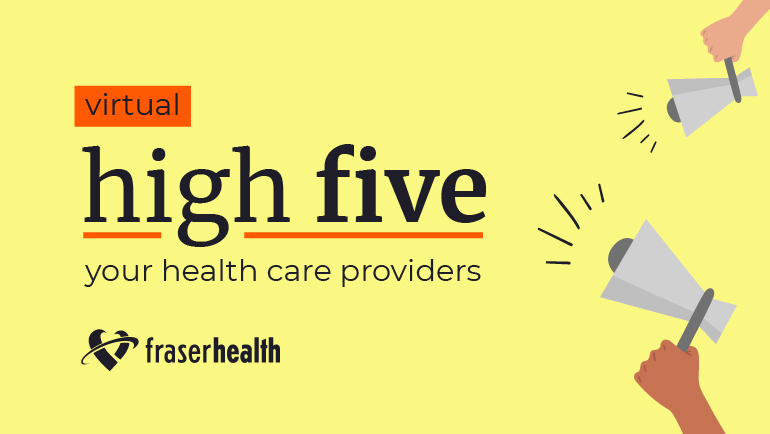 This week's high fives go to our amazing people at Ridge Meadows Hospital, Surrey Memorial Hospital, Surrey North COVID-19 Vaccine Clinic, Peace Arch Hospital, Century House COVID-19 Vaccine Clinic and Abbotsford Regional Hospital.
Want to send a high five to your health care provider or Fraser Health team member? Leave a comment below or send us your story here.
---
For Ridge Meadows Hospital
Just wanted to say thank you to Elyse at the registration desk in the Emergency Department… Elyse's calm words and actions calmed [my mother-in-law's] anxiety and fears. Thank you for such care and respect.
---
For Surrey Memorial Hospital
I would like to thank my orthopedic surgeon, Dr. Nadeau… she gave me my life back. She was incredibly smart and competent. I am forever grateful for you.
---
For Surrey North COVID-19 Vaccine Clinic
My wife and I, both in our 70s, received our booster shots by appointment. The whole experience was friendly but purposeful. Surrey Fire emergency medical technicians were providing the actual injections. Courtesy and attention from all the staff involved were clearly evident as well as attention to detail. As with our first two shots the facility was adequately staffed. Thanks to all.
---
For Peace Arch Hospital
Lisa, the geriatric nurse at Peace Arch Hospital Emergency Department, went over and above her duties as a nurse for my Dad. I want her to know how much he and his family appreciated the help she provided for him.
---
My father was a patient in the Acute Care for the Elderly (ACE) unit for several weeks. He passed away recently. I would like to acknowledge and thank the entire staff at the ACE unit of Peace Arch Hospital for the kindness they showed our family, and for the excellent care they provided my father. Several said, "It's our job," but all went far above and beyond in their care and service.
---
My doctor was excellent. She explained procedures and calmed a very anxious patient. What a great bedside manner she had. I truly appreciated the time she took to make me comfortable. Please pass on my commendations to her superiors.
---
For Century House COVID-19 Vaccine Clinic
A very heartfelt thank you to Pam and Rahim, two amazing vaccinators at your COVID-19 vaccine clinic at Century House. My 9-year-old daughter was terrified of getting the shot. Pam and Rahim were skillful, compassionate and very patient; it probably took about 20 minutes but we finally got the shot in her arm. Thanks Pam and Rahim, you're wonderful!
---
For Out-Patient Rehabilitation Program - Abbotsford Regional Hospital
December 13th marks seven months since I found out that I had a brain tumor that bled, and I had a stroke. It also marks my last appointment with the most amazing rehabilitation team in the world.
Lorraine has been amazing to work with. She helped me and my husband with creating appointments, making changes to the plan, and creating new plans as needed. She has always been kind and caring during our time in the rehab unit. Jacqueline has always gone above and beyond for me during my time with her. See has made my recovery the best it can be. Without her assistance, I do not know how far I would have gotten on my own. She has been self-less, thoughtful, kind, compassionate and genuinely cares about the people she works with. She has a heart of gold.
Cathy helped me learn new ways to relax, a skill that I am still learning to use. Without her help, I am sure that I would be feeling more anxious and overwhelmed. The skills that she taught me, and others are invaluable to my continued recovery. The Social worker who helped me connect with a legal advocate to help me with our application to CPP disability. She listened to my concerns and is truly knowledgeable and helpful.
All these people worked together to achieve one goal, getting me back on my feet. I hope that you can let everyone know how important their work is for people like me. I also want to thank you for your part in all of this. You really care about your team, and it shows in their dedication to their work and the people they are helping.