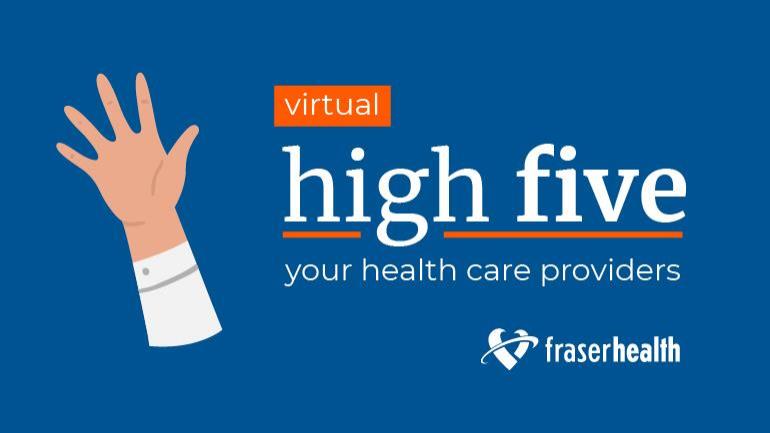 This week's high fives go to our amazing people at Langley Events COVID-19 Testing and Immunization Centre, Peace Arch, Ridge Meadows and Surrey Memorial Hospitals.
Want to send a high five to your health care provider or Fraser Health team member? Leave a comment below or send us your story here.
---
For Langley Events COVID-19 Testing and Immunization Centre
Hello. My son had his first COVID-19 vaccine done this morning at the Langley Events [COVID-19 Testing and Immunization]. I want to express my deep gratitude to the health care staff. They truly did an amazing job. Cheering for him, thanking him for getting his shot. The narrative he came home with was so unbelievably positive. He's excited, proud and feels good. I am so grateful they made this so impactful for him. Amazing.
---
For Peace Arch Hospital
I would like to thank Simran, Tiana and all the other nurses on the second floor [at Peace Arch Hospital] who took such good care of me after my operation. I would also like to thank Dr. Hoyda and Dr. Skepasts for their surgical skills. I thank the Lord for blessing me with professionals like yourselves. God bless you all.
---
Priya, a nurse in the Emergency Department at Peace Arch Hospital, is one of the kindest, most caring nurses ever. She was all that and more under the most trying situations. I will be forever [be] grateful to her.
---
I want to share how wonderful the reception staff and technicians are in Peace Arch Hospital's Mammography Department. They are welcoming, efficient and make a somewhat awkward screening program as painless as possible. I want them to know how much this is appreciated. Many thanks.
---
For Ridge Meadows Hospital
Jackie, a registered nurse in the emergency department, is kind and never talks down to her patients. She listens, cares what they say and she is positive. It seems she takes care of her mental health.
---
For Surrey Memorial Hospital
I am writing to you to express my gratitude to the staff members working in the ICU at Surrey Memorial Hospital. My mom came to the hospital ICU ward with COVID-19. She stayed in the ICU for more than a week.

During her stay, nurses, doctors and a social worker went beyond their professionalism to help my mom, my family and myself get through this difficult time. The words are not enough to describe how wonderful you are. As I am in the same profession as you, I really can't thank you enough for what you have done for my mom. I would like to use this opportunity to mention nurses Sam, Julie and Gillian. Especially social worker Sheila and Dr. Brar who got an interpreter to talk to my dad about my mom's situation. That meant the world to my family.

Thank you again for everyone working in the ICU at Surrey Memorial Hospital. My mom is recovering well. I wish everyone a Merry Christmas!
---
I brought my three-month-old son into the pediatric emergency department [at Surrey Memorial Hospital]. As a first time mother, I was very emotional to see my son in distress but the nurses were very thoughtful and caring. The doctors who attended to us were patient, kind and thorough. The doctor also followed up with us a week later. Overall I am very satisfied with our visit and thankful to the nurses and doctors.