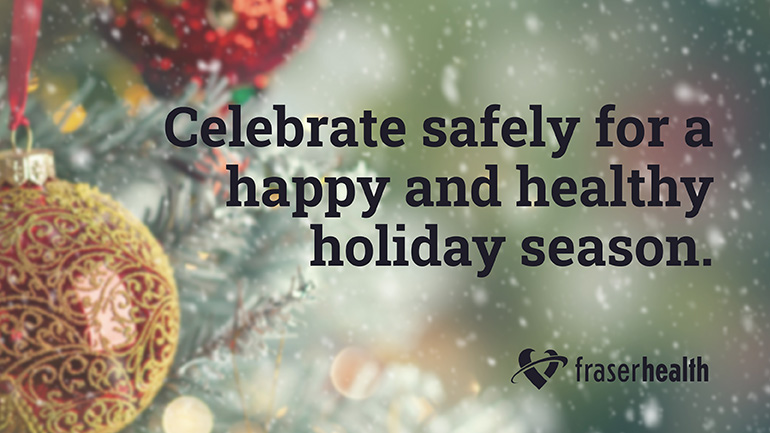 Celebrate the winter holiday season in a COVID-19 safe way
This holiday season, please follow the new provincial health orders to help stop the spread of COVID-19.
Holiday traditions are important for families and friends, so illuminate the holidays by making health and safety a priority. Follow our tips and keep you and your loved ones safe and healthy – and ready to enjoy the holidays.
Eat, be merry, and be safe.
For many people, the holidays means gathering with family and friends. This holiday season, the Provincial Health Officer has introduced new province-wide restrictions to keep you and your loved ones safe.
If you're the host for celebrations and holidays:
Indoor personal gatherings at your home or vacation accommodation are limited to your household plus 10 visitors or one other household. Everyone 12 years and older must be fully vaccinated.
There are no restrictions for outdoor personal gatherings.
Respect everyone's boundaries around masks and vaccinations when gathering.
Serve pre-portioned appetizers, rather than dips and shared snack bowls that many people will touch.
To read the full details of the current restrictions visit the provincial and regional restrictions page.
Holiday travel
The Federal government has advised Canadians to avoid all non-essential travel outside Canada, regardless of vaccination status.
In Canada, all travellers 12 years and four months of age and older need to be fully vaccinated and show proof of vaccination to board a plane, train or staying on a non-essential passenger vessel for more than 24 hours (like a cruise ship).
Check the COVID-19 situation where you plan to visit. Follow local guidance and take precautions to prevent COVID-19. International travellers should plan ahead for the travel requirements of their destination and for returning home.
You can find more information about travelling this winter on Government of B.C.'s website.
Get vaccinated
Vaccinations are one of the most important ways of protecting yourself, your loved ones and your community from COVID-19 and influenza.
Anyone in B.C. five years of age and older is eligible for the COVID-19 vaccine. You can register online, by phone at 1-866-838-2323 or in person at a Service B.C. location. Find your closest immunization clinic at fraserhealth.ca/vax.
COVID-19 isn't the only thing circulating, it's also influenza or "flu" season. Get your free influenza vaccine through your family doctor or local pharmacist. Influenza vaccines are safe, effective and recommended for everyone in B.C. six months of age and older.
Tips for safe shopping
Shop during less busy times to avoid crowds or do your shopping online.
If you are shopping in-person this year, wear a mask and maintain physical distance. Remember to wash your hands often.
If you are feeling unwell, please stay home. Get tested if you have COVID-19 symptoms: fraserhealth.ca/covid19test
Stay active and get outside.
Staying active is an important part of a healthy lifestyle.
Bundle up and take a walk, go for a bike ride, toboggan or snow shoe outdoors with family or friends. You can find more information about staying active this winter here.
Enjoy a happy and healthy holiday season.