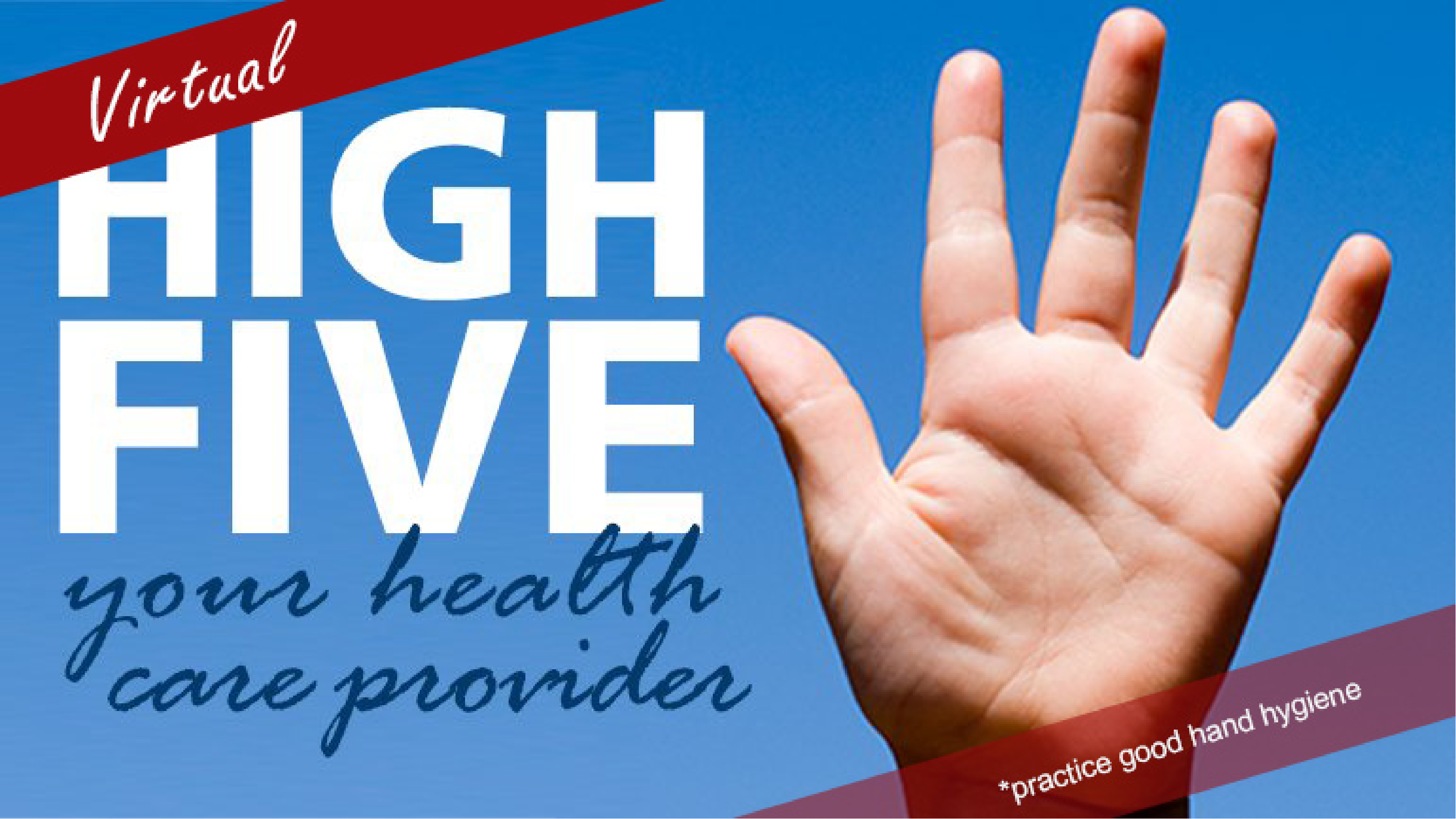 This week's high fives go to our amazing people at Ridge Meadows, Burnaby, Eagle Ridge, Surrey Memorial and Royal Columbian Hospitals.
Want to send a high five to your health care provider or Fraser Health team member? Leave a comment below or send us your story here.
For Ridge Meadows Hospital
I want to thank Fraser Health for providing the course at the Ridge Meadows Hospital Chronic Pain Clinic. The group of leaders in this class were caring and encouraging to the clients. The topics were most helpful; understanding on pain science, sleeping habits, nutrition and gentle movement exercises. The team made time to help each individual's concerns.
---
Thank you to all the wonderful nurses and Dr. Rughani (I think that is his name) for your swift care for my baby boy who had an allergic reaction to cashews. You were all very attentive and acted quickly to get my little one an epi shot. We were checked on frequently even when the staff were busy. Thank you, thank you, thank you!
---
For Burnaby Hospital
Rafael (I hope I have your name right!) conducted a lengthy breathing test on January 29. He was so good at explaining exactly what the procedure was, communicating what the next step was and what the test results meant. He was efficient without giving the impression of being rushed.

He was very personable and seemed genuinely interested in my health. Thank you!
---
For Eagle Ridge Hospital
I wish to personally thank Lorraine, in Port Moody, for her time and dedication to her clients. Lorraine spent quality time to explain what [housing] options were available [to my 89 year old Aunt Rose]. Knowing my Aunt's demeanor and situation, her honest and kind delivery was much appreciated.
---
I recently was sent to the emergency after some concerns arose with blood work I had done. I was shown great kindness by all staff I interacted with, including Penn, Kelly and Dr. Ali Abdalvand. They provided excellent care, quickly diagnosed and treated me, and had me home much more quickly than I imagined. I am very comforted to know such a good resource exists in our community.
---
For Surrey Memorial Hospital
I had severe attack of pancreatitis in April 2019. I was told if they didn't start the meds in my neck right away, I would be put on life support. I was put into room 15 on the High Acuity Unit floor in Surrey Memorial Hospital. My nurses were named Sam and Michael on my first few days there. You were amazing and I will never forget what you did for me. I thank you from the bottom of my heart.
---
For Royal Columbian Hospital
Thank you to Dr. Ken Atkinson, his assistants and to RNs Shelli and the emergency staff for the extraordinary efforts to clear and cure my abdominal discomfort from a Duodenal Hernia. I feel like a new person and am back to a comfortable normal life, COVID-19 notwithstanding. Thanks also to everyone in Fraser Health for the administration and operation of an extraordinary health care organization.
---
I recently went to Royal Columbian Hospital Surgical GI Daycare on February 8. The staff at the main entrance/admitting ensured a safe, calm and organized admission. I want to thank all the staff and Dr. Krygier for the awesome care I received! So grateful for our dedicated health care workers.