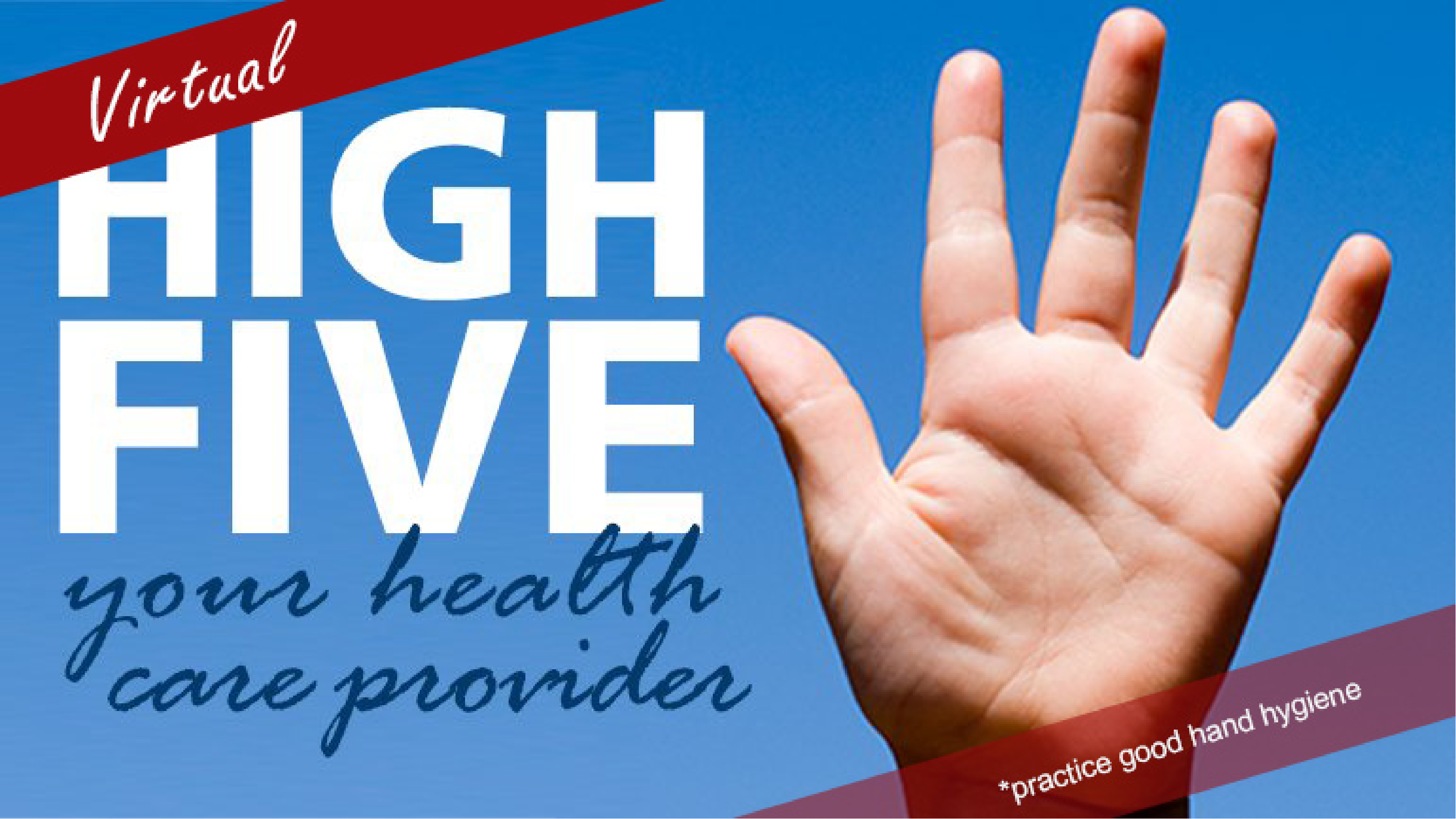 This week's high fives go to our amazing people at Eagle Ridge Hospital, Royal Columbian Hospital, Abbotsford Regional Hospital, Surrey Memorial Hospital, Burnaby Hospital, Peace Arch Hospital and Mission Memorial Hospital, Burnaby Hospital and Queen's Park Care Centre, Surrey Memorial Hospital and Langley Memorial Hospital.
Want to send a high five to your health care provider or Fraser Health team member? Leave a comment below or send us your story here.
For Eagle Ridge Hospital
I would like to thank the wonderful staff on the Monitored Care Unit for their exceptional care. I spent three days there and cannot say enough about the attentive care I received. They were reassuring and put me at ease.
A special thanks to Marlon who made my time there a little less lonely.
---
For Royal Columbian Hospital
Just want to give a big thank you to all the friendly staff today that guided me through my procedure process. I wanted to recognize their excellent work that made my procedure a pleasure today.
---
For Royal Columbian Hospital
I truly appreciate the kindness and patience that the nurses, doctors and staff showed me during my stay at Ortho Unit. Especially, my nurses Roger and Shirley.
Though I am having surgery this week as I was sent home, still they were great! Plus, the main physician Dr. Vikas and the two Dr. Alexes.
---
For Royal Columbian Hospital
I attended Royal Columbian Surgical Daycare in the morning for a procedure.
My attending doctor is Dr. Mindy Lam and the nurse who looked after me was Krystal. She is absolutely wonderful. She was very kind, patient and helpful. She explained everything to me as it was happening. I felt considerably more at ease because of her. Thank you Krystal.
---
For Abbotsford Regional Hospital
I brought my 14-month daughter in to Emergency and I'm 30 weeks pregnant. I was very nervous coming in.
Rosey and another nurse were just beyond amazing. They were both so professional, caring, empathetic, compassionate and I felt like I was being heard. I came in last year as well and Rosey was our nurse that night as well. We had the same positive experience.
---
For Surrey Memorial Hospital
The staff at Child and Adolescent Psychiatric Stabilization Unit were absolutely phenomenal both times our daughter was admitted. Dr. Yew and her team including Dr. Cummins, Amelia, David, the nurses, and youth workers are efficient, thorough, sensitive and caring. They are passionate about what they do and truly care about their patients. They strive to provide a comfortable, laid back and safe environment.
Thank you to all.
---
For Burnaby Hospital
It will be six months since my emergency C-section at Burnaby Hospital and we are all doing so well thanks to the care at Burnaby Hospital, our son is thriving.
He was born prematurely at 33 weeks at 3 lbs and is now 12 lbs, thank you to the staff in the NICU for all their care and support.
---
For Peace Arch Hospital and Mission Memorial Hospital
I wanted to say thank you to both these locations, nothing but caring compassionate staff.
You cared for my mother Grace who passed away on Tuesday. The wonderful staff made this so much easier for my family and a special thank you to Jule in White Rock.
Once again, thank you.
---
For Burnaby Hospital and Queen's Park Care Centre
I was hospitalized in Burnaby Hospital and Queen's Park Care Centre.
I received the utmost of care from dedicated and highly professional doctors, nurses, care aides, lab technicians, x-ray team, housekeeping and food services personnel. I want to acknowledge that their care and compassion certainly hastened my recovery.
I am truly thankful to them - please pass this on to both facilities. Thank you.
---
For Surrey Memorial Hospital
With all the challenging circumstances health care professionals are undergoing these days, I thought that some recognition was warranted after the last four days at Surrey Memorial Hospital.
I just completed a total knee replacement procedure and I must admit, I was totally impressed with the competency and professionalism displayed by all the staff I had interacted with during my short stay.
Thank you kindly.
---
For Langley Memorial Hospital
I am writing to express my gratitude for the exemplary care that my father recently received at Langley Memorial Hospital.
From the clerical staff answering phones, to the duty nurses and doctors, everyone was professional, patient and caring. It is reassuring to know that despite the challenges of COVID-19, the health care professionals at Langley Memorial continue to provide heroic care every day.
---
For the Peace Arch Hospital maternity clinic and maternity ward
I am writing to sincerely thank all of the physicians, nurses and support staff of the Peace Arch Hospital maternity clinic and maternity ward for the treatment of my wife and our first newborn son.
My wife had made best efforts throughout her pregnancy to protect herself from sickness and practised every precaution to defend herself from COVID-19 exposure. This was made difficult by the nature of my work as a first responder. Her pregnancy went well and she did not have any unwelcome issues.
Due to health concerns, I needed to self-isolate. We updated clinic staff immediately. I knew that my wife was being cared for so well by your staff.
My wife wanted to wait until we were together as a family to give my son his name. His second given name -- Fraser -- carries with it a greater acknowledgement to the staff at Fraser Health who brilliantly cared for him and our family during a very tense and stressful time.
The application of your expert medical training was combined with compassion towards the greater family unit and our vulnerable circumstances.
Your excellent reputation as a clinic and hospital preceded you. The professionalism and dogged determination to deliver another healthy family member will reinforce this reputation for years to come.