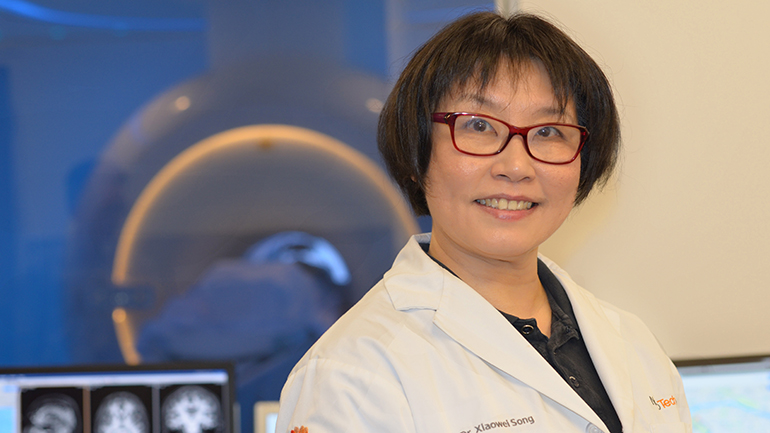 Training machines to think like humans—or artificial intelligence—could revolutionize the treatment for certain types of stroke. A research study led by Fraser Health Senior Clinical Scientist Dr. Xiaowei Song, was recently published in a prestigious journal.
Photo: Fraser Health Senior Clinical Scientist Dr. Xiaowei Song
Hemorrhagic stroke is a life-threatening condition where blood flows into a patient's brain, causing a loss of brain function. For those who survive, recovery is often slow. Fraser Health Senior Clinical scientist Dr. Xiaowei Song and the research team believe that being able to measure the precise volume of blood in the various areas of the brain may one day lead to better treatment and outcomes for patients.
Their recent paper in Springer Nature's Scientific Reports, examines whether artificial intelligence can play a role in measuring the volume of blood in a person's brain. "Accurately estimating the amount of blood in the brain of hemorrhagic stroke patients is currently not an exact science," says Dr. Song. "It's a bit like the ocean covering an island with the tide going in and out and trying to measure the exact volume of water." The current clinical standard utilizes a method of calculation that can be time-consuming, expertise dependent, error prone and challenging when it comes to large, complex hematomas.
The research
In close collaboration with our Fraser Health neurological and neuro radiological clinicians and SFU computer scientists, the research team at Surrey Memorial Hospital developed and tested a model applying artificial intelligence. Utilizing non contrast whole head CT scans of patients with hemorrhagic stroke from a few major hospitals, the research has created a quick and automated method of measuring the volume of blood featured in patient's brains as seen on the CT scans. They tested the algorithm using new CT scans and it performed well.
Next steps
"The next phase of artificial intelligence in studying changes in the brain is training the computer to think like us," says Dr. Song. "It's a challenging and time consuming process."
She's hopeful the brain-health research of her team, which includes a large number of students and research assistants working on multiple clinical research projects, will help inform clinical decision-making and ultimately contribute to improved outcomes for patients.
Dr. Song is extremely grateful for the research supports from Surrey Hospitals Foundation and Royal Columbian Hospital Foundation, as well as those from prestigious external funding agencies such as the Canadian Institutes of Health Research.