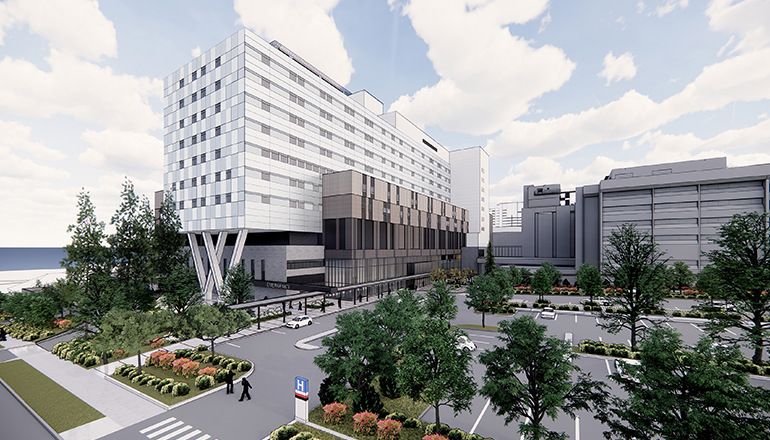 Fraser Health has signed a design build agreement for phase two and a construction management agreement for phase three of the Royal Columbian Hospital redevelopment project with EllisDon.
"This next important step in the redevelopment project ensures that the region's fast-growing population is closer to accessing an expanded and upgraded Royal Columbian Hospital," said Adrian Dix, Minister of Health. "The hospital is the oldest and one of the busiest in B.C., and our government is committed to making sure people can access the health-care services they need in a state-of-the-art facility."
Design, geotechnical work, pre-construction work and abatement work in preparation for the demolition of several older hospital buildings at the site is now underway at Royal Columbian Hospital. Today, excavation will begin for an interim support building that will house the hospital's support services during construction, with excavation for a new acute care tower to begin in early 2021. Phase two construction is expected to complete in early 2025.
"Royal Columbian Hospital is an important part of the fabric of our community and it means so much to so many people," said Jennifer Whiteside, New Westminster MLA. "I'm proud that our government is making this important investment to redevelop the hospital and increase capacity for patients and health-care workers."
The Royal Columbian Hospital redevelopment is a multi-year project occurring in three phases which will transform almost every part of the hospital.
"We are pleased to mark this important milestone with the signing of the design build and construction management agreements, enabling us to take next steps forward in phases two and three of the Royal Columbian redevelopment project," said Fraser Health president and CEO Dr. Victoria Lee. "Royal Columbian Hospital plays an integral role in our regional hospital network, ensuring people in our region have access to care for a wide range of health concerns. This project will ensure lifesaving services are available to people from across our region now and for many years to come."
Phase one delivered a new 75-bed Mental Health and Substance Use Wellness Centre which opened in summer 2020, and prepared the hospital's infrastructure for the expansion in bed capacity coming in phase two.
Phase two will create a new acute care tower with more beds for intensive care, cardiac intensive care, medicine and surgical patients, with most in single-patient private rooms. There will also be a new, larger emergency department with a medical imaging unit. The tower will have four more operating rooms, including one for cardiac patients, three more cardiology suites, two more radiology suites, and one more CT scanner in addition to services in the existing Health Care Centre that will create one large surgical 'super floor'.
In addition, phase two will provide more maternity beds and maternity operating rooms. The new acute care tower also includes a two-level underground parkade, a new main entrance and a rooftop helipad.
Phase three of the redevelopment project will upgrade and expand areas in the existing Health Care Centre and Columbia Tower to support the beds and services added in phase two. Phase three is projected to start in 2023 and complete in 2026.
By the end of the redevelopment project, the hospital will have added 50 per cent more beds, to 675 from 446.
For more information about the Royal Columbian Hospital redevelopment project, please visit fraserhealth.ca.