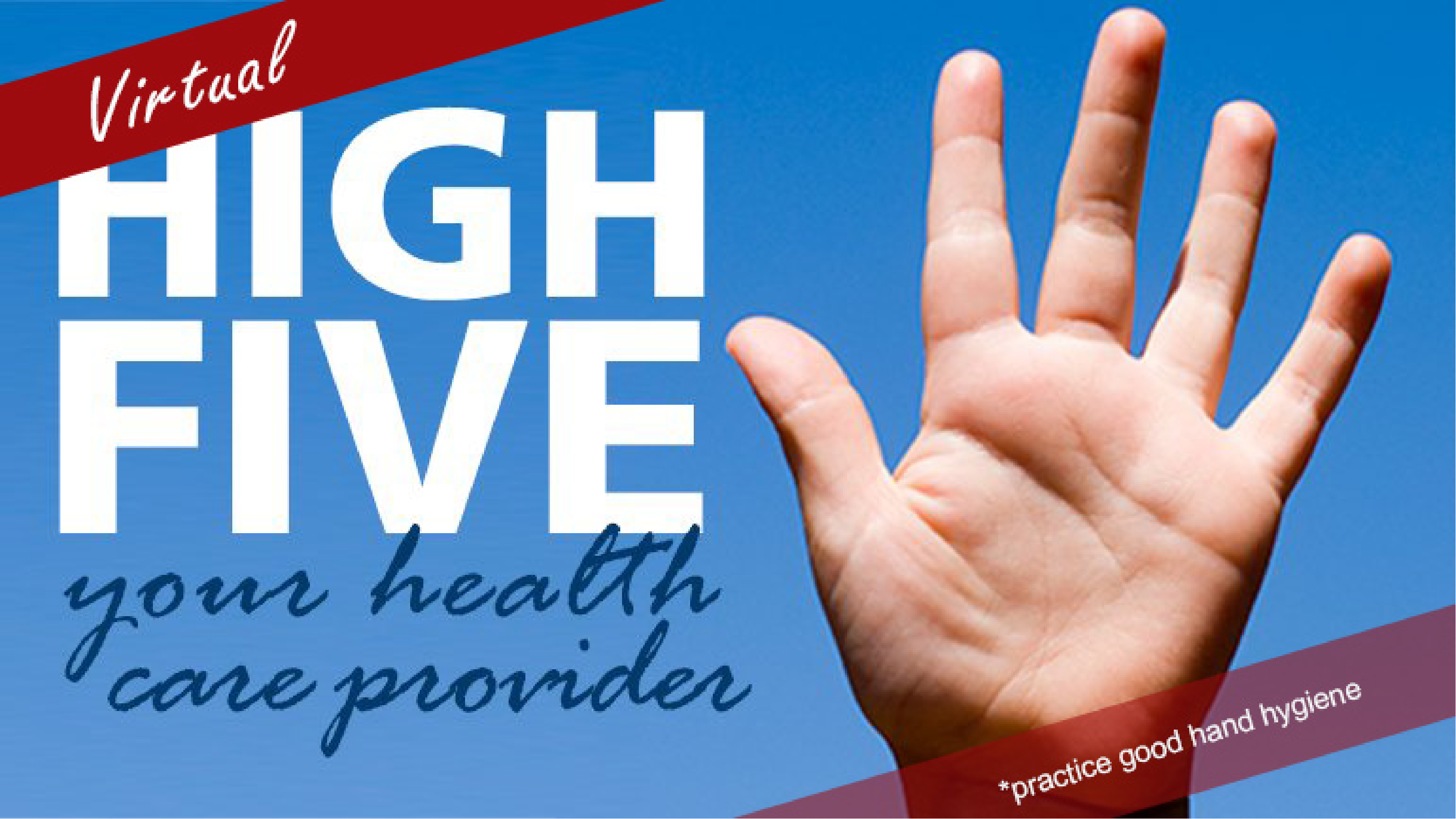 This week's high fives go to our amazing people at Abbotsford Regional Hospital, Surrey Memorial Hospital, Langley Memorial Hospital, Langley Events Centre Immunization Centre, and Surrey North Immunization Centre.
Want to send a high five to your health care provider or Fraser Health team member? Leave a comment below or send your thanks using our online submission form. Read more kudos at fraserhealth.ca/highfive.
---
For Abbotsford Regional Hospital
I had a mammogram with Chrissy. She was excellent!
I have had a mammogram before – all the techs have been friendly and pleasant to deal with but Chrissy was exceptional. She was extremely comforting when going through my family history as my mother is going through cancer a fourth time. Chrissy made a point of wishing my family well and I appreciated she went the extra mile that way.
---
For Surrey Memorial Hospital
I cannot be more grateful to all of the staff working non-stop with grace, dignity, patience and compassion. Every single medical professional I had the honour of spending time with deserve medals of honour, a raise, and a vacation! COVID-19 is a curse but also a gift from those who help!
---
For Langley Memorial Hospital
I stayed in the pediatric ward and experienced the best service. From the moment I checked into Emergency to the day I was discharged, I felt so much care and love. All of the nurses and doctors that treated me are so kind, caring and sweet. Whenever I needed them they were there to help me, and they made my stay so much better with their kindness and conversation.
The staff that worked with me - Taylor, Janine, Michael, Jasneet, Dr. Cavin, Dr. Abbott, Dr. Zahedieh and Dr. Sahil - everyone was so good at explaining to my mom and me what was happening when it came to my treatment. They let us ask as many questions as possible so we were not confused and we felt comfortable.
I am so grateful for all of the outstanding care and kindness I received during my stay and I wanted to recognize all of their hard work. I would like to thank each and every one (of) the attendants who checked me in Emergency, the porter, housekeeper, kitchen workers, people who took my blood, ultrasound tech and everyone in between.
Thank you so much from the bottom of my heart. I am so grateful to the health service we get here in Canada.
---
For Surrey Memorial Hospital
Our hearts are full of gratitude to the entire team of staff and doctors on the Internal Medicine Unit.
Our mom had a lengthy stay of over 100 days. The Internal Medicine team went above and beyond to diagnose accurately, provide holistic treatment and consider post discharge needs.
Thank you for your efforts at including family in her treatment. Thank you for taking good care of her.
---
For COVID-19 Immunization Centre - Langley Events Centre
Both times I came, the staff were friendly and helpful, it was a painless process. We had Priyanka give us our second shots. My mother-in-law extensively explained her various concerns and ailments and Priyanka was very patient with her. I apologized after and she said it was totally fine. I really appreciate her patience and kindness. Thanks!
---
For COVID-19 Immunization Centre – Surrey North
Received my second Pfizer shot today and I am ecstatic beyond words!
First contact inside was Christine, super friendly and courteous. The two staff who administered the shot, Becky and Simmi, made me feel comfortable. (They were) very friendly and maintained professionalism throughout.
Please convey my sincere thank you to all three for making my experience a memorable one – Thank you Fraser Health!
---