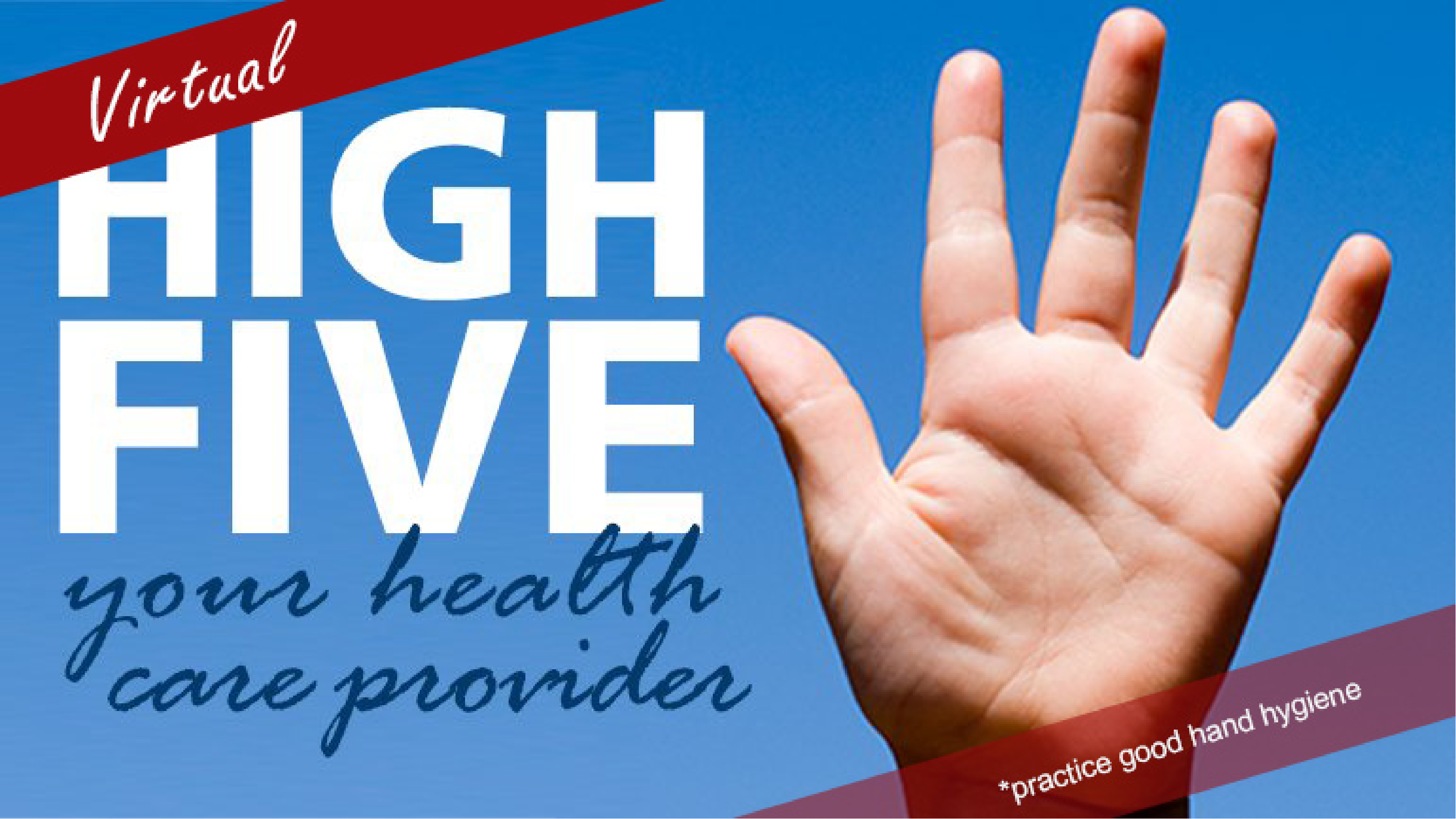 This week's high fives go to our amazing people at Burnaby, Peace Arch, Eagle Ridge and Abbotsford Regional hospitals, our COVID-19 Immunization Centres, and Langley Public Health's Audiology Department.
Want to send a high five to your health care provider or Fraser Health team member? Leave a comment below or send your thanks using our online submission form. Read more kudos at fraserhealth.ca/highfive.
---
For Burnaby Hospital
I had an occasion today – for about four hours -- to see at close quarters the work of your screener, Jeff, who was located at the entrance to the Emergency Department. Jeff was observant, extremely polite, very helpful and most obliging. Burnaby Hospital is fortunate -- and your clients even more so -- to have this person.
---
For Peace Arch Hospital
I had a knee replacement surgery at Peace Arch Hospital, had great care by all the wonderful nursing and rehab staff. I would like to express my gratitude to everyone. I would also like to express my special thanks to nurses Jay Anne, Sherry, Tiani and Kirsten, and also to Michael from rehab.
---
For COVID-19 Immunization Centre – Guildford Recreation Centre
I just want to say the hugest of thank you to the amazing woman who gave my daughter and me our shots today. My daughter has a major phobia of needles and freaked out being in a room full of people who were being vaccinated. Our nurse took us right away into a separate, private area and gave a reassuring talk to her. I thank her so much for making it less traumatizing for her!
---
For Abbotsford Regional Hospital
Just wanted to thank the Abbotsford Regional Hospital paediatric team for great care yesterday in the Emergency. They were very prompt, knowledgeable and humorous. My son ended up leaving happy and laughing when he came miserable and in pain. The staff were very friendly and caring. Thanks again for the awesome care. We truly appreciate it!
---
For Eagle Ridge Hospital
I would like to pass on a huge thank you to my nurse, Leanne, who took me into Dr. Wesa's operating room on June 24. I was very anxious and she was so kind and reassuring. She even stroked my forehead and said we will take good care of you as the anesthetist was putting me to sleep. I am retired from health care in Fraser Health physiotherapy and truly appreciated her kind words and gestures.
---
For Langley Public Health – Audiology Department
My four-year-old daughter went in for a hearing test. The person testing her was amazing at explaining everything before touching her. She was gentle, empathic and a good listener. It was a great experience for both of us. Thank you.
---