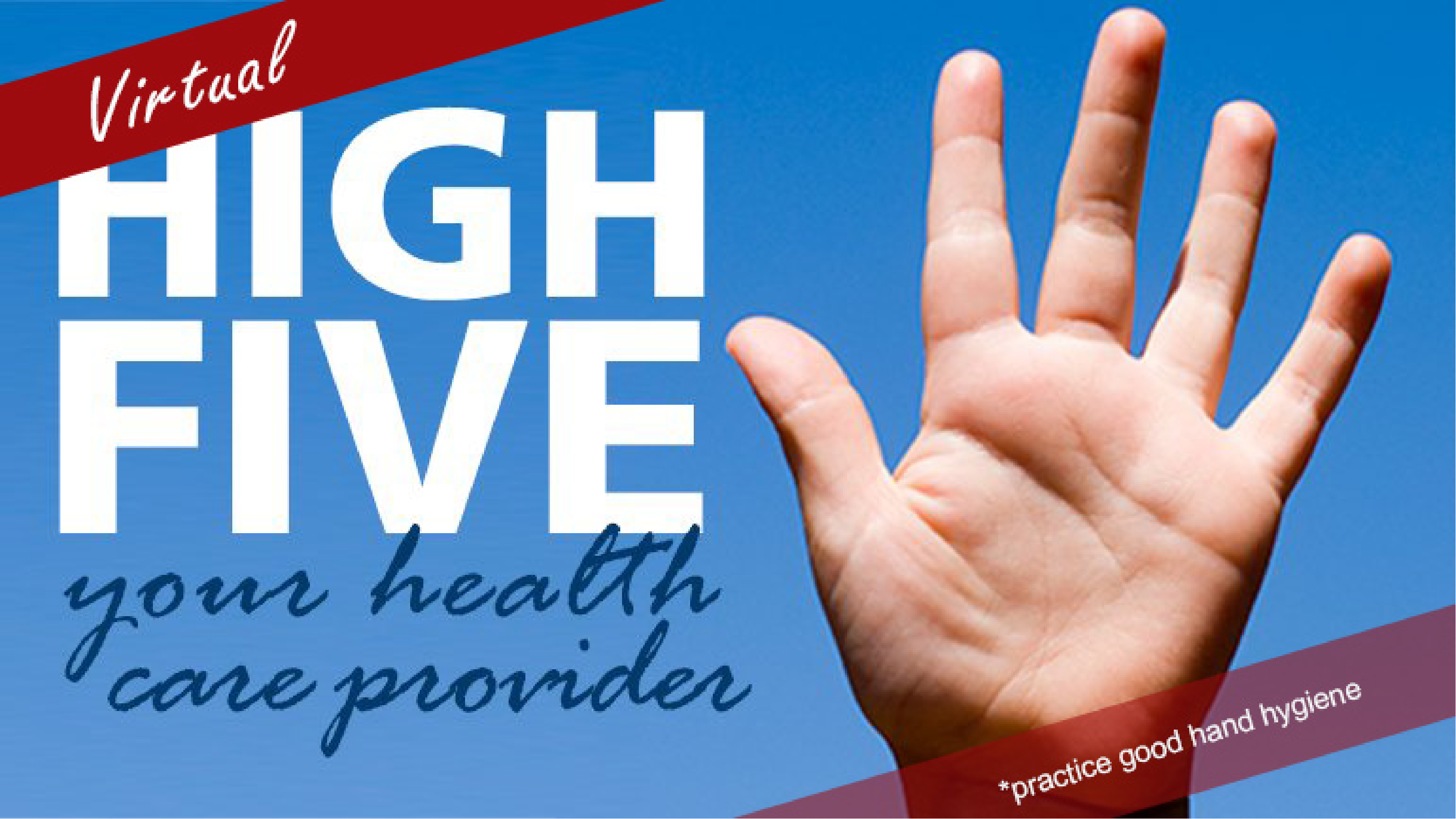 This week's high fives go to our amazing people at Eagle Ridge; Surrey Memorial and Abbotsford Regional hospitals; and at our immunization centres in Burnaby; Chilliwack and Abbotsford.
Want to send a high five to your health care provider or Fraser Health team member? Leave a comment below or send your thanks using our online submission form. Read more kudos at fraserhealth.ca/highfive.
---
For Eagle Ridge Hospital
I would like to pass on my thanks and appreciation to all the staff for their wonderful care. In particular, I was very impressed by the student nurse assigned to assist the woman in the next bed. She managed a difficult patient with humour, respect and great kindness, and I saw that woman respond to her approach. She has a great future!
---
For COVID-19 Immunization Centre – Abbotsford Ag Rec
My wife and I received our first and second vaccine doses. The process for both visits was very efficient, smooth and timely. All staff were very friendly and professional. Our compliments to Fraser Health and all the staff. Well done!
---
For COVID-19 Immunization Centre – Chilliwack Mall
Compliments and grateful thanks on your immunization clinic today. Friendly people, great organization, and fast and efficient. It took hardly any time at all. I appreciate you doing this.
---
For Surrey Memorial Hospital
Registered Nurse Angelo is the quality of person suited for this profession. He demonstrated very commendable levels of patience and care both to my wife and myself when my wife was admitted to the ward. I had the opportunity to observe Angelo further when I got to hospital to pick up my wife, and I saw him working very professionally with colleagues and patients.
---
For Abbotsford Regional Hospital
Jasmine, a registered nurse in Emergency, and all the cardiac department doctors and nurses were amazing and instrumental in getting my surgery quickly. Thanks for their hard work, help and dedication to patient care.
---
For COVID-19 Immunization Centre Burnaby - Christine Sinclair Community Centre
I would like to congratulate the team in charge of the organization and execution of the COVID-19 vaccination process at the Fortius Center in Burnaby.
My wife and I had our second dose of the vaccine today, and we would like to thank all staff -- from those directing incoming traffic outside to greeters and all inside staff. Everyone was friendly and, most of all, efficient and served the public well.
---
For Royal Columbian Hospital
I would like to take a minute to express my appreciation and gratitude for the exceptional care I received at Royal Columbian Hospital on one of the medical units. I was diagnosed -- and being a registered nurse myself -- it was difficult to see myself as a patient. The nurses and doctors were exceptional in their care and professionalism. A big thank you from a fellow nurse. You guys are wonderful!