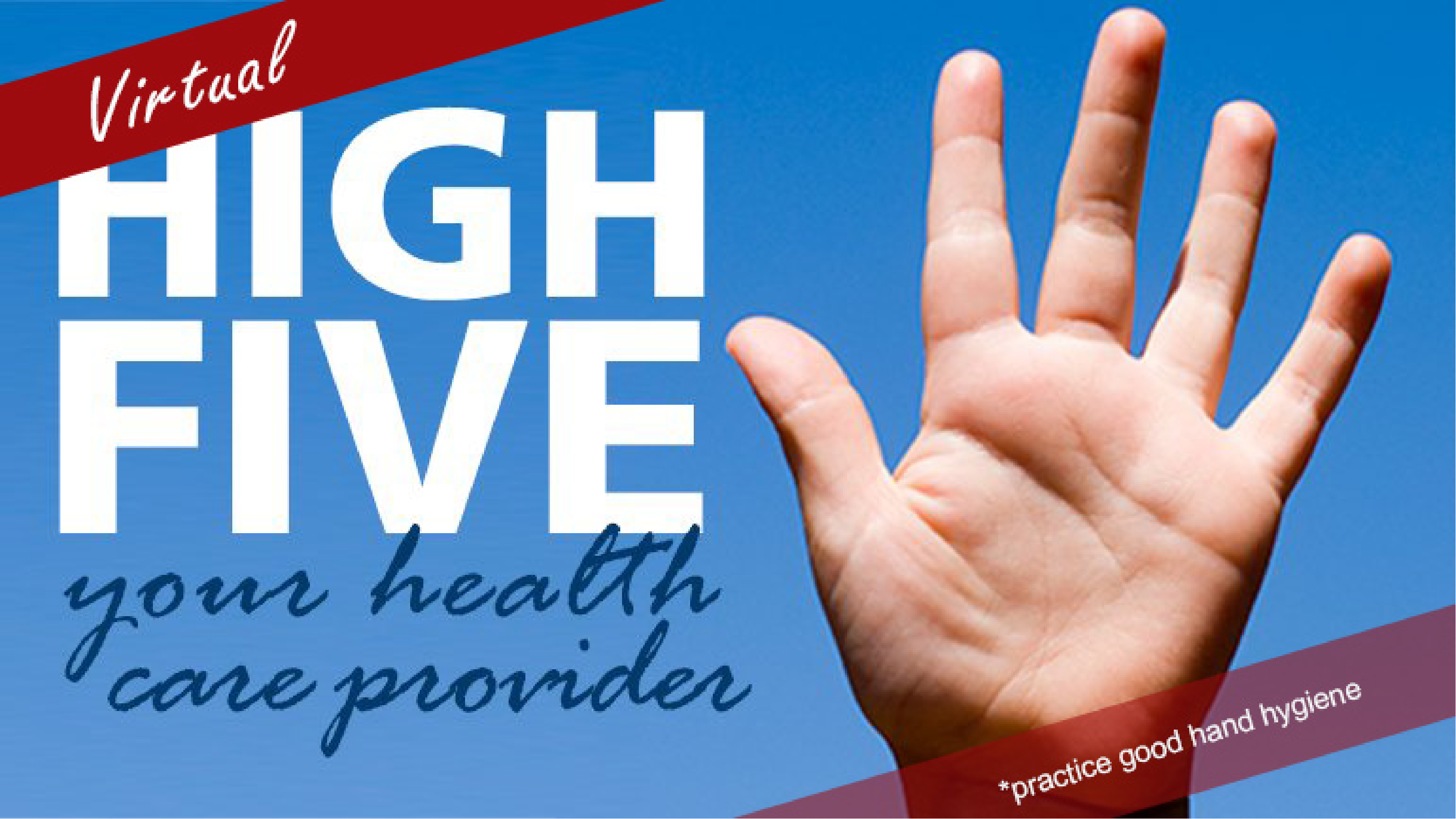 This week's high fives go to our amazing people at Abbotsford Hospital, New Westminster Home Health, Royal Columbian Hospital, Burnaby Hospital, Ridge Meadows Hospital, Peace Arch Hospital and Eagle Ridge Hospital.
Want to send a high five to your health care provider or Fraser Health team member? Leave a comment below or send us your story here.
---
For Abbotsford Regional Hospital
The woman that was with me during a bone scan was so nice and really made me laugh. Have to go back for a second scan and really hoping she is my technician again.
---
For New Westminster Home Health
I just wanted to say what a delight it is to have Riya taking care of me. She is so delightful, exceptionally gentle, caring and compassionate. Riya is the kind of caregiver I only dream of getting. (Getting) someone like her shows it is possible.
---
For Surrey Memorial Hospital
We appreciated the expedient and conscientious care we received for our son last week. We never felt like we were just sitting and waiting. I was proud to be a Fraser Health employee!
---
For Royal Columbian Hospital
I wanted to thank Dr. Moola and his team for the professionalism and compassion that they demonstrated to me. I truly was fortunate to have them perform my shoulder surgery. Yes, I have a challenging journey yet in front of me but feel so fortunate to have him put my fears to rest. I also wanted to thank the staff - the good nurses, Pre-operative nurse Raj, Post Operative team and Emergency doctor.
---
For Burnaby Hospital
I want to commend all of the young ladies in Cystoscopy for their enthusiasm, friendliness, professionalism, humour and compassion. They made me - and each of the other patients with me this morning - feel like individuals and people. Tough job, especially with COVID, but still provided top-notch care. Thank you!
---
For Peace Arch Hospital
Thank you Dr. Johal and staff at the Emergency. Appreciate all that was done for me.
---
For Eagle Ridge Hospital
I came to the emergency room at Eagle Ridge Hospital and I would like to thank nurse Fonda. I found her to be kind compassionate and very hard working. I talked to her several times about how long it would be and every time she was patient and kind in answering my question. I was very impressed with her work ethic.
---
For Ridge Meadows Hospital
Thank you to the staff who looked after my daughter last night. You were all outstanding. Thank you.
---
For Abbotsford Regional Hospital
I had a mammogram by Chrissy. She was excellent! I've had a mammogram before and all the techs have been friendly and pleasant to deal with but Chrissy was exceptional. She was extremely comforting when going through my family history. Chrissy made a point of wishing my family well and I appreciated she went the extra mile that way.
---
For Eagle Ridge Hospital
I can't even begin to imagine the challenges that COVID has brought. When visiting my Dad, I have been impressed each time with the professionalism and respect shown not only to Dad but also to me when I have questions about his care. Truly an example of non cape-wearing superheroes.