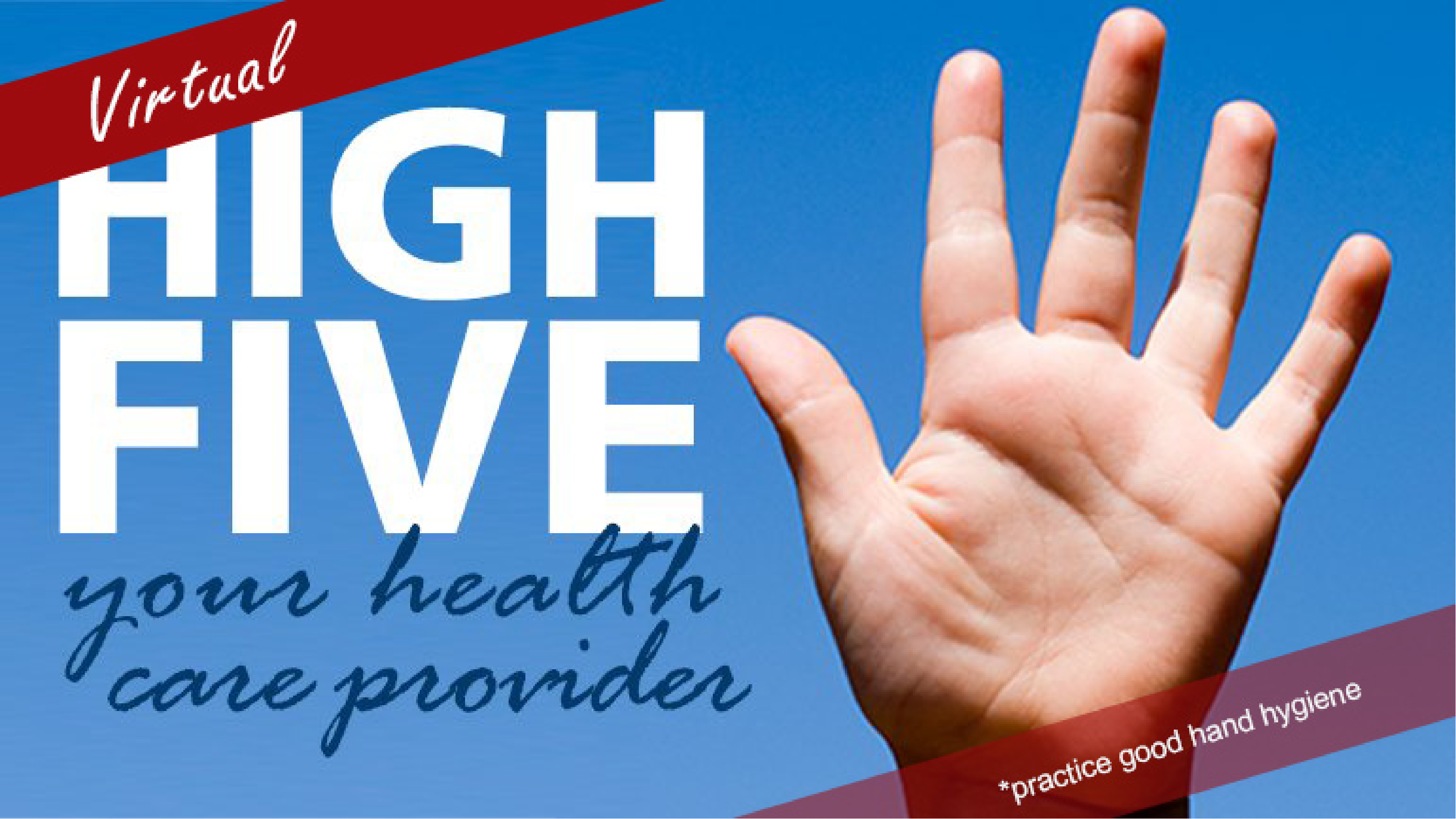 This week's high fives go to our amazing people at Jim Pattison Outpatient Care and Surgery Centre, Eagle Ridge Hospital, Porier and Langley COVID-19 Immunization Centres, Burnaby Hospital, Peace Arch Hospital, Langley Memorial Hospital and Surrey Memorial Hospital.
Want to send a high five to your health care provider or Fraser Health team member? Leave a comment below or send your thanks using our online submission form. Read more kudos at fraserhealth.ca/highfive.
---
For Jim Pattison Outpatient Care and Surgery Centre
I cannot remark enough on the excellent quality of care. The staff are caring, warm and professional.
Kudos to the whole team from security, to discharge to the operating room. Julie was the nurse who prepped me for surgery. I have forgotten the other names but each person stood out.
Please extend my thanks.
---
For Eagle Ridge Hospital
I took my mom into the emergency. When we arrived, a young man behind a desk offering masks and help said, "How can I help you?" He asked helpful questions and gave calm responses. I felt good about leaving my mom.
---
I was seen in the Emergency by Dr. Brown and nurse Carlie and they both exhibited absolute professionalism but with a compassionate, empathetic and caring manner.
I was reassured and treated with patience and respect. I would never have guessed these are the people who having been fighting tirelessly against a pandemic. Thank you for your effort and skill at connecting. It made a huge difference.
---
For COVID-19 Immunization Centre – Poirier Forum
I got the AstraZeneca vaccine and I am very thankful for the worker who administered it.
I had some anxiety right after it and she was so helpful. I appreciate her empathy, kindness and the extra time she took with me to ensure I was feeling better. She made the experience so much better – thank you!
---
For COVID-19 Immunization Centre – Langley Events Centre
I would like to express my appreciation to Natasha, the pharmacist who administered my vaccine and all those working at the Langley Event Center. The facility was well labelled and all staff were very friendly and knowledgeable. The process was very efficient and well -run.
---
For Burnaby Hospital
I was in to have a surgery performed by Dr. Imran Samad and his efficient team.
In post-recovery and with an overnight stay, I was in the care of the best nurses that attended to my every need and did it with such great care: Dilroop and Erin. These two deserve outstanding recognition. They never rushed me. They were patient and listened to my needs. Well done.
---
For Peace Arch Hospital
This high five is long overdue. I had my daughter at Peace Arch last September. The second wave had not quite reared but it was still a scary time for everyone. Once I was in my room, I forgot all about the pandemic. The nurses were amazing! Special shout out to Shelly and Brie. We will never forget you. Thank you for all that you do and for taking such great care of us.
---
For Langley Memorial Hospital
I want to extend my sincere thanks to the staff in the emergency department and 4 South Central Medical Unit for the outstanding care and compassion they showed our family. They took care of my father-in-law and supported our family to be with him at the end of his life.
Regardless of the pressures on the hospital to manage the ongoing pandemic, the staff made us feel like we mattered. Thank you.
---
For Surrey Memorial Hospital
I was admitted to Surrey Memorial Hospital. I spent 12 days in the Intensive Care Unit, followed by seven days in a Medical Unit and was then discharged.
I want to express my sincere thanks to the medical, nursing and support staff for the care I received and for bringing me back to better health. I appreciate the difficult and challenging work you do.