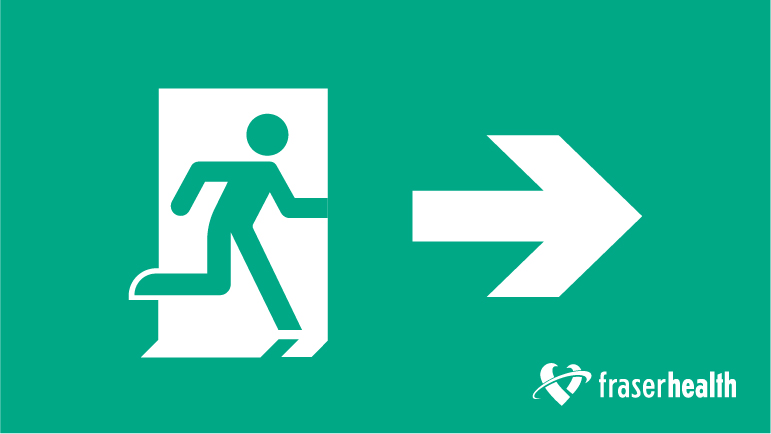 Fraser Health and the community of Chilliwack came together quickly to ensure residents of a local mental health facility were safely evacuated when it was put on a flood alert.
On November 16, severe flooding in Abbotsford placed Mountain View Home, a 25-bed licensed mental health facility that provides 24-hour care to adults with mental illness, on evacuation alert.
Four Mountain View staff along with the site's owner – worked through the night to pack medications, clothing and food to support the safe relocation of all residents. Fraser Health Mental Health and Substance Use teams worked quickly with BC Housing, Ruth and Naomi's Mission and the City of Chilliwack to secure suitable accommodation at the Chilliwack Travel Lodge. At the same time, the Chilliwack Fire Department assessed the site, helped pack items for transport and stayed with residents and staff throughout their evacuation.
All residents were safely moved in by mid-afternoon. Fraser Health Mental Health and Substance Use Bed-based Treatment and Supported Living team lead the coordination of various services, including nursing, psychiatry and pharmacy services, as well as the delivery of all meals, medication, and social and recreational services, to ensure a seamless continuation of care for all residents.
"A team came together in record time to find safe accommodation for residents that would ensure their safety, while meeting their clinical needs," says Darko Brunac, coordinator of Mental Health and Substance Use Bed-based Treatment and Supported Living.
With roads in and out of Abbotsford blocked, he stresses that it took an incredible team effort between Fraser Health staff and the community of Chilliwack to provide continued support for residents, including transportation arrangements and ongoing communication with families.
"Our focus was supporting the clients' clinical needs at a new location, while ensuring staff safety and their ability to stay with the clients they cared for," says Darko.
Fraser Health would like to acknowledge the incredible dedication, commitment and teamwork of the following groups that helped make this work possible:
Fraser Health Mental Health and Substance Use program direct care providers and leadership
Fraser Health Bed-based Treatment Services staff, medical staff and leadership in Abbotsford, Mission and Chilliwack
Fraser Health Licensing
BC Housing leads and administrators
Ruth and Naomi's Mission staff onsite at the Chilliwack Travel Lodge
City of Chilliwack
Chilliwack Fire Department
For media inquiries, please contact:
media@fraserhealth.ca