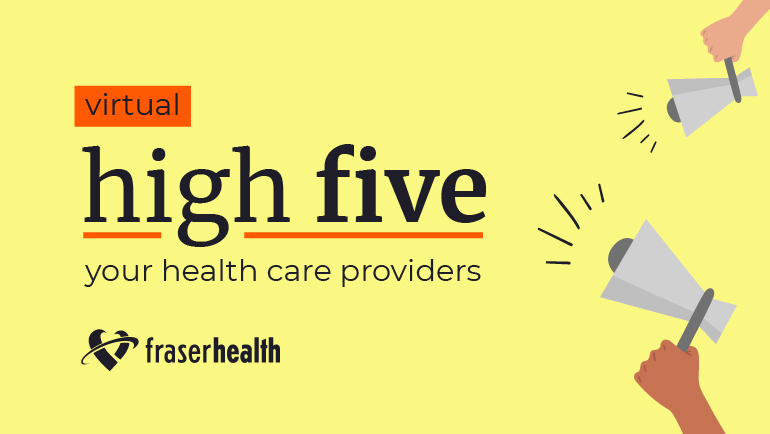 This week's high fives go to our amazing people at Victoria Heights Assisted Living residence, Burnaby Hospital, Royal Columbian Hospital, Surrey Memorial Hospital, Abbotsford Regional Hospital and New Canadian Clinic.
Want to send a high five to your health care provider or Fraser Health team member? Leave a comment below or send us your story here.
---
For Victoria Heights Assisted Living residence
I want to give Dahlia and Angela a big thumbs up for inspiring me to do better. The Pulmonary Rehabilitation program really helped me realize I could move more than I thought. They were both so friendly and informative. Once again, kudos.
---
For Burnaby Hospital
We brought my dad into the Emergency Department (ED). I am so thankful for the amazing team that took care of him. In particular I wanted to recognize Dr. Burton (ED doctor), Dr. Truong (urologist) and our amazing nurse Pam. They all treated my father with so much care, dignity and respect. I don't usually write in to share feedback but today it was warranted.
---
For Royal Columbian Hospital
My husband was recently admitted to Royal Columbian Hospital, and our thanks go to all those who provided care. I also want to recognize those who supported me during the initial trauma and provided practical assistance to both of us throughout his stay. Thank you to social workers Pamela, Vicky, Julia and Lisa. You are among the unsung heroes in health care.
---
For Royal Columbian Hospital
Thank you to Arathy and the Royal Columbian Hospital Emergency Department manager for addressing my concerns regarding screening. I really appreciate Arathy following up with me to explain the steps taken.
---
For Surrey Memorial Hospital
I really want to say that I am so pleased with the care that has been given to my mother, who is a patient at Surrey Memorial Hospital in 3 EAST B. Dr. Lamba was so empathetic and patient in explaining my mother's situation to our family. Raquel, the nurse on duty, was also so wonderful and patient. Even though the unit was clearly busy, she did her best to make all her patients feel cared for.
---
For Surrey Memorial Hospital
A big high five to Dr. Cooper, nephrologist. I can't thank you enough for your compassionate care of my dad. It is a joy to interact with you. I hope that you keep on excelling in the care of patients.
---
For Abbotsford Regional Hospital
Thank you to Roy, an imaging technologist who specializes in taking images of the heart. He deserves a big bouquet of flowers. He's skilled at making people feel comfortable and listened to. He's an asset to the hospital. It was a privilege to meet him and be served by him.
---
New Canadian Clinic
We are incredibly grateful to each of you who work at the clinic for the medical care and advice provided to [refugee families], and for the courtesy, support and kindness provided by your office staff.
Although I don't know the names of all those who have had contact with these families, I particularly note the excellent work of office staff Harpreet and Roseanne, and Nurse Practitioners Katie and Nancy. Thank you so much. Because of your work experiences, you all know just how enormously challenging a transition it is for new Canadians and especially for those who have been refugees and who do not speak the language. Without your support, it would be even more difficult for them.
---
Share our high fives
Don't forget you can share our social media high five postings with your own networks. Be sure to follow our Fraser Health channels so you don't miss out.