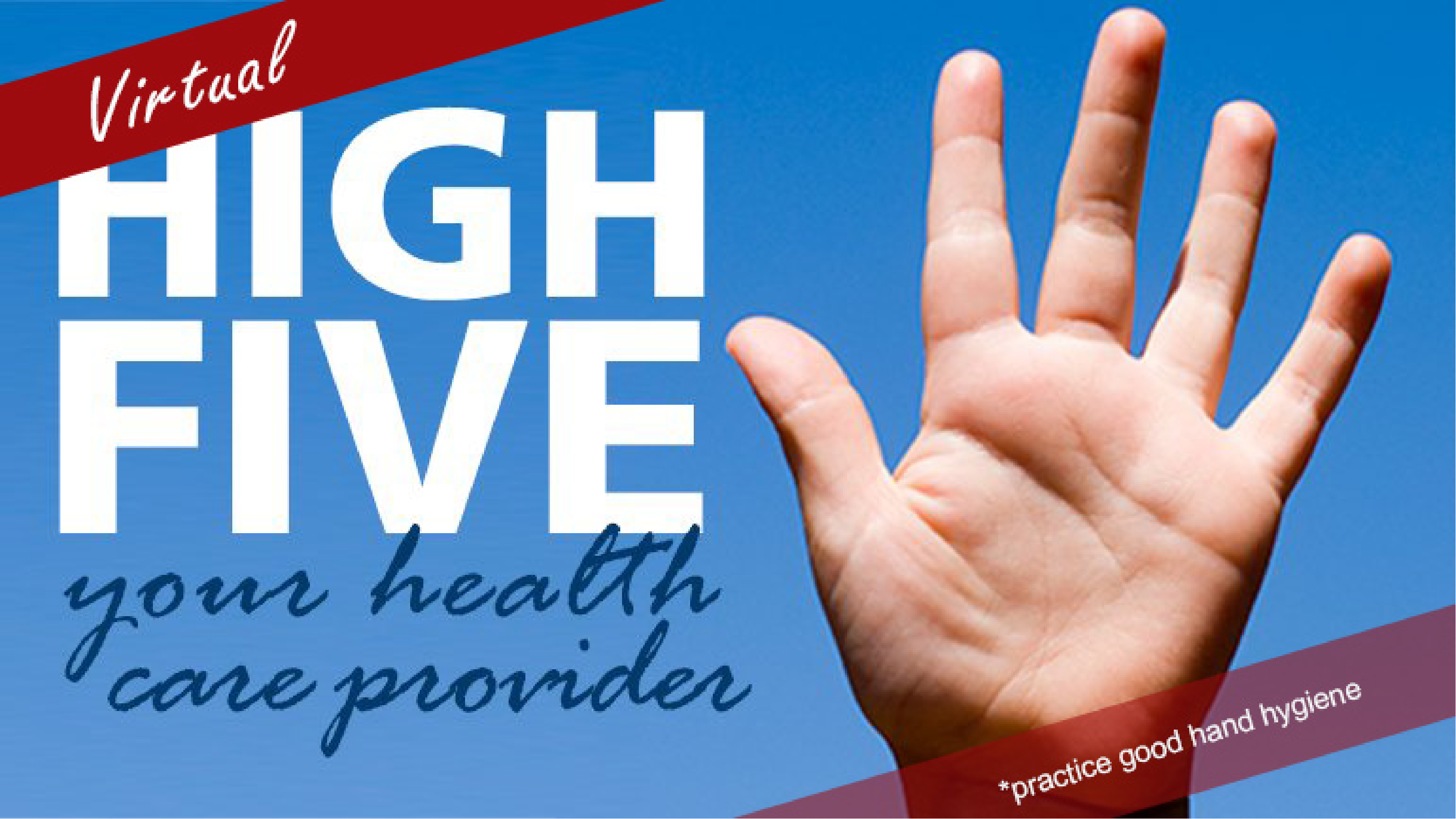 This week's high fives go to our amazing people at Langley Memorial Hospital, Peach Arch Hospital, Mission Memorial Hospital, Chilliwack General Hospital, Burnaby General Hospital, Virtual Care, Langley Events Centre COVID-19 Vaccine Clinic and the Poirier Forum Coquitlam COVID-19 Vaccine Clinic.
Want to send a high five to your health care provider or Fraser Health team member? Leave a comment below or send your thanks using our online submission form. Read more kudos at fraserhealth.ca/highfive.
---
For Langley Memorial Hospital
I want to say a major thank you to the incredible emergency department nurses at Langley Memorial Hospital. I was there overnight and the care and consideration was outstanding. An extra special thank you to Vicki who was so kind and calming during a scary night. Nurses are the backbone of this system and I am so grateful.
---
For Peace Arch Hospital
A big thank you to greeters Praneesh and Cathy who were extremely friendly, kind and helpful both in the emergency department and at the main entrance. Coming to the hospital can be very stressful and upsetting, and having two people greet you that are so friendly and helpful makes all the difference. It certainly did for me and my family. Thank you to both of you!
---
For Mission Memorial Hospital
I would like to show my appreciation for the hard working staff in Ward 2 of Mission Memorial Hospital. My father is currently immobile. The nurses and caretakers have been just excellent in their care of him. Particular thanks to Jennifer!
---
For Chilliwack General Hospital
I want to thank Dr. Smith and the day surgery team at Chilliwack Hospital for the excellent care I received recently. In particular, I wish to thank day surgery nurse Nancy, Dr. Souleman, the anesthetist, and Dr. Smith for their expertise and professionalism. My family and I applaud your exemplary care!
---
For Burnaby General Hospital
I would like to compliment the staff on 5 Acute Care for Elders for the wonderful care given to my father on the last couple of days in the unit until he was moved to the Palliative Care Unit. Thank you to nurses (and excuse my spelling): My (Mylene), Christine and Ivers.
---
For Langley Events Centre COVID-19 Vaccine Clinic
Thank you to all the staff at the Langley Events Centre COVID-19 Vaccine Clinic. Great job.
---
For Virtual Care
I had a zoom meeting with Dr. Moniwa. She has been helpful and thoughtfully listened to my work experience. She took everything into consideration in order to help me through my bad time. I have been blessed talking to a true professional like her and there's no doubt in my mind she is a definite asset we all should be proud to have helping and serving in our community. Thank you.
---
For Poirier Forum Coquitlam COVID-19 Vaccine Clinic
Thanks for the amazing work at the Poirier Forum COVID-19 vaccine clinic in Coquitlam. The Fraser Health staff and Air Canada staff worked together beautifully and efficiently. Got as many vaccines in as many arms as they could and even stayed quite late getting it done. Very impressive!