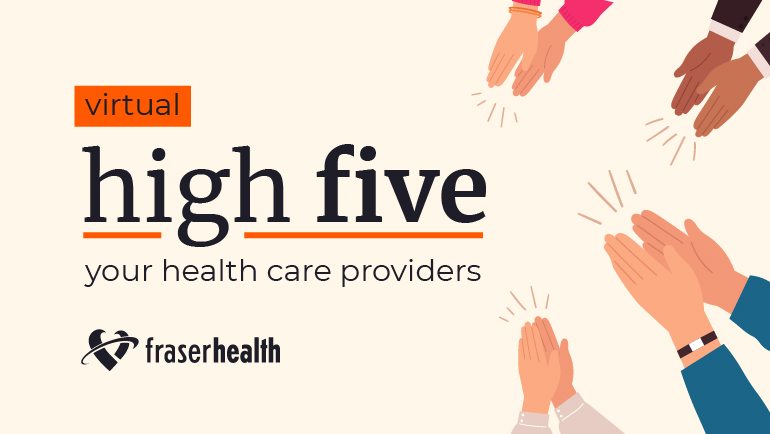 This week our virtual high fives go to our amazing people at Royal Columbian, Peach Arch, Abbotsford Regional, Ridge Meadows and Langley Hospitals.
Want to send a high five to your health care provider or Fraser Health team member? Leave a comment below or send your thanks using our online submission form. Read more kudos at fraserhealth.ca/highfive.
---
High Fives - Week of October 28, 2021
---
For Royal Columbian Hospital
I gave birth at Royal Columbian Hospital and it was very quick. I just wanted to say all the staff did such a fabulous job at tending to me and helping me. I cannot thank them enough for all their help during my birth and post-birth recovery.
---
For Royal Columbian Hospital
I had an appointment with the Vascular Lab at Royal Columbian Hospital. I walked into the Emergency Department searching for my destination, and it was not far, but a staff member kindly made sure I was on the right track. My doctor was courteous – he made sure I understood everything and made me feel comfortable. Good job on hiring good people – five stars.
---
For Peace Arch Hospital

My thanks to Dr. Ho and the Emergency Department staff at Peace Arch Hospital. I received excellent care with such good grace. Many thanks.
---
For Abbotsford Regional Hospital

I came in with an allergic reaction and was taken into the Trauma Centre right away. I was blessed with the best staff and trauma nurse, Megan. Everyone was so caring and friendly. As someone who also works in health care, I was so appreciative of their care. Thank you for making an anxious situation better.
---
For Abbotsford Regional Hospital
I went to the Emergency Department upon instruction of my general physician since my COVID-19 symptoms had gotten worse. The triage was quick and efficient. The nurse Monicar realized how sick I was and thoroughly assessed me.
---
For Ridge Meadows Hospital and Royal Columbian Hospital
The entire staff, from the Emergency Department, Intensive Care Unit and to the paramedics (Carl and Pete from Abbotsford), took the best care of me when I suffered a heart attack. Thanks also to the staff at the Cath Lab at Royal Columbian Hospital. I can't say enough good things about the doctors, nurses, paramedics and X-ray staff. Thanks to them, I am able to write this compliment.
---
For Langley Memorial Hospital

We wish to give a thank you to nurse Mannii on the second floor south. We appreciated his care and concern and help to our husband and father who passed away on the second floor south.
---
Share our high fives
Don't forget you can share our social media high five postings with your own networks. Be sure to follow our Fraser Health channels so you don't miss out.