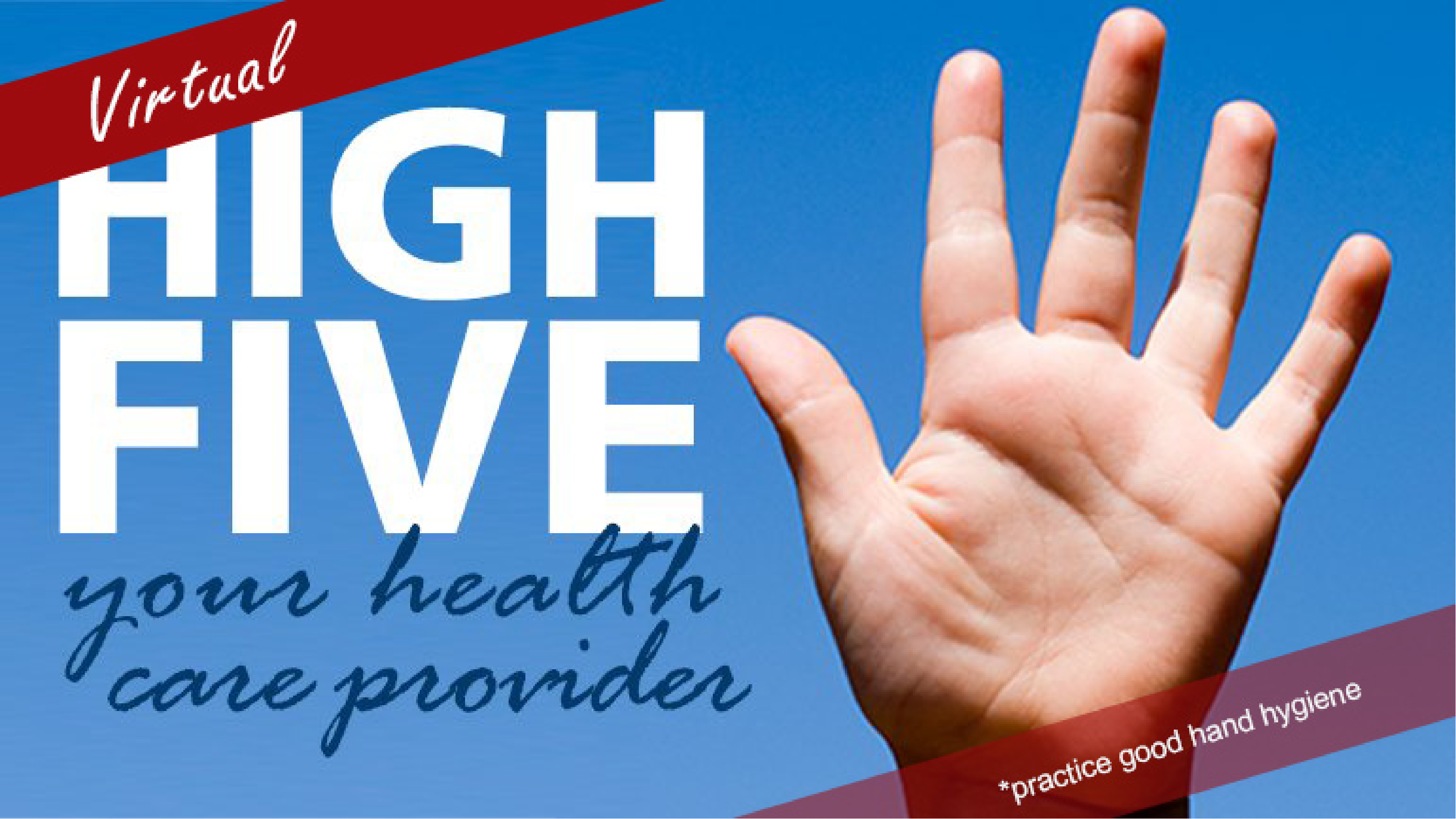 This week's high fives go to our amazing people at Abbotsford Regional Hospital and Cancer Centre, Delta Hospital, Jim Pattison Outpatient Care and Surgery Centre, Peace Arch Hospital, Ridge Meadows Hospital and Royal Columbian Hospital.
Want to send a high five to your health care provider or Fraser Health team member? Leave a comment below or send your thanks using our online submission form. Read more kudos at fraserhealth.ca/highfive.
---
For Abbotsford Regional Hospital and Cancer Centre
Thank you to Dr. Kim, pre-operative nurse Elma, post-operative nurse David, and the many other important people in between who helped me have an easy, pleasant and anxiety-free surgery.
---
For Delta Hospital
Thank you to all the professional and dedicated staff at Delta Hospital for all your care and patience during my stay. Thank you for all you do for others daily. A big high five to the staff in the Emergency Department and the charge nurse. I especially remember the beyond wonderful care from Lori and Joanna. I remember them saying to me many times, "we've got you". It made me feel really safe.
---
For Jim Pattison Outpatient Care and Surgery Centre
Many thanks to the team of technicians in the MRI department. Their sensitivity and patience made all the difference. I would like to express particular gratitude to Sunny, who kindly helped me through my anxiety. He is an exceptional person who is clearly in the right kind of work.
---
For Jim Pattison Outpatient Care and Surgery Centre
Thank you to the surgical daycare staff for their kindness and hard work before and after my surgery. Nurse Erin and her team were sympathetic and so knowledgeable. We are so lucky to have these nurses and doctors in B.C.
---
For Peace Arch Hospital
I'd like to shout out and give a big thumbs up to the Emergency Department's Dr. Lamprecht. He sincerely and wholeheartedly helped me through my pain. Despite his extremely busy schedule, he took time to explain to me my symptoms and provide me enough comfort to know what I have and what I should do to heal.
---
For Ridge Meadows Hospital
I went to the Emergency Department just before midnight and after a short wait I was taken in for testing. After just two hours, I was on my way home. I want to say that Dr. Sawchuk, his respirologist and his team of nurses were the best. I was treated quickly and professionally by all. They all deserve a huge thanks!
---
For Royal Columbian Hospital
Cheryl was my nurse at Royal Columbian Hospital and she was absolutely lovely. Her demeanor and personality were exactly what I needed to stay calm because I was very anxious about my procedure. She also caught an error in my paperwork during my check-in. A big thanks to her for a job well done!
---