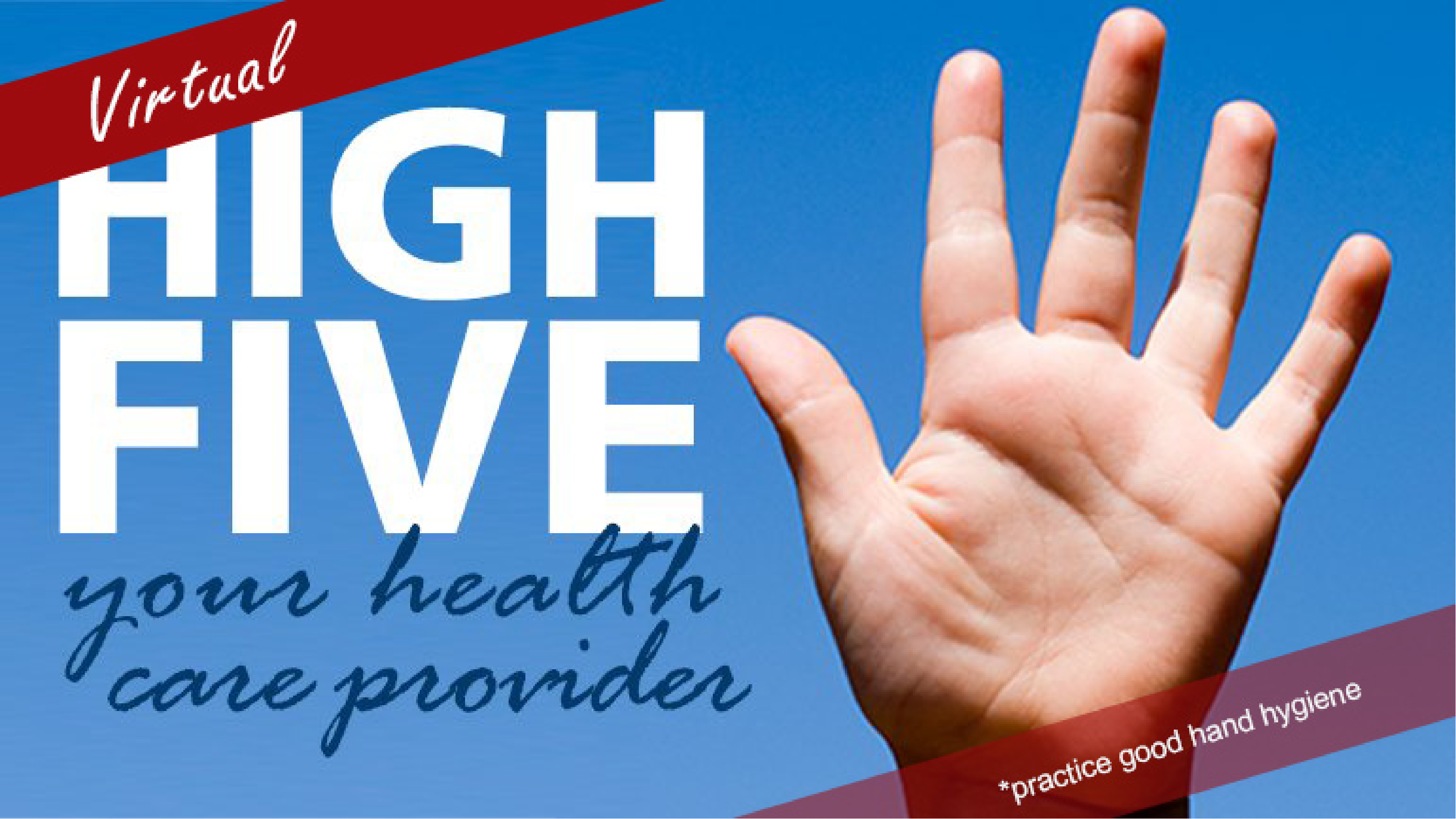 This week's high fives go to our amazing people at Abbotsford Regional Hospital and Cancer Centre, BCIT Vaccine Clinic, Burnaby Hospital, Chilliwack General Hospital, Eagle Ridge Hospital and Royal Columbian Hospital.
Want to send a high five to your health care provider or Fraser Health team member? Leave a comment below or send your thanks using our online submission form. Read more kudos at fraserhealth.ca/highfive.
---
For Abbotsford Regional Hospital and Cancer Centre
What a lovely staff member in the MRI department. She made my procedure so easy and calm.
---
For Abbotsford Regional Hospital and Cancer Centre
Super huge high five to the staff at Abbotsford Regional Hospital and Cancer Centre. Karen, Heather and the whole surgical department: thank you all for making this experience comfortable and pleasant. I was very nervous about how I would be treated but these people made a huge difference.
---
For BCIT Vaccine Clinic
I would like to express my gratitude to Rose at the British Columbia Institute of Technology Vaccine Clinic. She spent so much time with my 11-year-old daughter who has needle anxiety and has been scared and reluctant to get her vaccine. Rose really made my daughter feel comfortable and at ease. She was so patient and I don't think we could have done it without her. Thank you Rose! You are amazing!
---
For Burnaby Hospital
I recently had a procedure and I want to commend the staff at Burnaby Hospital. Kelsey helped me stay calm as she prepared me for surgery, and Anne was amazingly compassionate during recovery. I hope all of the staff who cared for me, including Karen, Sonia, Josephine, Lana and many more know how much I appreciate their kind words and smiles during my recovery. Thank you so much!
---
For Burnaby Hospital
Thank you MRI technician, Tyler! I had my first MRI and was pretty nervous. He was super kind and even helped me with my ear plugs when I was worried about them coming out. Thanks for all you do!
---
For Chilliwack General Hospital
I was in a lot of pain and had to go to the emergency department. I want to thank the staff for attending to me as soon as they could. The doctor was very polite and explained my situation in a way I could understand. The nurses were all very polite which I'm sure is hard to do at times. Thanks again!
---
For Eagle Ridge Hospital
I had surgery at Eagle Ridge Hospital, and I want to express my sincere gratitude for the exemplary care and professionalism that every member of the staff displayed. From start to finish, everyone was so caring that it made a stressful time that much easier. Please pass on my thanks to everyone in the surgical department. Thank you.
---
For Royal Columbian Hospital
Recently my father was admitted to your hospital. The staff in the MRI department, and the doctors who assisted him were all top notch and treated my father and our family with compassion, understanding and respect. Thank you to all your staff!