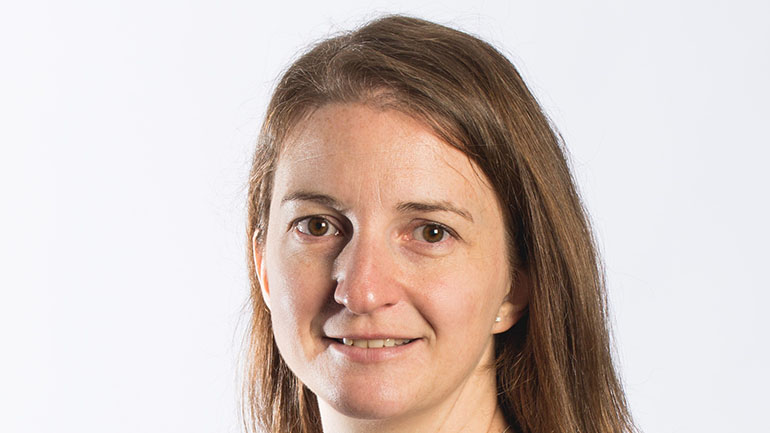 Sarah Crowe, a critical care nurse practitioner from Surrey Memorial Hospital, is the first-ever Fraser Health recipient of a Michael Smith Foundation for Health Research Trainee Award.
And the winner is…Sarah Crowe! The critical care nurse practitioner from Surrey Memorial Hospital is among 54 recipients of a 2021 Michael Smith Foundation for Health Research Trainee Award.
"I am so very honoured and grateful for this opportunity and I really want to do Fraser Health and nursing proud," says Sarah. She is thankful for the support of her team with special shout-outs to her UBC mentor assistant professor Dr. Fuchsia Howard; Dr. Laura Housden, Nurse Practitioner Director; and Martha Cloutier, Executive Director, Surrey Memorial Hospital.
The prestigious award is designed to support health researchers in the training phase of their research careers. In Sarah's case, the award will enable her to study how critical care nurses prioritize delirium-related patient care and to identify challenges and opportunities for change.
"Sarah is a rising clinician-researcher superstar within Fraser Health and a shining example of how frontline clinicians can and should do research that contributes to better health services and patient outcomes," says Kate Keetch, Director, Department of Evaluation and Research Services, Fraser Health. "Sarah truly embodies the idea that Research is Care and Care is Research. I'm very proud of her and her impressive accomplishment in being Fraser Health's first MSFHR Research Trainee."
The $45,000 annual award will go directly to Fraser Health to provide additional staffing supports so Sarah can carry out her important research. It's not as simple as backfilling her position part-time though, as she is one of only two critical care nurse practitioners in the province.
Sarah's role is unique as her research. It's estimated upwards of 80 per cent of people admitted to critical care experience delirium. It presents differently in patients but can be classified into three types. The most recognizable is where patients are hyperactive, confused, perhaps fidgety or vocal, or hallucinating. Some patients are hypoactive, meaning they are subdued, often confused and seemingly depressed. The third type of delirium is a mix of both.
"While there is research into recognizing, preventing and managing delirium, we don't know how nursing actions influence it," says Sarah. "There are basic things we can do like ensuring patients have uninterrupted sleep and access to their hearing aids or glasses, but we don't have a good handle on how nurses prioritize what care they give and the order in which they deliver it. I'm hoping that by better understanding this, we might be able to identify gaps in the system and ultimately improve the care and outcomes for patients."
Since 2001, the Michael Smith Foundation for Health Research has granted more than 1,400 awards worth about $60 million, helping to attract, develop and retain B.C.'s best and brightest health researchers and advance world-class health research in B.C.