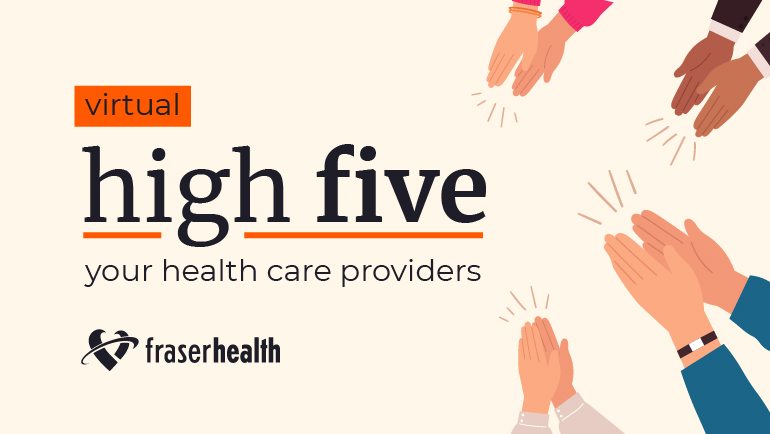 This week's high fives go to our amazing people at Chilliwack General, Peace Arch and Eagle Ridge Hospitals as well as Surrey and White Rock Home Health.
Want to send a high five to your health care provider or Fraser Health team member? Leave a comment below or send us your story.
---
For Chilliwack General Hospital
I had to take my mum for elective surgery today in Chilliwack. I was so pleasantly reminded of how many kind, competent and awesome people work in the medical field. Thank you, Fraser Health.
---
For Peace Arch Hospital
I was in for surgery and had to stay overnight. The nurses were so lovely and caring. Sherry, in particular, on the second floor was so kind. Even the student nurse who was just learning was lovely.
---
For Eagle Ridge Hospital
I want to send out a big shout out to Lisa, the cashier at registration. I was there with my elderly mom and Lisa did the kindest things like bringing us some milk to cool down mom's soup, paper towels to mop up our messes and even gave us her own apple as my mom is diabetic. We were both touched by her concern. This woman deserves a reward. Thank you.
---
We had to take our three year old to the emergency department and all the staff were beyond amazing. They went out of their way to make him feel comfortable, they were patient and never made us feel they were rushed even though it was very busy. They also took the time to answer all my questions and were reassuring during a scary time for us.
---
I had surgery. Dr. MacKenzie and all of the staff were professional, orderly and very caring. From the moment I checked in the COVID-19 protocol was followed. The recovery staff and nurses were very attentive and made the unknown part of surgery so much easier. Please extend my thank you to them all. We are blessed to have so many hard working medical staff during this pandemic. Thanks.
---
For Surrey and White Rock Home Health
I wanted to thank the Home Health palliative care nurses who helped my mother stay at home for the last weeks of her life. In particular we owe an enormous debt of gratitude to Sara, Carly and Ceci. Thank you for your patience, kindness and empathy. Never underestimate the value of what you do. You treated our mother with the care, attentiveness and dignity one would expect from a dear friend.