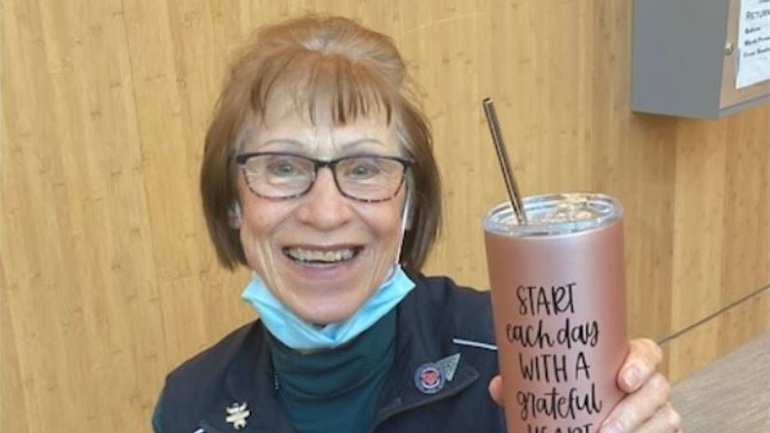 "You can always find happiness even in a difficult situation. That's life, you take it and make the best of it." Read about how Mary impacts patients through volunteering and thank her for all that she does during Volunteer Week.
Mary Kolbeck, Welcome and Wayfinding Volunteer at Abbotsford Regional Hospital, starts each day with a grateful heart. This daily intention has been with her through more than 5,727 hours of volunteer service.
Mary began her volunteer journey as a patient programs volunteer with the St. Elizabeth's Convent in Humboldt, Saskatchewan.
Her daughter, who is a nurse at the local hospital in Humboldt, encouraged Mary to broaden her volunteer experience. This led Mary to assist with coordinating entertainment programs for residents with Alzheimer's disease and mobility challenges.
When she settled in Abbotsford 16 years ago, Mary returned to her volunteering roots and sought out opportunities to give back while make connections in her new community.
"I was 72 years old at the time and thought no one would want me to volunteer at my age."
Despite her doubts, Mary was accepted into the role as a Welcome and Wayfinding volunteer. As an ambassador for Abbotsford Regional Hospital she offers a warm and welcoming presence to everyone who walks through the hospital doors. Patients and their families are comforted by her directions and smile in the 'walk with you' service that gets them where they need to go.
"You get more out of it than you put in. To me, simply hearing 'thank you' from patients and their families makes my day."
The team at Abbotsford Regional Hospital can't imagine weekends without Mary.
"She has a calming presence, and is both curious and kind to all," says the volunteer resources team at Abbotsford Regional Hospital. "She has volunteered in many roles from her start at MSA Manor and now at Abbotsford Regional Hospital. She is our little history book, always has a story to share about her time volunteering."
In her 16 years of volunteering for Fraser Health, Mary has mentored and trained many people. From new volunteers to medical students, Mary is often the first volunteer they meet to familiarize themselves with the hospital.
"I especially enjoy interacting with young people. They learn from me and I learn so much from them. Lots of them stay in contact and have very kind words for me. It's nice to look at the thank you messages and see how appreciative they were."
The week of April 25, 2022 is Volunteer Week. Take the time to thank volunteers and auxiliary members at Fraser Health and read more volunteer stories at fraserhealth.ca/volunteering.
Interested in volunteering at Fraser Health? Learn about opportunities at fraserhealth.ca/volunteer.
For media inquiries, please contact:
media@fraserhealth.ca