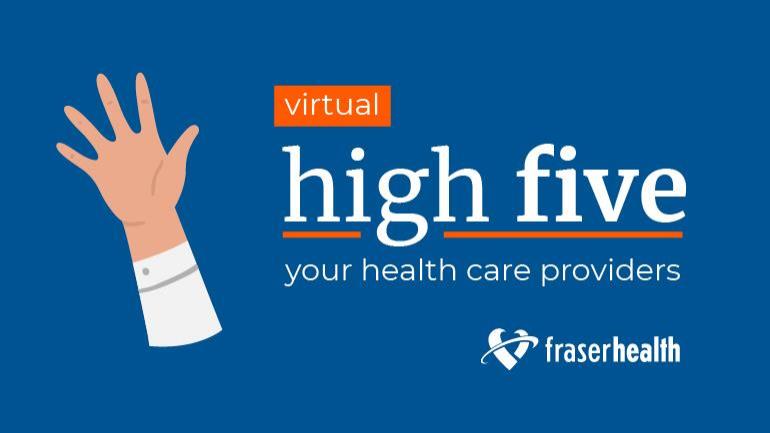 This week's high fives go to our amazing people at Burnaby Hospital, Jim Pattison Outpatient Care and Surgery Centre, Abbotsford Regional Hospital and Ridge Meadows Hospital.
Want to send a high five to your health care provider or Fraser Health team member? Leave a comment below or send your thanks using our online submission form. Read more kudos at fraserhealth.ca/highfive.
---
For Burnaby Hospital
Your staff has been so loving and wonderful in supporting my husband's health and recovery. We both really appreciate everything you guys have done for us. Your entire team helped us in more ways than we can mention. Thank you from the bottom of our hearts.
---
I recently received excellent care from your team. When I walked into the door, I was directed to where I needed to go by friendly staff. I wanted to give a shout out to Wendy in pre-operative and the other nurses, thank you.
---
For Jim Pattison Outpatient Care and Surgery Centre
I had a colonoscopy and I was received by two wonderful nurses, Kyla and a lovely woman. They could not have been more kind and understanding. Dr. Deb Li was also exceptional. Professional, yet kind and comforting. I know there are challenges, but we all need to look at the positive and celebrate what amazing health care we have.
---
For Abbotsford Regional Hospital
Grateful appreciation to the CT intake staff, who patiently relayed two pages of patient instructions to us over the phone to prepare for my aunt's colonography last month. Mobility is an issue for us and we could not easily make the drive from Langley to Abbotsford and were panicking about how to pick up these important instructions. Thank you so much for taking the time - you saved us.
---
For Ridge Meadows Hospital
Thank you to the emergency room staff for their professionalism and work ethic while helping me deal with my medical concerns. Everyone I interacted with were personable and truly cared for my health. The nurse on intake and the nurse who did my catheter were very personable and had a great sense of humour, as did the doctor.
---
I wanted to say from when I first walked in, I was impressed with the staff on shift. The nurse who did my intake was personable and humorous and made me feel at ease. The doctor was understanding and took the time to make sure I understood my health concerns.