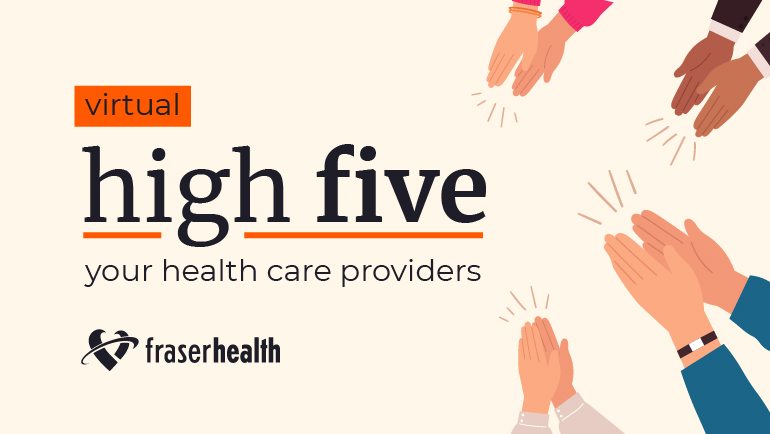 This week high fives go to our amazing people at Burnaby Hospital; Chilliwack General Hospital; Eagle Ridge Hospital; Langley Memorial Hospital; Royal Columbian Hospital; and Surrey Memorial Hospital.
Want to send a high five to your health care provider or Fraser Health team member? Leave a comment below or send your thanks using our online submission form. Read more kudos at fraserhealth.ca/highfive.
---
For Burnaby Hospital
I would like to express my sincerest thanks to all the staff. My senior mom was admitted for two weeks. The staff treated, not only her, but all the patients with kindness and caring and always had a smile. In a demanding and stressful environment, they work diligently to attend to the needs of the patients professionally and compassionately. My mom was well taken care of.
---
Special thanks to the emergency room team, the surgical team and of course the nursing staff. Everyone showed kindness, professionalism and provided great care. All the other staff I encountered during my time, the porters, CT and X-ray staff, cleaning staff, food providers, nutritionist and occupational therapist were wonderful too.
---
Devyn was a member of staff working in emergency during my visit and she deserves a high five for being quick and effective in response. She took time to verify with me and others to make sure every person was given the time they needed. Her language and mannerisms were warm and welcoming, but clear and when giving directions.
---
I had a seizure and the staff were there to help me within minutes. The paramedics really care and went the extra mile. It is very much appreciated. From the bottom of my heart thank you.
---
For Chilliwack General Hospital
My sister was brought into the Emergency Department, because I thought she was having a stroke. The care my sister received was awesome. I am a registered nurse of 34 years in Ontario. The nurses, emergency room doctor and community care for my sister was excellent. Thank you.
---
For Eagle Ridge Hospital
Thank you to the team at the lab for always being so courteous, efficient and kind. I don't know everyone's names, but you really do make a positive impact.
---
For Langley Memorial Hospital
A huge thank you to Dr. Naylor and all the emergency nurses assisting him in the care of my daughter - she went into anaphylactic shock while in the emergency waiting room. It was a very intense situation. We appreciated the care and attention while she was kept under observation for several hours. Also, thanks to Dr. Korosti for her care.
---
For Royal Columbian Hospital
Everyone at Royal Columbian Hospital is great. Every nurse, clerk, cafeteria worker and host helped greatly with what was a very stressful time for my family. Special high-five to the nurses.
---
For Surrey Memorial Hospital
I had to bring my daughter to the Surrey Memorial Hospital Pediatric Emergency Department. While they were extremely busy, all staff we interacted with were fabulous. The nurses and doctors should be highly commended for their patience, kindness, calmness and excellent bedside manner in dealing with sick kids and worried parents.
---