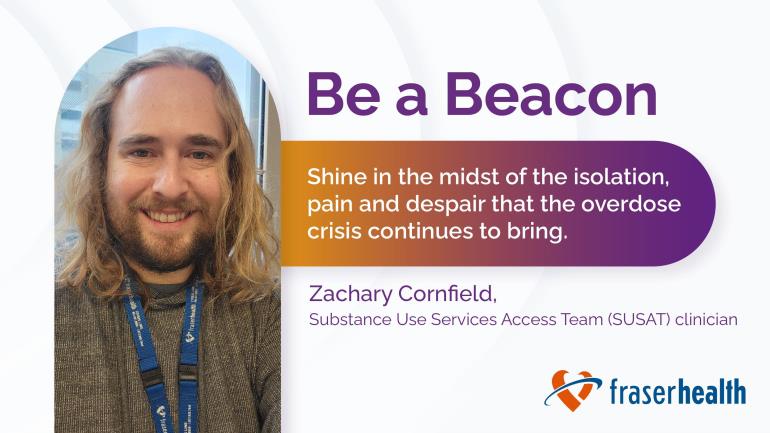 Substance use clinician Zach Cornfield takes substance use outreach to a new level by bringing passion to his work and compassion for the people he is helping.
"The attitude I bring to my work is to be non-judgmental, keen to visit people in whatever place or stage they're at with their substance use, and to express my genuine desire to make a personal connection," says Zach Cornfield, substance use clinician with our Substance Use Services Access Team (SUSAT). "I bring a lot of energy to my work and see my ability to be there for people as a strength I have."
Zach's day-to-day work involves travelling throughout our region visiting people who would benefit from the variety substance use services we offer. He travels to hospital emergency departments, coffee shops and people's homes – far and wide – to teach them about the services they have access to.
"Someone in hospital might never have interacted with our health care system," Zach says." They might want to stop using, so I connect them to a counsellor or other place they can get treatment. If they're looking to stay safer while they're using, I connect them to care teams and resources to help reduce their risk of harm from substance use."
Having the freedom to meet clients without pushing any particular agenda, the flexibility to walk beside them, to be patient, and to be continually reconnecting with them – Zach says this is one of the wonderful things about the work he does as part of the SUSAT team.
"While I often see the same people time and time again, I make sure every interaction is a new opportunity to connect. If the tenth time I see someone is the time they want help, they get help, without judgement.
They deserve our care. So we bring it to them, when and where they're ready."