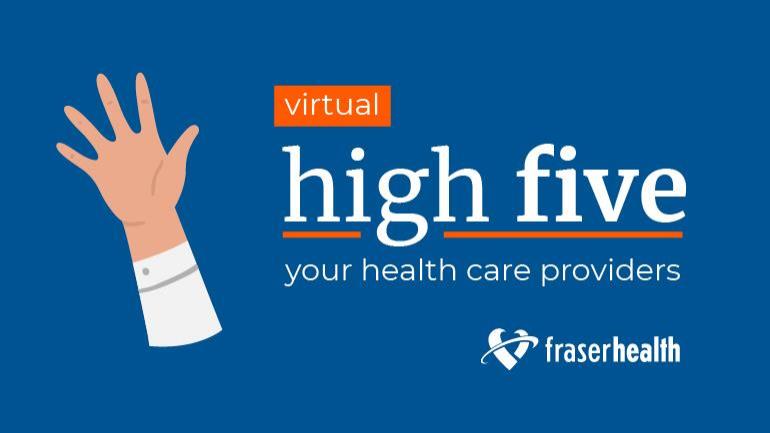 This week's high fives go to our amazing people at Abbotsford Home Health, Abbotsford Regional Hospital, Burnaby Hospital, Eagle Ridge Hospital, Fraser Canyon Hospital, Langley Memorial Hospital, Peach Arch Hospital, Ridge Meadows Hospital, Royal Columbian Hospital and Surrey Memorial Hospital.
Want to send a high five to your health care provider or Fraser Health team member? Leave a comment below or send your thanks using our online submission form. Read more kudos at fraserhealth.ca/highfive.
---
For Ridge Meadows Hospital
The Physiotherapist team in the Alouette Rehab ward is excellent. Cindy, Esther and Gigi were wonderful. They treat each patient with kindness, respect and humanity. Thank you for your service and support as my Dad continues to progress with your assistance.
---
For Ridge Meadows Hospital and Langley Memorial Hospital
I can't say enough nice things about the pediatric staff at Ridge Meadows and the surgery and post operative care team at Langley Memorial. Everyone worked hard to make sure my son was well taken care of. I am truly grateful for all of you.
---
For Jim Pattison Outpatient Care and Surgery Centre
I would like to pass our sincere thanks to all the staff in the Colonoscopy department. While my wife was there for her checkup we experienced second to none treatment and the professionalism from all of the staff. Thank you to Adrienne for being kind and gentle in her explanation. She made us feel that we indeed have the best medical system in the world. Thank you.
---
For Royal Columbian Hospital
I have spent time in the psychiatric ward and the staff have been nothing but kind and caring. They truly care for their patients. I value the time spent here and am grateful to have received care from this team.
---
For the Embrace Clinic
I wanted to commend and give heartfelt thanks to the ladies at the Embrace Clinic. Jenn, Hannah and the receptionist were wonderfully kind, compassionate and knowledgeable. The nurses went above and beyond to provide me with the care I required. Reception was warm and efficient. Many thanks ladies.
---
For Eagle Ridge Hospital
I was most impressed by the kindness and professionalism of the Emergency Room staff. I loved the Doctor's bedside manner; he was knowledgeable and reassuring. Additionally, the staff in the Cardiology Department and Dr. Dehoney were incredibly helpful and caring. Thank you.
---
For Fraser Canyon Hospital
I can't thank Dr. Love enough for diagnosing my ailment. Dr. Love ran every test possible and was finally able to uncover the issue. He is a wonderful doctor.
---
For Burnaby Hospital
We are so grateful to the triage nurse, the Emergency Room doctor and Nurse Trevor for providing such great care. Thank you to all the staff that cared for my husband during a very scary time.
---
I would like to recognize and bring to light the outstanding work done by all the staff in the Burnaby Pain Clinic. Dr. Gracias and Connie have made my experience pleasant. I am so appreciative of this clinic and its dedication to delivering the best services to the public.
---
For Mission Memorial Hospital
Thank you to Nurse Juna and the care workers, Katrina and Erica. They stood out for going above and beyond while assigned to my Dad during his stay in the hospital. Many thanks.
---
For Peace Arch Hospital
My mother had cataract surgery at Peace Arch Hospital. I highly commend the staff for their caring, kind approach to patient care and very professional manner. Best health care experience my mother and I have. Thank you so much.
---
For Abbotsford Regional Hospital
We spent two weeks at the hospital while my grandma was at the end of life. All of the nurses and support staff we encountered were incredible. Regardless of how many times we rang the buzzer, asked endless questions or just needed comfort, they were all amazing. A huge thank you to Rachel, Stacey, Katie, Meagan and Alisha for everything all of you did for us.
---
I just wanted to express my gratitude and appreciation for the nurses and doctors at Abbotsford Regional Hospital. From start to finish my experience with the staff in the Emergency Room was fantastic. Thank you all.
---
My mom was rushed to Abbotsford Regional Hospital on a very busy Halloween night. The entire team in zone one, especially Licensed Practical Nurse Jennifer, was so reassuring, compassionate and professional with her care and with our concerns. Nurse Sharon and the team calmly juggled a very hectic unit, ensuring everyone received care with warmth and empathy. Thank you for all you do; it truly matters.
---
For Surrey Memorial Hospital
I would like to commend Dr. Neufeld and Dr. Annaleigh, as well as the whole surgery team, for the total hip replacement surgery I received. I received wonderful care and follow up. Thank you.
---
I would like to thank Nurse Laura, Julie and Dr. Lee for providing my grandma exceptional care before and after her gall bladder surgery. All three staff members were extremely thorough, professional and went the extra mile. I was very pleased with the care that my grandma received. Thank you.