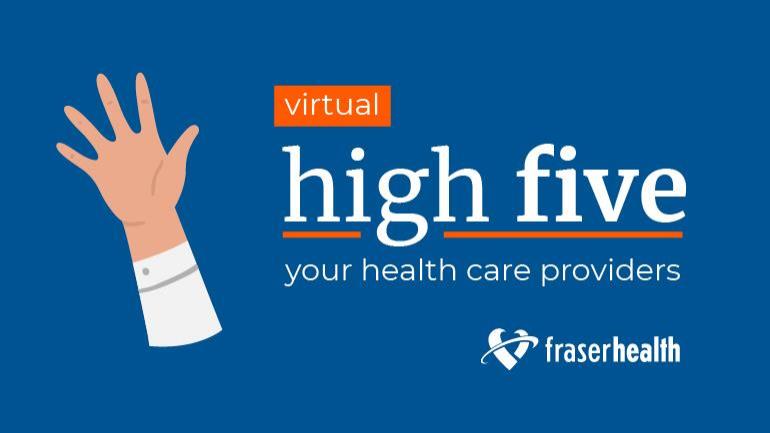 This week's high fives go to our amazing people at Chilliwack General Hospital, Langley Memorial Hospital, Peace Arch Hospital, Ridge Meadows Hospital, Langley Home Health, Eagle Ridge Hospital, Abbotsford Regional Hospital and Royal Columbian Hospital.
Want to send a high five to your health care provider or Fraser Health team member? Leave a comment below or send your thanks using our online submission form. Read more kudos at fraserhealth.ca/highfive.
---
For Chilliwack General Hospital
I wish to thank Dr. Kim for saving me from the effects of a stroke; he saved my life. I wish to also thank all the nurses in intensive care. They provided excellent care during my recovery. Thank you.
---
For Langley Memorial Hospital
I just want to send a shout out to the nursing staff. I'm so appreciative of your skill, compassion and knowledge. I was incredibly well cared for and always felt safe in your hands. Thank you from the bottom of my heart.
---
Absolutely every health care professional I encountered was friendly, positive, sharp, patient and amazing. From the nurses in the Emergency Department, to the on-call doctor and the wonderful porter who escorted me to and from my CT scan. Thank you so much for your care – you're truly amazing.
---
For Peace Arch Hospital
I visited Peace Arch Hospital due to an anaphylactic reaction to nuts. From triage to trauma, the nurses I interacted with were kind, calm and had great communication. Thank you.
---
For Ridge Meadows Hospital
We visited the Emergency Room for my son's medical issue. The staff we encountered were lovely and kind. Everyone was working really hard and we were in and out quickly. We appreciated being able to be seen and treated efficiently. Thank you so much.
---
For Langley Home Health
Many nurses come and go daily but one stands out as superior. Elvin is just exceptional. My dad adores him and trusts him. He explains everything well and is super efficient. He is professional, careful and detailed. He provides outstanding care. Thank you Elvin.
---
For Abbotsford Regional Hospital
Thank you to all the pediatric staff and Dr. Horvath for everything you did to took care of our son. Bless all of you.
---
I visited general daycare at the hospital to have a lesion removed from my neck. The friendly, efficient service provided by Dr. Astanehe and her team was impressive. My uneasiness in attending for such a procedure was quickly dispelled by the comforting care provided. Much appreciation to Dr. Astanehe and her team.
---
For Royal Columbian Hospital
I'd like to express my gratitude to the nurse in the hospital Maternity Unit. Thank you for caring and supporting me through the loss of my pregnancy. Thank you for holding my hand when things got tough, sitting with me when I was down, crying with me when I felt hopeless. Thank you for attending to my sensitivities and creating keepsake boxes for my twins. You are true examples of compassionate care.
---
My son had surgery at the hospital, which included an overnight stay. The care from checking in to checking out was absolutely wonderful. Everyone did a wonderful job in looking after him and the kindness and professional care will always be remembered. Thank you.
---
For Eagle Ridge Hospital
I would like to commend the staff at Eagle Ridge Hospital, notably nurses: Norman, Rose Ann, Anna and Adelaide who took excellent care of my mother. Additionally, thank you to Dr. Nair who was simply the best.