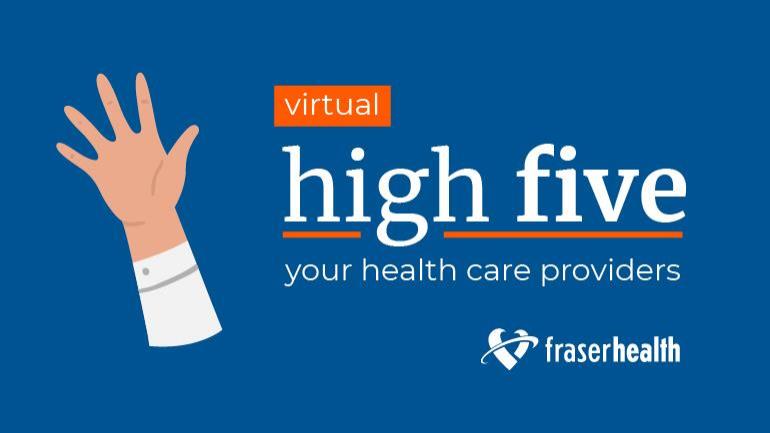 This week's high fives go to our amazing people at Burnaby Hospital, Carelife Fleetwood, Eagle Ridge Hospital, Ridge Meadows Hospital, Royal Columbian Hospital and Surrey Memorial Hospital.
Want to send a high five to your health care provider or Fraser Health team member? Leave a comment below or send your thanks using our online submission form. Read more kudos at fraserhealth.ca/highfive.
---
For Ridge Meadows Hospital
Susan in the Alouette Ward is wonderful and goes above and beyond for patients. Thank you so very much. You are appreciated.
---
For Eagle Ridge Hospital
I wanted to send a compliment to Julie. She was amazing, supportive and thorough with my children; they loved her. I really appreciate her knowledge, kindness and ability to listen to any concerns. Thank you.
---
Kim was so helpful, kind and lovely. I can't thank her enough.
---
I was recently in Eagle Ridge Hospital for minor, daycare surgery. I simply cannot believe the tremendous care I received. From intake to Surgical Daycare, all the staff and doctors I met were focused on providing me the best care possible. They listened, they cared, they worked hard and they never stopped. They are exemplary models of how to provide excellent health care. Thank you.
---
For Burnaby Hospital
I would like to thank Dr. Yu of the Pain Management Clinic. Both Nurse Connie and Dr. Yu were extremely pleasant and efficient. As a result of Dr. Yu's fabulous care, I feel a great sense of hope and relief.
---
For Burnaby Hospital and Royal Columbian Hospital
Big thank you to all the staff at Burnaby Hospital and Royal Columbian Hospital. They all work so hard while providing care to patients with compassion and positive attitudes. I appreciate every single one of you. Thank you for taking care of all your patients.
---
For Royal Columbian Hospital
I am sending compliments and a big thank you to all who looked after my husband. I was so impressed by the level of care and professionalism in both the Emergency Room and the High Acuity Unit. Thank you for providing him the best care possible.
---
I would like to express my heartfelt thanks to Dr. Wong who stepped in and performed an urgent open heart triple bypass surgery on me. Although I have never met him, his skill and knowledge as a surgeon saved my life. I have continued to recover and heal and would like him to know how much I appreciate his dedication and for providing me with a second chance at life.
---
For Surrey Memorial Hospital
My young son was scheduled to have surgery at the hospital. Thank you to the staff who provided excellent care pre and post operation. They were attentive, explained the procedure and helped my child feel comfortable and at ease. Thank you.
---
For Carelife Fleetwood
My mother was transferred to the PATH Unit at Carelife Fleetwood from Surrey Memorial Hospital. She was there for two weeks, before coming home. I would like to convey my sincere and heartfelt thanks to the entire team at Carelife for providing excellent care to her. Your team is doing an amazing service. There is a wonderful mythical law of nature that the three things we crave most in life - happiness, freedom, and peace of mind - are always attained by giving them to someone else. Your team is doing that, every day, for lots of people. Please convey my gratitude to your team for their sincere and professional service.