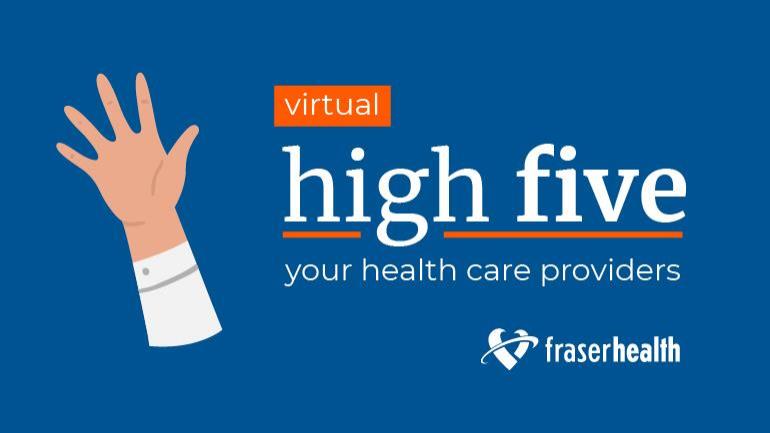 This week's high fives go to our amazing people at Royal Columbian Hospital, Burnaby Hospital, Surrey Memorial Hospital, Fraser Canyon Hospital and Jim Pattison Outpatient Care and Surgery Centre.
Want to send a high five to your health care provider or Fraser Health team member? Leave a comment below or send your thanks using our online submission form. Read more kudos at fraserhealth.ca/highfive.
---
For Royal Columbian Hospital
I came into Royal Columbian after an induction and had an amazing experience with the nurses involved. Nurse Abby, you made me believe in myself and made it all feel okay and possible. For a first time mom this made a big difference. You are a star. The women involved in my labour were absolutely incredible and empowering. What you do each day is intense and amazing. Thank you forever.
---
For Burnaby Hospital
My daughter ended up in the Emergency Room at Burnaby hospital. The staff were all so kind and patient while they treated her. The nurse that attended to us really connected with my daughter and even got to know the name of her stuffed pig toy. My daughter has never had bloodwork or an IV before, but she remained calm through these procedures thanks to the skills and bedside manner of the staff. Thank you.
---
For Surrey Memorial Hospital
My son was in the Pediatric Emergency due to complications from influenza. He was very scared to get blood work and tests but the doctor and nurses there were so fantastic. Special thanks to Nurse Kayla who was so wonderful and kid friendly which made the visit less stressful. Thank you for your kindness.
---
For Fraser Canyon Hospital
I recently attended the Emergency Room at the Fraser Canyon Hospital and was attended to by Dr. Darby. He was thorough in his assessment of my condition and followed up with the necessary referrals. I have never had a doctor who was as committed and dedicated to my care. What a blessing to have someone like him. I cannot say enough about how impressed I was with his care.
---
My daughter was taken to the Emergency Room with severe back pain. Dr. Grover and Dr. Phillip were very caring and gentle. Thank you.
---
For Jim Pattison Outpatient Care and Surgery Centre
I had the best experience when receiving an ultrasound from Andrew. He was patient, caring, smart and answered all my questions. He's a real human being and treated me with respect and kindness. Thank you.