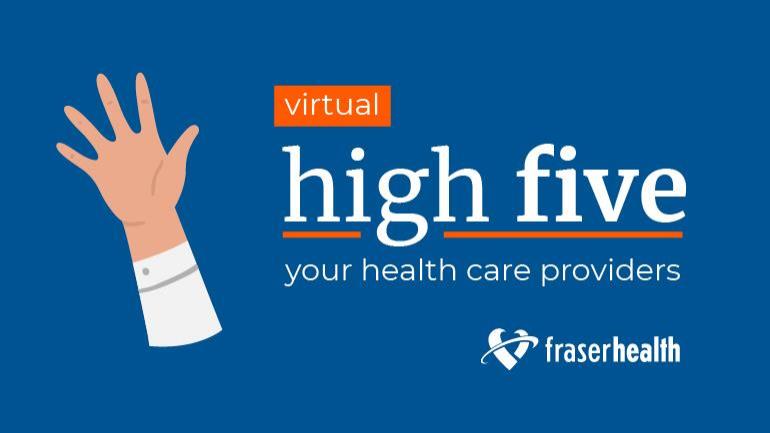 This week's high fives go to our amazing people at Burnaby Hospital, Fraser Canyon Hospital, Langley Home Health, Peace Arch Hospital and Surrey Memorial Hospital.
Want to send a high five to your health care provider or Fraser Health team member? Leave a comment below or send your thanks using our online submission form. Read more kudos at fraserhealth.ca/highfive.
---
For Burnaby Hospital
On behalf of our family I would like to say a very heartfelt thank you to all the staff at Burnaby Hospital for the excellent care and compassion you have given our sister. She is being incredibly well cared for by all. Thank you.
---
For Fraser Canyon Hospital
You have an absolute gem of an employee in your lab, Katie. She is so pleasant and helpful, yet efficient. If someone arrives and the requisition isn't there, she makes every effort to get the person's samples taken care of. She's quick and on top of it all. Thank you Katie.
---
For Langley Home Health
Despite the poor weather, Navi braved the snowfall to provide home care assistance. This was her first visit, always stressful for the worker and patient, and she performed wonderfully. For a spinal patient, it's critical to get into the wheelchair for the day, so, leading up to Christmas the extra effort was sincerely appreciated.
---
For Peace Arch Hospital
I had a shoulder operation at Peace Arch Hospital. From registration to post-operative, the care was second to none. Thank you for fabulous, first-class patient care.
---
For Surrey Memorial Hospital
I wanted to send a thank you to Nurse Justine at Surrey Memorial Hospital for going above and beyond. She has been caring for my father the past couple days and her communication and kindness is absolutely unbelievable. She is caring, compassionate, smart and efficient. She is a huge asset to your team.