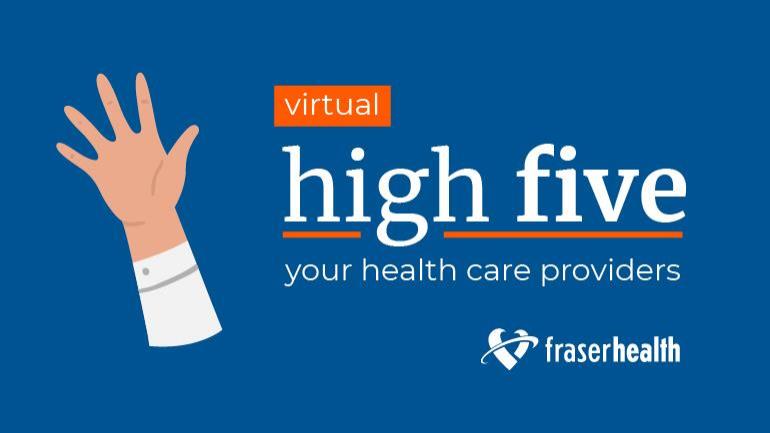 This week's high fives go to our amazing people at Royal Columbian Hospital, Chilliwack General Hospital, Surrey Memorial Hospital, Eagle Ridge Hospital, Langley Memorial Hospital, Ridge Meadows Urgent and Primary Care Centre and Surrey 66 COVID-19 Testing and Immunization Centre.
Want to send a high five to your health care provider or Fraser Health team member? Leave a comment below or send us your story here.
---
For Royal Columbian Hospital
A huge thanks to the team in the cardiac catheterization lab, from Garrett who checked my husband in, to the nurses in 2N after the procedure. Your attention and compassion were amazing. Thank you.
---
For Surrey 66 COVID-19 Testing and Immunization Centre
I want to thank the entire staff of the Surrey 66 COVID-19 Testing and Immunization Centre for their expertise in providing a family member their immunization. From start to finish the staff were polite, efficient and had great senses of humour. We were in and out in just over 20 minutes. The site is organized very well; vaccinations in one area and testing in another.
---
For Chilliwack General Hospital
I would like to thank nurses Nerisse, Raquel, Karen, Maya, Anju and Dr. Chatenay on the 4th floor for looking after me. You all showed compassion and caring for me and other patients. See you soon.
---
For Surrey Memorial Hospital
Thank you, Dr. Coll, the anesthesiologist and all your team for your caring and kindness. Dr. Coll is incredibly intelligent and competent. I am forever grateful. Thank you to the surgical pre-admission team and surgical daycare staff for their dedication and hard work. The kindness and compassion from the entire staff were amazing.
---
For Eagle Ridge Hospital
I recently was required to stay at the facility, first in emergency and then on a ward. The staff were excellent, effective, friendly and empathetic. It all made my stay better.
---
For Langley Memorial Hospital
I spent almost three weeks in the Langley Cardiac Care Unit (CCU) and, without a doubt, the staff are the most caring, conscientious, friendly and helpful people I could have wanted or needed. As far as the doctors from the emergency department to the CCU, they were more than helpful.
---
For Ridge Meadows Urgent and Primary Care Centre
I was seen by Dr. Hong and two amazing nurses. They were all extremely pleasant, helpful and really put me at ease. They provided me with all the information I needed. I am without a family doctor right now so this urgent and primary care centre concept is brilliant and very much needed. Thank you again to Dr. Hong and the two nurses.