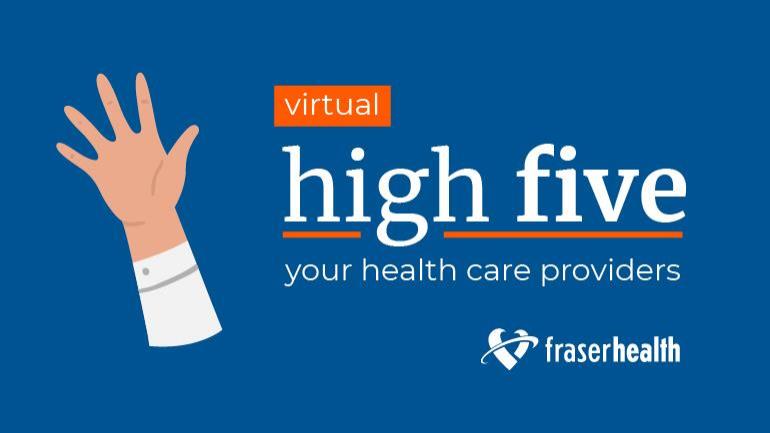 This week's high fives go to our amazing people at Royal Columbian Hospital, Surrey Memorial Hospital, Peace Arch Hospital, Jim Pattison Outpatient Care and Surgery Centre and Ridge Meadows Hospital.
Want to send a high five to your health care provider or Fraser Health team member? Leave a comment below or send us your story here.
---
For Royal Columbian Hospital
I had a Medical Imaging procedure at Royal Columbian Hospital. Kelsie was the nurse who took care of me during the procedure. I had no clue what was going to happen, so her kindness and thorough explanations put me at ease. Kelsie said all of the right things. I am so grateful she was my nurse. Please pass on that she is doing an amazing job. Thank you.
---
For Surrey Memorial Hospital
I am absolutely blown away by the professionalism, the level of care and concern by each person we encountered on several visits we made to the Pediatric unit. Both of my sons (six and four) came for chest infections. I applaud each wonderful doctor and nurse providing loving and outstanding care. It does not go unnoticed and I am thankful for all of you and your dedication.
---
For Peace Arch Hospital
My daughter fell and hit her head, resulting in a trip to the Emergency Department and her getting four stitches in her forehead. While we were waiting for the doctor, the nurse Kelly was absolutely fantastic with my daughter. Kelly was able to comfort and calm down not only my daughter, but me and my wife too. I really hope this message gets back to Kelly.
---
I would like to thank Health Records in Peace Arch Hospital who went above and beyond to help me get my prescription. My pharmacy did not receive the script and the clerk in Health Records contacted the Emergency Department physician to arrange for the prescription to be sent over on an urgent basis. I greatly appreciate the great help I received from Health Records.
---
For Jim Pattison Outpatient Care and Surgery Centre
I had a procedure at Jim Pattison Outpatient Care and Surgery Centre. I would like to pass along a shout out to the nurse who was performing the preparatory work in advance of the doctor's arrival. She was a delight and so helpful. She was not rushed and took the time to answer many questions I had about the procedure. What a professional she is. Thank you.
---
For Ridge Meadows Hospital
Hi there, I visited Ridge Meadows Hospital for an appointment. The service I received was amazing. Special gratitude to the entire Gastroscopy team onsite (Julia, Judy, Debra and Dr. George), who were kind and extremely caring during the whole process, especially during these challenging times. I appreciate all you do every day to serve and protect our community.