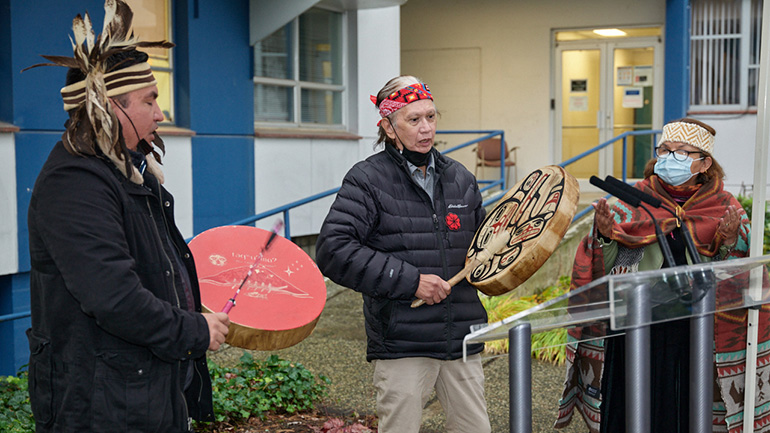 The Burnaby Hospital redevelopment project is underway as Burnaby Hospital prepares to say goodbye to the Cascade building and gears up for construction on the new buildings.
To mark the start of this journey and to honour the host Nations, Burnaby Hospital held a traditional blessing ceremony on November 22, 2021 for the new health care campus located on the traditional and unceded homelands of the Musqueam, Squamish and Tsleil-Waututh Peoples. The cultural significance of the ceremony was to clear negative energy and welcome positive energy.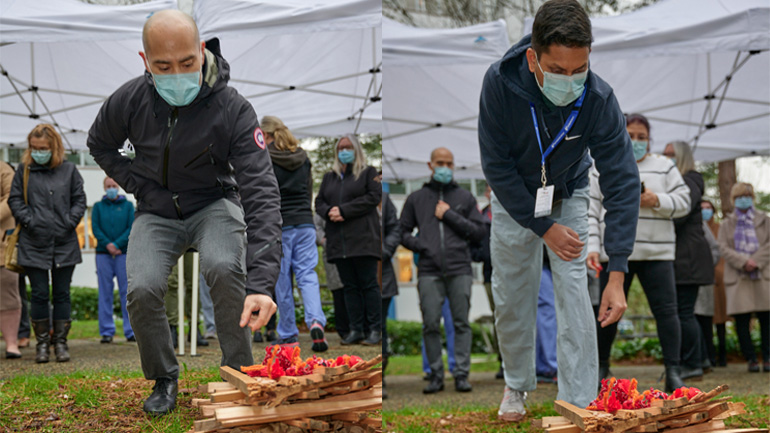 Caption: (Left) Arthur Pangilinan, manager, Volunteer Resources, Burnaby Hospital and (right) Sameer Vohra, manager, Operating Room, Burnaby Hospital placing small pouches of tobacco on top of the fire.
Squamish Nation leaders and knowledge keepers - Chief Ian Campbell, Elder Latash (Maurice) Nahanee, and Delhia Nahanee - opened the event with a traditional song and drumming. Cedar kindling was burned outside and attendees were invited to send positive thoughts and prayers while placing small pouches of tobacco on top of the fire.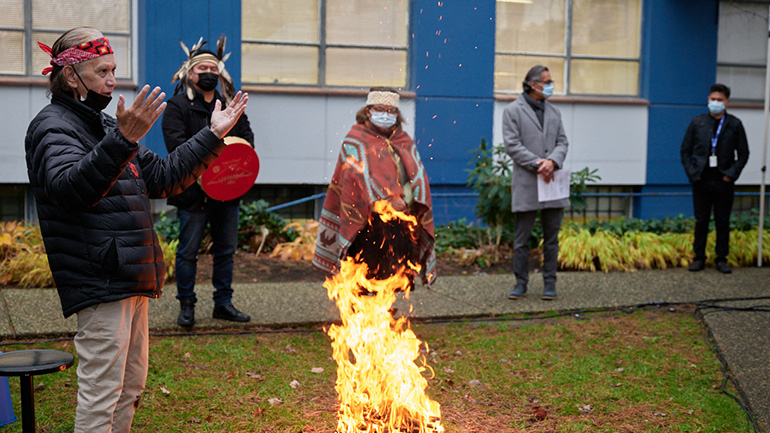 Caption: Elder Latash from Squamish Nation leading the burning ceremony
During the burning ceremony, Elder Latash shared stories and prayers. He asked for safety and strength for the construction workers, for staff and medical staff and for all the patients who will visit Burnaby Hospital in the years and decades to come. Elder Latash received messages during the ceremony and shared that many ancestors joined us to give their blessing to the redevelopment.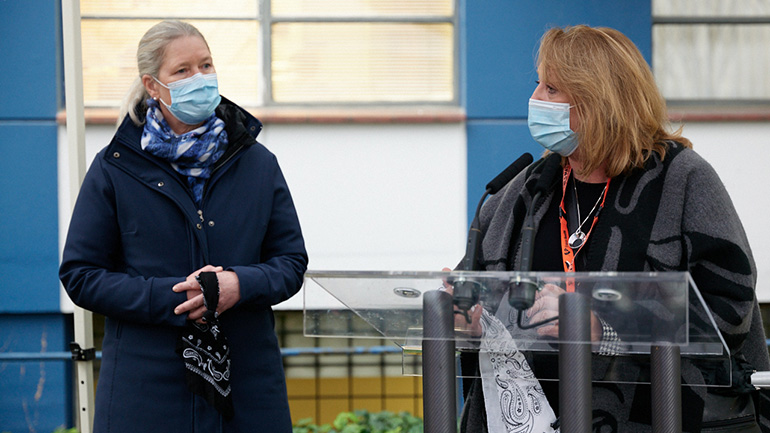 (Left) Dr. Sarah Ostler, site medical director, Burnaby Hospital and (right) Carolyne Neufeld, executive director, Aboriginal Health were called upon as witnesses for the ceremony.
According to Coast Salish Protocol, witnesses were also called upon to hold and share knowledge about the ceremony. This is a way to honour the traditions and customs of the territory. These witnesses were invited to share reflections on what they heard.
It was a very significant and meaningful day for Burnaby Hospital as it embarks on a transformational journey.
Fraser Health is committed to providing culturally-safe care, following and recognizing Indigenous voices, culture and design in the new hospital and is grateful for our continued partnership with the Indigenous communities.