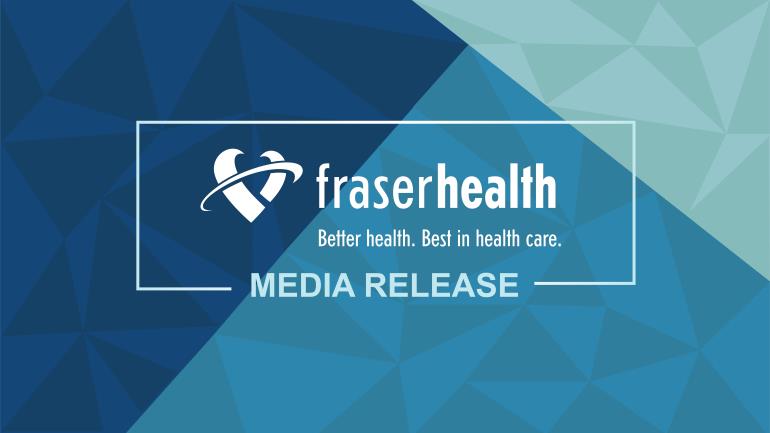 In response to a gap in pediatrician availability due to an unexpected leave at Peace Arch Hospital, beginning January 28, 2022, Fraser Health is asking expectant individuals who have pre-existing plans to deliver at Peace Arch Hospital to attend Langley Memorial Hospital for their deliveries.
The diversion will remain in place until we successfully recruit a full complement of pediatricians to support Maternity patients at Peace Arch Hospital.
Fraser Health implemented this extended diversion to ensure we are able to provide the best and safest care for our patients at any time using our extensive network of hospitals and health care services. The diversion does not impact other health care services at Peace Arch Hospital.
While some people will be disappointed by this temporary change as they would like to have their baby born at Peace Arch Hospital for a variety of reasons, Fraser Health is ensuring that all care providers, such as midwives and doulas, who are part of a patient's care team continue to be part of their delivery team at Langley Memorial Hospital.
During the diversion period, impacted patients will be notified directly by their physicians or midwives to discuss their birth plan and ensure their needs are met. If they have any questions, patients should contact their family physician and/or their midwife.
If they require urgent care, expecting individuals should proceed to the Emergency Department nearest to them. If the person believes they are having complications, they should call 9-1-1.
"For several years now, the local pediatrician group at Peace Arch Hospital has been working closely with Fraser Health to recruit pediatricians to our hospital. The provision of this new contract is an important step toward filling the positions to ensure Maternity services remain available to the South Surrey-White Rock community at Peace Arch Hospital," said Dr. Laura Lewington, co-local department head for the Pediatrics department at Peace Arch Hospital.
Recruiting pediatricians to work in smaller hospitals, particularly those such as Peace Arch Hospital that do not have pediatric units, can be a challenge since some pediatricians prefer to work in larger acute settings. However, Fraser Health continues to work in collaboration with the Ministry of Health, our physician group, program leadership and staff to find long-term solutions to minimize future impact at Peace Arch Hospital, and ensure pediatric services remain consistently available to the South Surrey-White Rock community.
Over the past year, we have recruited five pediatricians to work at our hospitals across the region, helping to ensure adequate resources are in place for all the communities we serve.
While temporary diversions are part of our regular operating procedure, Fraser Health works diligently to avoid implementing diversions in our hospitals whenever possible, including collaborating closely with our physician groups to secure physician availability and minimize gaps. When we are unable to fill gaps in physician availability or other non-medical staff, we reluctantly implement temporary diversions to ensure the safety of our patients.
For information on pregnancy and our maternity hospitals, visit www.fraserhealth.ca/pregnancy.
For media inquiries, please contact:
media@fraserhealth.ca