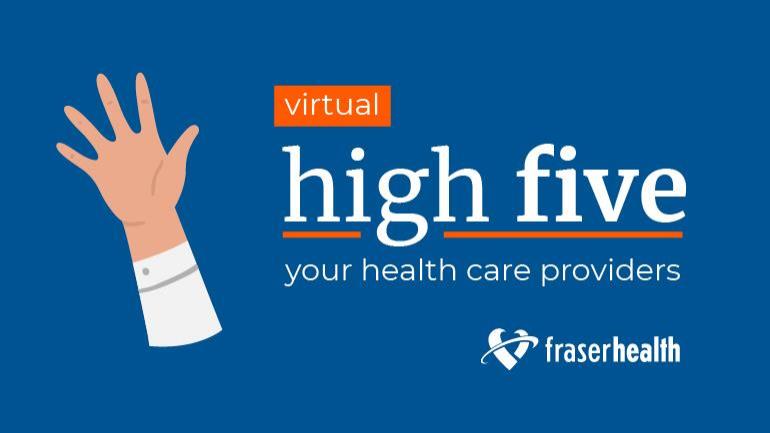 This week's high fives go to our amazing people at Abbotsford Regional Hospital, Delta Hospital, Eagle Ridge Hospital, Queen's Park Care Centre, Ridge Meadows Hospital and Surrey Memorial Hospital.
Want to send a high five to your health care provider or Fraser Health team member? Leave a comment below or send your thanks using our online submission form. Read more kudos at fraserhealth.ca/highfive.
---
Abbotsford Regional Hospital
Went to Abbotsford Regional Hospital Emergency Department with my mom who is a cancer patient. Despite the Emergency Department being very busy, every staff member was friendly, patient and apologized for the wait. They listened to our concern and addressed it in a professional manner. Thank you, Emergency Department staff for doing what you do.
---
For Delta Hospital
I had the pleasure of observing an employee who was calm, clear and compassionate. Kudos to your confident manner and thoughtful interactions. Thank you for being here for us.
---
Eagle Ridge Hospital
While visiting the Emergency Department on an unrelated Issue, Dr. Lim came across my biopsy report. When he informed me in a gentle manner that I had cancer, he was extremely compassionate, caring and gave sound advice. He was my advocate that day. My journey continues and thanks to you, it will not be such an arduous one.
---
Queen's Park Care Centre
Our family wanted to officially communicate to you that we are so grateful for the hard work that Julianna (occupational therapist), Nora (physiotherapist) and their team did while our dad was rehabilitating at Queen's Park Care Centre. At 96 years old, our dad was not always an easy patient and we're sure it was often a challenge to figure out what goals could be reached to keep him as independent as possible. We were always kept well informed of dad's progress, and appreciated Roberta keeping all his records up to date and answering our endless questions when we didn't know who to ask! Chad, the physiotherapy assistant, always had a good word about dad and the banter they shared. We wish we could remember the names of all the nursing staff who kindly cared for dad.
Dad is managing okay and always speaks so highly of the staff at Queen's Park Care Centre. Thank you again for working to get him home.
---
Ridge Meadows Hospital
A big high five to the screeners. I am a marketplace vendor and radiology employee and I was so impressed by how kind they were to each and every patient and visitor. What a joy to witness.
A belated high five to Hayley in radiology who showed such care and compassion to a patient with diabetes. You made the patient feel so much better when they weren't feeling great physically. Well done.
---
Surrey Memorial Hospital
Thank you for everything you do and for making my day.