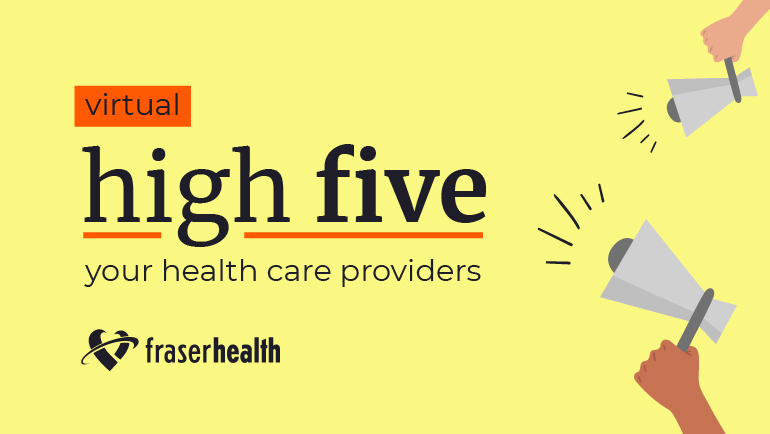 This week's high fives go to our amazing people at Abbotsford Hospital, Delta Hospital and Royal Columbian Hospital.
Want to send a high five to your health care provider or Fraser Health team member? Leave a comment below or send your thanks using our online submission form. Read more kudos at fraserhealth.ca/highfive.
---
For Abbotsford Hospital
I would like to share my experience after visiting the Emergency Department. I went to the hospital as I had hurt my wrist and needed an X-ray. Everyone who helped me was extremely polite and the doctor spent the time to explain everything to me. Thank you Fraser Health.
---
I wanted to shout out the lovely ladies in the Abbotsford Regional Hospital outpatient lab who did such an amazing job with my two year old son. From start to finish they calmed both mine my son's nerves. A special shout out to Alisha who was amazing and went above and beyond for my little guy.
---
I was in Abbotsford Hospital for vein stripping surgery with Dr. Smith and Dr. Barnard. Both doctors were very good. I want to compliment the nurses in Surgical Day Care who were professional and demonstrated caring attitudes. They were kind and caring, especially Donna.
---
For Delta Hospital
This is the second time I have had the utmost pleasure of meeting Tracey in mammography. I first met Tracey after I was called back for a diagnostic test following concerns with the first mammogram. Tracey was so pleasant, comforting and conscientious and has a great sense of humor.
---
For Royal Columbian Hospital
My son was a patient in the Cardiac Surgical Intensive Care Unit and I want to acknowledge the excellent, professional care he received there. The nurses were caring, informative, respectful and very knowledgeable. I was also impressed by the respect and care they gave to each other. They worked together as a team to provide high quality care.
---
Sending a huge thank you to Courtney the nurse who coached and help deliver my son. Thank you to Sadie, Natalie and Connie from the Labour and Delivery unit. Amazing, compassionate, kind and inspiring nurses who took great care of me during and after my delivery.