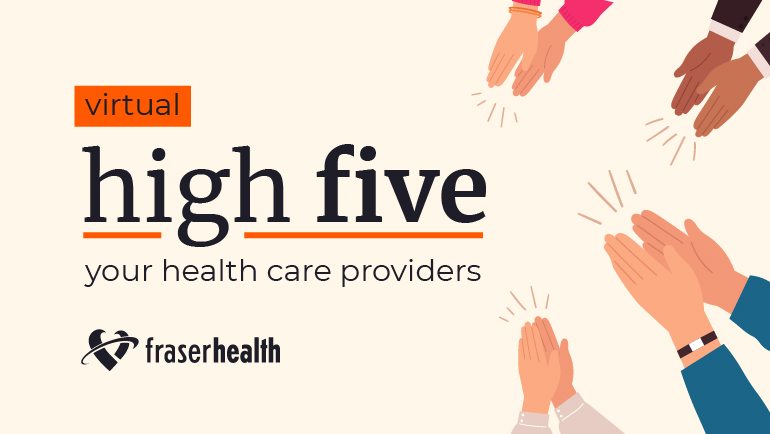 This week's high fives go to our amazing people at Burnaby Hospital, Delta Hospital, Peace Arch Hospital, Ridge Meadows Hospital, the Surrey Mental Health and Substance Use Urgent Care Response Centre and Surrey Memorial Hospital.
Want to send a high five to your health care provider or Fraser Health team member? Leave a comment below or send your thanks using our online submission form. Read more kudos at fraserhealth.ca/highfive.
---
For Burnaby Hospital
I was hospitalized at Burnaby Hospital on 3B. I was extremely grateful for the care I got from the nurses, pharmacist and doctors that were there. I am finally out of hospital. Please let everyone know that they are a great team. Thanks.
---
For Delta Hospital
I went to the Emergency Department because I had a broken foot. The hospital was busy. I was treated with kindness and courtesy despite the rush. I would like to send a shout-out to a porter named Jaquie, who delivered me to the X-ray department and back and checked in on me. She was outstanding. Thank you.
---
For Peace Arch Hospital
I had a very positive experience at the Peace Arch Hospital Emergency Department. Staff, nurses and doctors were friendly, efficient, kind, compassionate and professional. I wanted to highlight the kind porter who grabbed me a wheelchair and ice water and the caring nurse who showed sincere compassion by turning down the lights to help my migraine. Small, kind acts make a real difference.
---
For
Ridge Meadows Hospital
I would like to acknowledge the superior care, knowledge, empathy and professionalism of Dr. Vilayil. I am an inquisitive, literal and stoic individual and get uneasy with sporadic information that doesn't make sense. She was very informative, knowledgeable and considered my feelings about various alternatives that allowed us to come up with the best solution for me. She's truly amazing.
---
For
Surrey Mental Health and Substance Use Urgent Care Response Centre
I just wanted to express my gratitude to Counsellor Neeta, Psychiatrist Dr. Smit and the rest of the staff from the Surrey Mental Health and Substance Use Urgent Care Response Centre. I understand that having mental health issues can be scary and complicated for everyday life. When you get the correct support, it helps in all directions and you're not alone.
---
For Surrey Memorial Hospital
Thanks for the great care.