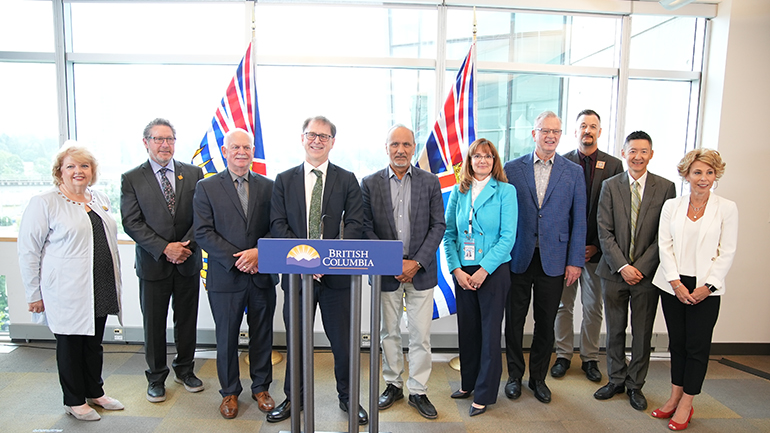 People in Surrey are a step closer to a new hospital and BC Cancer Centre with the issuing of the request for proposals (RFP) for the facility at 5500 180 St.
"Our government is delivering on its commitment of a new hospital for people in Surrey, and we are proceeding to the next stage of the procurement process," said Adrian Dix, Minister of Health. "This important next step means we are closer to seeing what the hospital will look like, to shovels in the ground and construction starting, and to the new hospital opening for patients."
Two proponents are on the shortlist to lead the project design and construction as a result of the request for qualifications process, which ended on March 17, 2022. The proponents are EllisDon Design Build Inc. and PCL Construction Ltd.
The RFP process normally takes about a year to finalize. Construction is expected to start in summer 2023 with the facility scheduled to be ready for patients in 2027.
The project is proceeding with a design-build procurement process in which the preferred proponent enters into a fixed-price, fixed-schedule contract with Fraser Health to design and build the facility to meet standards and performance requirements specified by Fraser Health.
"Today marks an important step forward in our planning for a new, state-of-the-art hospital and BC Cancer Centre that will provide care for hundreds of thousands of people living and working in the fastest-growing community in B.C.," said Dr. Victoria Lee, president and CEO, Fraser Health. "As a fully digitally equipped community hospital, this facility will usher in a new era for acute care in our region, enabling us to increase our regional capacity in areas such as emergency, surgical, inpatient, ambulatory care, diagnostics and cancer care services, while better supporting patient-centred care, closer to home."
The new hospital will have 168 beds, a surgical/perioperative suite with five operating rooms, four procedure rooms, an emergency department with 55 treatment spaces, and virtual care options in all clinical service areas.
The facility will have a large medical imaging department, including three CT scanners and two MRI machines, as well as pharmacy, laboratory and academic spaces.
There will be a dedicated area for spiritual care and family gatherings that support cultural diversity and spiritual practices.
The new BC Cancer Centre will include an oncology ambulatory care unit with 50 exam rooms, 54 chemotherapy treatment spaces and room for six linear accelerators for radiation therapy to provide care and support for people diagnosed with cancer.
"We are pleased to reach this next milestone in the construction of a new Surrey hospital and BC Cancer Centre and look forward to continuing to work in partnership with Fraser Health to improve access to and capacity for cancer care across this rapidly-growing and aging region," said David Byres, president and chief executive officer, Provincial Health Services Authority. "This work will bring life-saving and life-enhancing cancer treatment closer to home for patients and families for years to come."
The project also includes a 49-space child care centre and 730 parking spots and will pursue opportunities for innovation and automation to address future needs.
The capital cost is estimated at $1.72 billion and is funded by the provincial government. Fraser Health and the Provincial Health Services Authority are working with the Surrey Hospitals Foundation and BC Cancer Foundation to explore potential funding opportunities.
A backgrounder follows.
Backgrounder
What people are saying about the new Surrey hospital and BC Cancer Centre
Mike Starchuk, MLA for Surrey-Cloverdale -
"Every milestone, just like the City of Surrey rezoning application, means we are moving forward and making great progress with the new hospital in Surrey. Today's announcement of the shortlist gets us another step closer to starting construction, which is very exciting news."
Jagrup Brar, MLA for Surrey-Fleetwood -
"We're seeing that Surrey's population expanded greatly over the past 10 years, with even more growth projected over the next 10, which means it's time to be future-planning with our new capital projects. That's why our government is paying close attention and improving access to necessary public health-care services. It's the right thing to do."

Rachna Singh, MLA for Surrey-Green Timbers -
"Health care is one of the foundational building blocks of services government provides for British Columbians. That's why it's so integral to see progress being made on a shortlist for the new hospital for Surrey. We're here to deliver for the community and show our support."
Garry Begg, MLA for Surrey-Guildford -
"Our government is working hard to make life better and build a stronger B.C. for everyone. That's why we are focusing on a new hospital for Surrey, to address local health-care needs in a fast-growing area. When we're stronger together, everyone benefits."
Harry Bains, MLA for Surrey-Newton -
"We are building on our strengths to prepare us for the challenges and opportunities of tomorrow, and what better way to tell the community that you support them by providing a new hospital? It's no secret that Surrey is growing quickly, and we know that the new state-of the art Surrey hospital and BC Cancer Centre will provide the quality public health care people rely on, and it's exciting that we continue moving forward with the project."
Bruce Ralston, MLA for Surrey-Whalley -
"I'm excited and energized by the progress we're seeing right here in our community. It's even better to know that families with members facing cancer diagnoses will be able to benefit from a new BC Cancer Centre featuring 50 exam rooms and 54 chemotherapy treatment spaces, as well as a room for six linear accelerators. This is putting Surrey on the map as a leader in cancer care and treatment."
Ravi Kahlon, MLA for Delta North -
"Our government is delivering on the promise to support people and families, and build resilient communities. This new hospital meets the needs of newcomers and long-time residents in the area, who've called for the investment for many years. This is amazing news for not only for Surrey, but also the people of North Delta who now have three hospitals within 15 minutes of home."
For media inquiries, please contact:
media@fraserhealth.ca