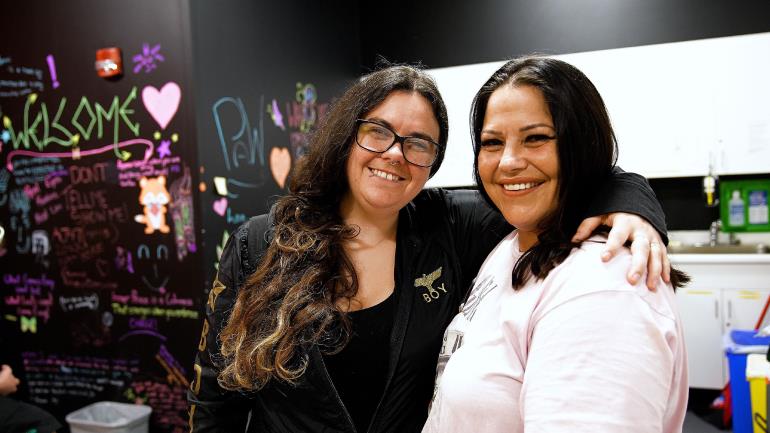 Peer witnesses at Foxglove supportive housing use new technology and shared experience to reduce stigma and reframe conversations around substance use.
(Left to right) Becka Hill, peer witness and Rachel Plamondon, manager of Peer and Harm Reduction Services at RainCity Housing and Support Society.
"If you asked me five years ago – before I ended up in jail – if I'd be a scientist, I would have laughed at you," says Becka Hill. Becka is a peer witness at Foxglove supportive housing in Surrey, where her main role is to be present in the site's safe consumption space, supervise residents' consumption, hand out harm reductions supplies and respond to overdoses.
She and one of her peer witness colleagues have also been trained to use one of Fraser Health's fourier-transform infrared spectroscopy (FTIR) machines, which will allow her to test what's in people's drugs – a vital tool in helping reduce overdoses and potentially save lives.
"I was pretty intimidated by the training at first but now that I've done it, it's been a really good learning experience," she says. "I feel smart, and everyone is excited about the drug testing we're going to be doing. It will be great to give people more information about drug toxicity [in the substances they might use]. Hopefully there will be fewer overdoses because of it."
This opportunity for information sharing is a crucial component to Foxglove's success: feeling seen, heard and understood is central to helping people who use substances, or who have experienced homelessness, combat internalized stigma, which can be a barrier to them reaching out for support and care.
Becka acknowledges the role peer workers play in supporting vulnerable people and these important conversations, but stresses that they can sometimes feel "different" from other staff because of their own lived experience of homelessness or substance use.
Rachel Plamondon, manager of Peer and Harm Reduction Services at RainCity Housing, works to ensure all Foxglove peer witnesses understand how central they are to building trust between residents and staff and, importantly, that they feel embedded in the larger Foxglove team.
"This isn't something you can learn in school," Rachel says. "From the very beginning, the peer team has been engaged within the entire Foxglove team (inclusive of RainCity Housing and Fraser Health nurses, doctors and social workers). One of the keys to the success at Foxglove is having peers with lived and living experience share common ground and experience and build trust and rapport with the residents."
For many of Foxglove's residents, talking to peers in the safe consumption space is their first "normal" interaction after years of experiencing homelessness.
"I don't preach or push them towards things," Becka says, "I just share my experience. When I was homeless and in addiction – it would have been great to have someone who understood around."
She has seen firsthand the uptake in support from residents, and knows that the FTIR spectrometer will also continue to help residents reach out, in particular when combined with the opportunity to connect person-to-person with a peer witness.
"Initially clients moved in and didn't want help, but now they are asking for it. I've been told, 'Thanks for having my back.'"
Learn more about harm reduction and overdose prevention at fraserhealth.ca/overdose